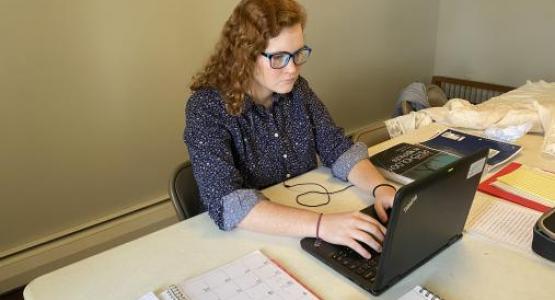 Blue Mountain Academy Student Ministers While Distance Learning
April 16, 2020 ∙ by vmbernard ∙ in Pennsylvania Conference, Education
Ricardo Bacchus, Visitor newsletter and Visitor News Bulletin editor, interviewed Gwynavere Culpepper, a senior at Pennsylvania Conference's Blue Mountain Academy in Hamburg, to see how her last semester of distance learning is going and what she's doing to continue ministering to others.
Culpepper has started a YouTube channel to encourage others. "I want to let people know that through this, God still loves them and so do I. If they want to pray, study the Bible, or if they just need encouragement, I want them to know I would love to do that and will be there," she says. "We are living in a special time in earth's history and everyone needs prayer, encouragement and friends. They need that support to help them stay close to Jesus."
Visitor: Tell me a little about yourself.
Culpepper: I am a senior here at Blue Mountain Academy. I am a member of our Bel Canto choir and am involved in Campus Ministries. I love to make videos, and that is my job here on campus. I live right across from the school.
Visitor: How is distance learning going?
Culpepper: We turn in everything in on the computer. It is a little harder than in the classroom setting, but God is helping me.
Visitor:  What is the biggest challenge?
Culpepper: I am a hands-on learner, so working on the computer is hard. Not being able to see and hang out with friends and my class is also hard.
Visitor: What creative ways are you connecting with other students and/or teachers?
Culpepper: I am hosting live prayer times each night and using social media to connect. I use FaceTime and Instagram. … Mostly everything through social media. (See Blue Mountain Academy's weekly vespers and nightly prayer times here.)
Visitor: Any advice for other students dealing with this same situation?
Culpepper: Stay strong, and don't watch a lot of TV. Spend time in God's Word and doing what you love. Try new things. Anything that gets you up and around. Cooking, crafts, find ways to reach your friends and family and share the gospel.
Visitor: What are specific things you, as a student, are doing to keep sane, productive and healthy?
Culpepper: Texting and calling friends. And just staying close with people. I am working out, and that helps me stay more focused. I am also doing a live stream prayer and a worship thought most nights, and that keeps me in touch.
Visitor: What are your graduation plans?
Culpepper: School leaders want to bring everyone back for graduation, but we are not sure that it will happen.
Visitor: What are your plans for next year?
Culpepper: I plan on either going into the mission field or taking a year off. I want to go to college and become a music teacher, but I am letting God lead and feel like taking a year off and becoming stronger with God, making sure that I am going where He is calling. That is our calling.
Visitor: Are you finding any positives in this situation?
Culpepper: Some pros for me would be I have been able to work on my hobbies and things I love [like] horse riding, cooking, filmmaking and music. Finding things that keep me going to not [feel] down.
Visitor: How do you think this time would be different if you didn't attend an Adventist school?
Culpepper: I think that social distancing would be so much harder. I am so blessed that our teachers try to have a personal relationship [with us]. They push for each students' best. You can email them for extra help. When you get in [online] class, you get to see everyone and still make the jokes and have fun with the teacher. It is like getting in class with your family. If I were not in an Adventist school, I know that It would be hard and lonely.
Related Articles and Resources