July/August 2017 Feature: An Ordained Car Ride
July 01, 2017 ∙ by owetmore ∙ in Allegheny West Conference, This Month's Issue
Story by Pat Humphrey | Photo by Steven Mastroianni
The idea for the Allegheny West Conference (AWC) Young Adult Retreat was birthed in the backseat of Jerome and Carolyn Hurst's car. During a two-and-a-half-hour ride home from the conference constituency meeting, Charde (Hurst) Hollins, a recent college graduate, and her parents bounced ideas back and forth, as she wrote them down on a stray piece of paper and pen from the bottom of her mother's purse.
Five years later, those sketchy notes have blossomed into the AWC Young Adult Retreat, an annual meeting where approximately 300 young adults are inspired to know and serve God in a deeper way, Jerome says.
Impacting the lives of young adults and "seeing them on fire for God" is the focus of Hollins' work today as AWC Young Adult Ministries director. Her love for making a difference in others' lives was inspired by her parents and extended family, especially her father, who also works for the conference as a pastor of the Southeast church in Cleveland and director of AWC Adventist Community Services. "Ministry has always been a part of our family," says Jerome. 
Hollins says that car ride five years ago triggered memories of traveling to workers' meetings, youth federations and weekly trips to church, centered around her father's ministry in which the family brainstormed what they could do to enhance the church. "But this car ride was different," says Hollins. "This time it was my ministry that was the focus, and the 'car ride meeting' was to enhance my passion."
Lesson Learned: I can be free to minister to others based on how God leads me.—Charde Hollins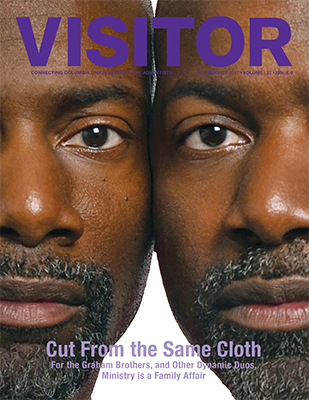 Read the July/August 2017 Visitor: