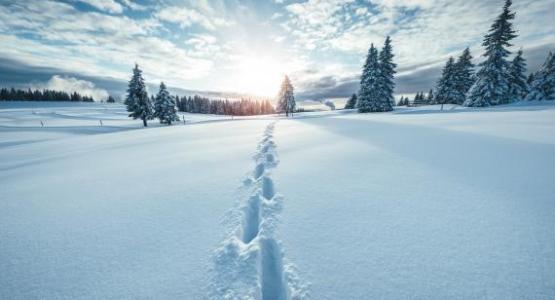 February 9, 2021: A Foggy Start
January 26, 2021 ∙ by hdecena ∙ in Year of the Bible, Chesapeake Conference
"From the ends of the earth ... You are My servant, I have chosen you and have not cast you away: Fear not, for I am with you; Be not dismayed, for I am your God. I will strengthen you" (Isa. 41:9–10, NKJV).
Loneliness settled among my thoughts like a heavy winter fog. I had recently moved across the continent to begin graduate studies at the University of British Columbia in Vancouver, Canada. While excited about the research opportunities ahead, I missed my family and community back home in the United States. I had no relatives or friends in this new city along the Pacific coast. I remember thinking, What have I done? I just moved across an entire continent to the end of North America! Anxiety always exaggerates trouble, doesn't it?
Hoping to hear a message of comfort, I opened my Bible to revisit passages of God's guidance, presence and promise of a brighter future. In my season of loneliness, God spoke a message of hope in the prophetic blessing recorded in Isaiah 41:9–10.
While the loneliness still remained, my spirits were lifted. I wasn't afraid, and I was not alone. He who tends the grand universe, treasures a university grad. There would be new friendships, adventures and a valued educational experience ahead. More importantly, I faced the unknown comforted, strengthened and chosen by God.
In a small, student apartment, the light of a heard prayer pierced my darkness, and the fog started to lift.
God, in our season of loneliness, come through, as You always do. Amen.
Kylynda C. Bauer is a member of the Middletown Valley church in Maryland.
Read more devotionals:
February 8, 2021: 'I Will Give You Rest'
February 9, 2021:  A Foggy Start
February 10, 2021: No More Sea
February 11, 2021: He's Preparing a Place
February 12, 2021: Hoping for a Future
February 13, 2021: A Search for Peace
February 14, 2021: Now That's Love
Join the Journey 
To help you dig deeper into God's Holy Word this year, we're offering:
Every Month—This calendar, themed "Words of Life," coincides with the devotional book and videos. It features a biblical topic and verse each month, with additional passages for further exploration, study and ideas on how to apply the concepts in your daily life.