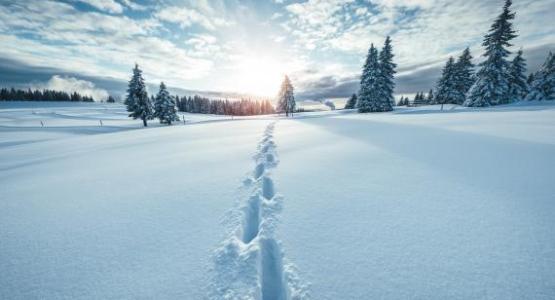 February 12, 2021: Hoping for a Future
January 27, 2021 ∙ by hdecena ∙ in Year of the Bible, Potomac Conference
"For I know the thoughts that I think toward you, says the Lord, thoughts of peace and not of evil, to give you a future and a hope" (Jer. 29:11, NKJV).
All my life, God has called me to trust and obey Him. I had no idea how old I'd be when I got married or if I'd have children or what my career path would be, but He did. Referring to Him giving us a future and hope, Jeremiah goes on to say that we are to seek, find and search for God with all of our hearts. And that's exactly what I did.
One hazy, summer day, as I gazed at the hills of Loma Linda in California, I called upon the Lord, for I had a decision to make. A resident of Maryland, my visit to the West Coast was to celebrate my friend's graduation from medical school. I asked God if I should move to California. My brain said to apply to work at the Loma Linda University Medical Center, but the Holy Spirit's presence called me to stay on the East Coast. I just didn't know why.
Looking back, I realize that I made the right decision. I met my husband at a place I'd least expect to find someone—one of the reasons why I had contemplated moving out of the area. Not long after we got married, I had a near-death experience on a rafting trip. In the moment, I knew God would save me from the grip of the river's mighty rapids because of the "future and hope" He had promised. And He miraculously dislodged my foot before I drowned.
I now understand the expression "my life flashed before my eyes," and, as I praise the Lord that I had the opportunity to become a mom the following year, this verse comes full circle. Never lose hope.
Heavenly Father, thank You that You always have my future in mind. May I, in turn, continually place my hope in You. Amen.
Jina Bacchus is a member of the Beltsville church in Maryland.
Read more devotionals:
February 8, 2021: 'I Will Give You Rest'
February 9, 2021:  A Foggy Start
February 10, 2021: No More Sea
February 11, 2021: He's Preparing a Place
February 12, 2021: Hoping for a Future
February 13, 2021: A Search for Peace
February 14, 2021: Now That's Love
Join the Journey 
To help you dig deeper into God's Holy Word this year, we're offering:
Every Month—This calendar, themed "Words of Life," coincides with the devotional book and videos. It features a biblical topic and verse each month, with additional passages for further exploration, study and ideas on how to apply the concepts in your daily life.