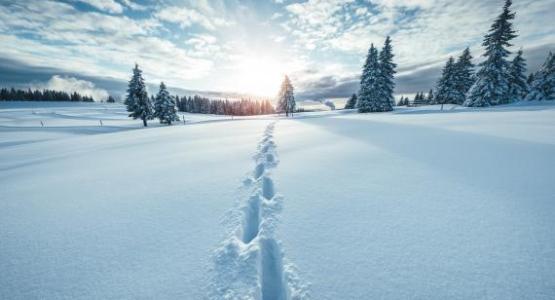 February 11, 2021: He's Preparing a Place
January 27, 2021 ∙ by hdecena ∙ in Year of the Bible, Potomac Conference
"And if I go and prepare a place for you, I will come again and will take you to Myself, that where I am you will be also" (John 14:3, ESV).
I have heard this beautiful verse read many times in sermons. Preachers strive to describe what Jesus is preparing in heaven. Apparently, Jesus has a great construction company, and He has been building luxurious houses for the redeemed for more than 2,000 years. But the reality is that the verse just prior says, "In my Father's house there are many dwellings." So what did Jesus go to prepare?
The Bible teaches us that, because of our sins, you and I cannot enter heaven. But, through Jesus' sacrifice on the cross, and through His intercession before His Father with His own blood, He is making us a place.
Between 1900–1950, millions of European immigrants arrived on America's shores by boat. One of these immigrants was my great-grandfather, Vichenso Marincola. He came to prepare a better future for his family. After some time, he got a job and learned English. He later found a place to live and raised enough money for his wife and three daughters to be together with him.
At the immigration department, he explained he had enough money to provide for his family. When they asked him what his wife and daughters had in Italy—their country of origin—he answered: "Nothing. They have nothing, but I have everything necessary here, so they have the right to be with me."
Jesus is doing that exact thing now—appearing before the Father to show that, although we have nothing, He has already paid the price for us!
Lord, may we accept Your free gift so that we can be with You together forever. Amen.
José Daniel Espósito Forciniti is the Hispanic Ministries director for the Potomac Conference.
Read more devotionals:
February 8, 2021: 'I Will Give You Rest'
February 9, 2021:  A Foggy Start
February 10, 2021: No More Sea
February 11, 2021: He's Preparing a Place
February 12, 2021: Hoping for a Future
February 13, 2021: A Search for Peace
February 14, 2021: Now That's Love
Join the Journey 
To help you dig deeper into God's Holy Word this year, we're offering:
Every Month—This calendar, themed "Words of Life," coincides with the devotional book and videos. It features a biblical topic and verse each month, with additional passages for further exploration, study and ideas on how to apply the concepts in your daily life.