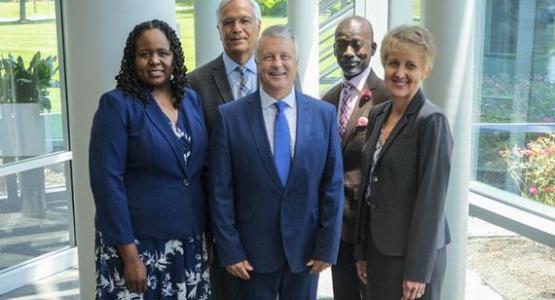 Columbia Union Vice Presidents Elected for New Five-Year Term
May 23, 2021 ∙ by rbacchus ∙ in Columbia Union News
Story by Ricardo Bacchus
At the Columbia Union Conference 28th Quinquennial Constituency Meeting on May 23, delegates re-elected vice presidents Celeste Ryan Blyden, Frank Bondurant, Rubén A. Ramos and Donovan Ross, and also elected Lisa Saveikis Burrow to replace Wally Carson, who plans to retire at the end of this month.
After the votes, Dave Weigley, Columbia Union president, said the union is blessed with a dedicated team of leaders "with wonderful expertise to move the mission forward."
Celeste Ryan Blyden Re-Elected to Lead Communication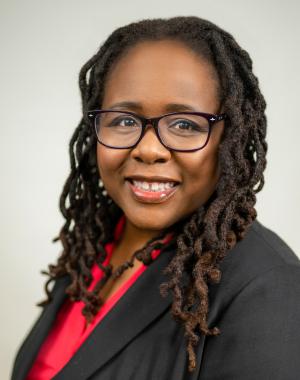 Celeste Ryan Blyden has led communication for the last 19 years and has served in her role as vice president for Strategic Communication the last seven. Blyden's portfolio includes serving as editor and publisher of Columbia Union's Visitor magazine, chairing the unionwide communication directors' council, serving as liaison for the union's chapter of Adventist-laymen's Services and Industries (ASI) and serving on the WGTS 91.9 Board of Directors. She and her team created and published the 2021 Year of the Bible devotional book, Words of Life, and video devotional series, the annual union calendar, as well as the Communication Handbook and its corresponding video training series.
In her last term, Blyden and her team also implemented and promoted the Seventh-day Adventist Church's new global identity system, developed and launched the new Columbia Union Conference app and started hosting Visitor News Live on Facebook and YouTube to maintain connections with members and discuss Adventist perspectives on news and events. Read more here.
"It's an incredible honor to be invited to serve the church I love, doing the work I love, with such an amazing team of professional communicators who I love," says Blyden. "Every day we are given the opportunity to tell the story of what God is doing in and through His people in the Columbia Union family, and it's inspiring to play a small part in this great work of leading others to Jesus."
Blyden, a crisis communication expert, has a Bachelor of Science from Washington Adventist University in Takoma Park, Md., and a Master of Arts in Organizational Communication from Bowie State University (Md.)
Frank Bondurant Re-Elected for Fourth Term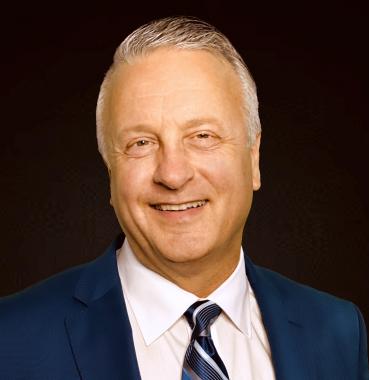 Frank Bondurant, vice president for Ministries Development, has served in his capacity since 2006. Bondurant, a pastor and former union and conference director, church planter and event coordinator, has a passion for equipping and resourcing ministry leaders.
"We're looking to continue with a strong church planting program. We have so many unentered areas here in the Columbia Union territory, but we want to supplement it ... with a strong church revitalization program," says Bondurant. "We cannot neglect our existing churches, churches that have plateaued. ... So I'm looking forward to really embracing and launching church revitalization in our union, some ... partnering with the NAD and some of their programming [and] providing funding for it."
In addition to his work supporting the union's evangelism and church planting initiatives, his team also facilitates the popular, annual Pathfinder Bible Experience that challenges local church Pathfinders to exercise their Bible knowledge skills. His team also hosted "Fearless" in 2016, the union's largest unionwide camporee, with more than 3,000 in attendance. Read more here.
Bondurant has a Bachelor of Arts in Theology from Washington Adventist University and a Master of Divinity from Andrews University (Mich.).
Lisa Saveikis Burrow Steps Into General Counsel Role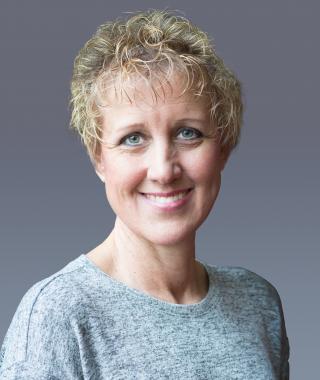 Lisa Saveikis Burrow is the new vice president and general counsel for the union. She replaces Wally Carson, who is retiring at the end of May. Burrow, assistant to the general counsel since 2019, also previously served as associate general counsel at the General Conference.
"I have seen God at work in this process, and I do believe He has answered prayers and has led me here, so I am ready to serve," says Burrow. "While I have practiced with, for, and around the church for my entire legal career, there are aspects of this position that will be new to me. I am looking forward to getting to better know my conference, union, division and GC colleagues, and learning from their collective wealth of experience and expertise."
Burrow has a Bachelor of Arts from Washington Adventist University and a Juris Doctor from University of Maryland at Baltimore, School of Law.
Rubén Ramos Spearheads Ministry to Multiligual Populations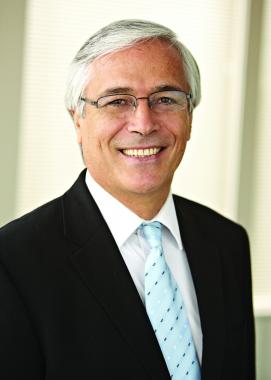 Rubén A. Ramos, who joined the union in 2007, has served as vice president for Multilingual Ministries since 2014. Seeking to inspire member participation in ministry through church planting, small groups and witnessing, Ramos partners with conference leaders to spearhead several initiatives.
In 2018 and again in 2020, Ramos and the conference Hispanic coordinators organized two series of caravans that visited a total of 100 locations around the union. At these events, leaders urged members to reach and pray for others in their circle of influence. In total, 7,000 Hispanic members committed to lead small groups or work to lead five friends to Christ. Read more here.
"I'm very thankful to God for the opportunity to serve five more years. It has been an amazing journey serving the Lord in the Columbia Union," says Ramos. "Since the Lord has been with us in the past, I'm certain that He will be with us in a better and more effective way in the future."
A pastor, evangelist and prior conference Hispanic Ministries director, Ramos has a Bachelor of Arts in Religion and Education from River Plate University (Argentina) and a Master of Divinity from Andrews University.
Donovan Ross to Serve Second Term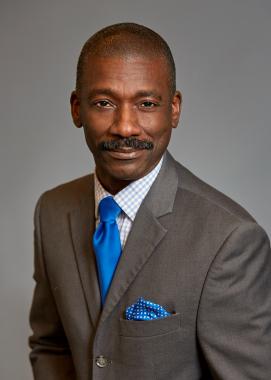 Donovan Ross, who joined the union Education team in 2012, has served as vice president for the last five years. To help union educators grow and minister effectively, in his last term Ross and his team partnered with the Bainum Family Foundation to offer a two-year coaching program for school principals; engaged new academy principals, conference superintendents and associates in a two-year mentoring and training program; supported educators in obtaining required North American Division certifications and endorsements; and sponsored administrators who participated in the 2021 Association of Seventh-day Adventist School Administrators Virtual Conference.
"I'm very, very humbled that our constituents entrusted me with the responsibility of leading the Office of Education Department for another five years," says Ross. "It has been a privilege working with educational leaders and educators and doing what we can to help advance the ministry and the mission of the union."
A former teacher, high school administrator and union associate director for Education, Ross has a Bachelor of Science in Mathematics from Northern Caribbean University (Jamaica), a Master of Education in Curriculum and Instruction from Atlantic Union College (Mass.) and a Doctor of Philosophy in Educational Administration and Supervision from Andrews University.
"When I think of the next five years, I think of some of the exciting initiatives that we're looking forward to either continuing or implementing. ... We want to focus more on the mental health of teachers. We want to continue to lead the focus on leadership, training, mentoring and development. And we also want to continue focusing on diversity [as a whole]."
Read more here
.
Read articles from the July/August 2021 Visitor: