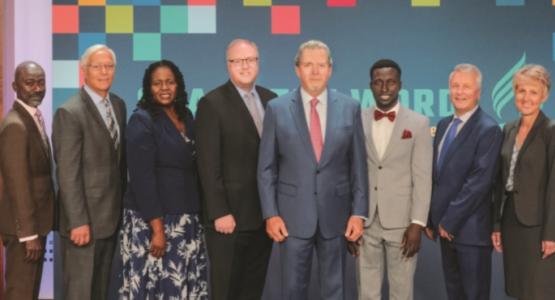 June 24, 2021 ∙ by Web Administrator ∙ in Columbia Union News, Editorials
Editorial by Columbia Union Leadership Team
It is an honor and privilege to be invited to serve the Columbia Union Conference for the 2021–2026 quinquennium. We solicit your prayers for our team, union family and worldwide church.
On the road ahead, there will be many challenges. Matthew 24 forewarned that in the last days our world would be wrought with war and conflict, pestilence and poverty, natural disasters and illnesses of every kind. Indeed, we begin this new quinquennium emerging from a global pandemic that has claimed millions of lives.
On the road ahead, there will also be many opportunities. More than 60 million residents representing every nation, kindred, tongue and people live and work in our union territory. They are our neighbors, co-workers, classmates, friends and family, and we are called to go and share the Word with them. They need to know that, despite the headlines, there is good news: Jesus is coming soon!
HOW CAN WE DO THIS?
Many members are already engaged in sharing the Word, but there is a need for many more—including you—to get involved, using your unique gifts and abilities. As Ellen White suggests, "Christ's method alone will give true success in reaching the people. The Saviour mingled with men as one who desired their good. He showed His sympathy for them, ministered to their needs, and won their confidence. Then He bade them, 'Follow Me'" (Ministry of Healing, p. 143).
As we journey toward the kingdom—no matter what we encounter on the road ahead—let's prayerfully commit ourselves to experience the mission of preparing people for Christ's soon return.
Let's go and share the Word!