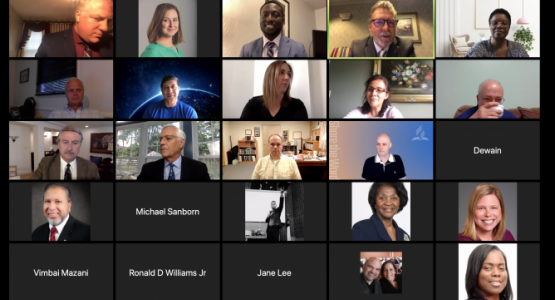 Columbia Union Executive Committee Votes to Support the Allowance of Electronic Attendance at Upcoming General Conference Session
June 10, 2021 ∙ by vmbernard ∙ in Columbia Union News
At the first 2021–2026 Columbia Union Conference Executive Committee meeting, members gathered via Zoom to vote on several matters relating to upcoming business sessions involving the Seventh-day Adventist Church.
They voted to support the following motion:
PROPOSED GC CONSTITUTION AMENDMENT
WHEREAS, the General Conference Executive Committee has voted to convene a Special General Conference Session on January 18, 2022, Silver Spring, Maryland, for the sole purpose of amending the General Conference Constitution, Article V, by adding a new Sec. 4 to allow for electronic participation reading as follows:
"Sec. 4. Generally, regular or specially called General Conference Sessions are to be held in person and on-site. However, delegates, when requested by the General Conference Executive Committee, may participate by means of an electronic conference or similar communications by which all persons participating can hear each other at the same time, and participation by such means shall constitute presence in person and attendance at such a meeting. Votes cast remotely shall have the same validity as if the delegates met and voted onsite." It is
RECOMMENDED to approve and pass on to the General Conference Secretariat that the Executive Committee of the Columbia Union Conference is in favor of adding a new Section 4. to Article V of the General Conference Constitution to allow for electronic participation at General Conference Sessions.
This amendment approves an electronic attendance option at future General Conference sessions. Delegates will gather at a special meeting on January 18, 2022, to vote on the amendment.
Several members expressed concern that the amendment might impact further in-person meetings, but Rick Remmers, Columbia Union Conference executive secretary, said it was more so to make it possible to reach a meeting quorum in case international travel is still limited due to the pandemic. It would not stop in-person meetings in the future.
Columbia Union Delegates Chosen for January 18 Meeting
Executive committee members approved the following members to represent the Columbia Union at the January 18 meeting:
Columbia Union Conference President, Dave Weigley
Local Conference President, Jorge Aguero, New Jersey Conference
Lay person, Gina Brown
Columbia Union Delegates Approved to Serve on NAD Executive Committee
Executive committee members also approved the following list of people to represent the Columbia Union on the North American Division Executive Committee:
Allegheny East Conference: Oral John, lay person
Allegheny East: Myrna James, lay person
Allegheny West: Keith Goodman, pastor
Allegheny West: Janice Walker, lay person
Chesapeake: Kleyton Feitosa, pastor
Chesapeake: Paul Bauer, lay person
Mountain View: Rich Fullmer, lay person
New Jersey: Terlegrand Filossaint, lay person
New Jersey: Claudia Padilla, lay person
Ohio: Mariya Marton, pastor
Ohio: Julio Santana, lay person
Pennsylvania: Barbara Rutt, lay person
Pennsylvania: Shawn Shives, pastor
Potomac: Michael Monroig, lay person
Potomac: Karohn Young, teacher
By virtue of their positions, Columbia Union executive officers, vice presidents, institutional presidents and local conference presidents also serve on the NAD committee.