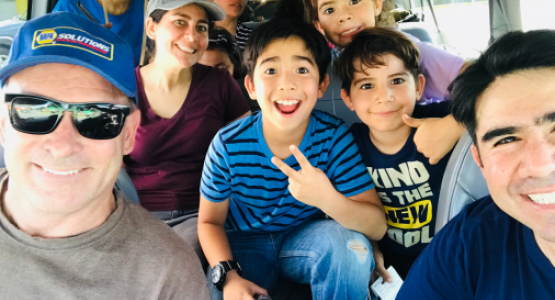 October 30, 2020 ∙ by JennaLettsome ∙ in Chesapeake Conference, New Jersey Conference, Pennsylvania Conference, This Month's Issue
Story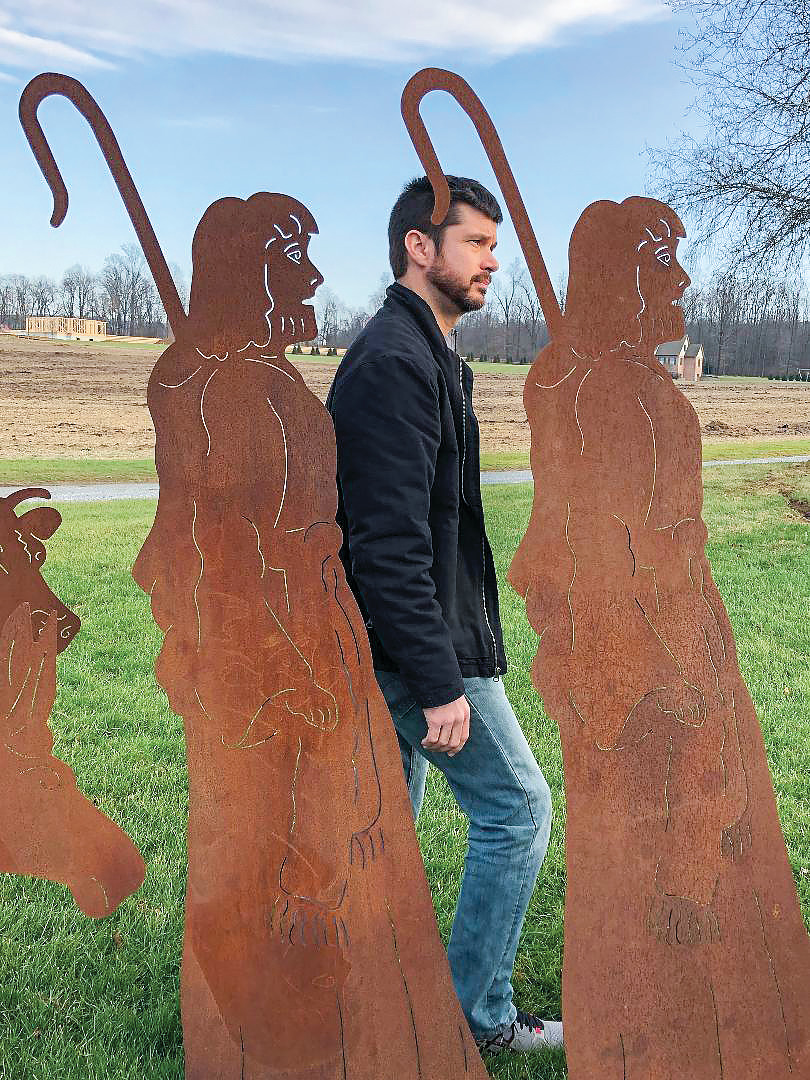 by Sylvia Urrutia
Hunting For The Perfect Christmas
Tamyra Horst, the director of Women's Ministries, Family Ministries and communication for the Pennsylvania Conference, and her husband, Tim, wanted to make deeper connections with their nieces and nephews. To accomplish this, they started a birthday tradition of giving "adventures" instead of gifts. They discover what each child likes and create adventures they can experience together. As the tradition spread, the children began asking for adventures only.
The Horsts had long participated in the family tradition of present-focused Christmases but started to realize they didn't really enjoy it. They later tried gift exchange games for a few years, but they still felt the need to do something different. They wanted the whole family to get to know each other a little better and realized Christmas was the perfect time to do so. That's when Horst created a scavenger hunt focused on the biblical Christmas story.
__________________________________________________________________________________________
Each year members from Chesapeake Conference's Iglesia Adventista Hispana (pictured in feature photo) fill shoeboxes for kids around the world through Compassion International's Operation Christmas Child. Find out other ways you can give back this season too!
_________________________________________________________________________________________
The adventure begins at her house. Adults are paired with nieces or nephews, providing the rare opportunity to spend time together. Horst gives the teams (Trent Horst pictured above, Mason Horst below) instructions and sends them on their way. Participants must take a photo of each character in the Bible story and send it to Horst, who is at home cooking Christmas dinner. She places the photos in a PowerPoint presentation, and, after dinner, the entire family watches a slideshow of their adventures. The grandparents then pick their favorite photo, and that team wins a small prize.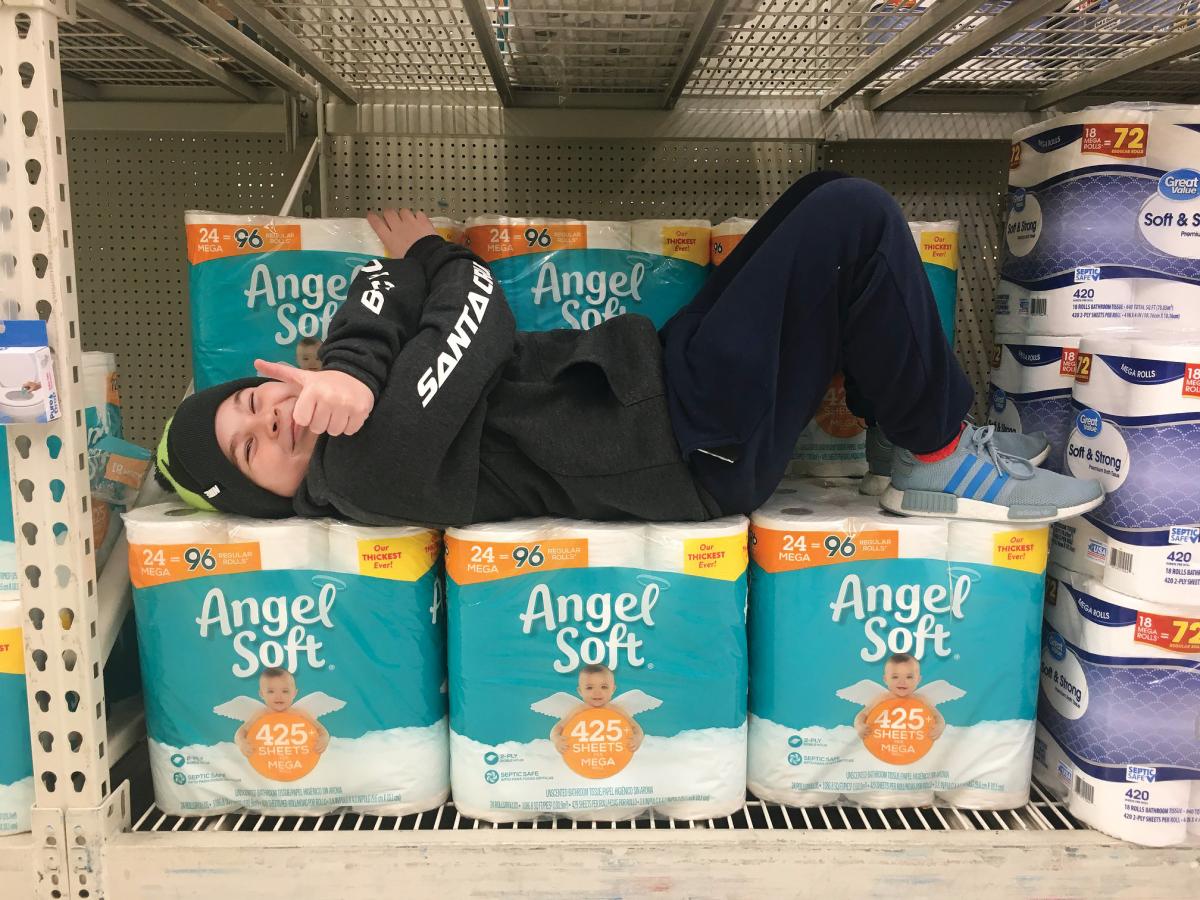 "Everyone wanted to keep doing it every year," shares Horst. "Everyone loves seeing their pictures and seeing everyone else's pictures. It's been very fun to do, but it's also been great getting to know someone else in the family."
Horst and her family have seen many benefits to their new way of celebrating Christmas. "Kids today need relationships with adults besides their parents, so this gives an opportunity for that. Tim and I are always looking for ways to connect with the kids in the family and build relationships," she says. The most important thing for Horst is that, now, instead of gifts, the family is able to "create fun memories and connections— memories they will be able to share."
Download two Scavenger Hunts Your Family Can do here (Courtesy the Pennsylvania Conference.)
Tr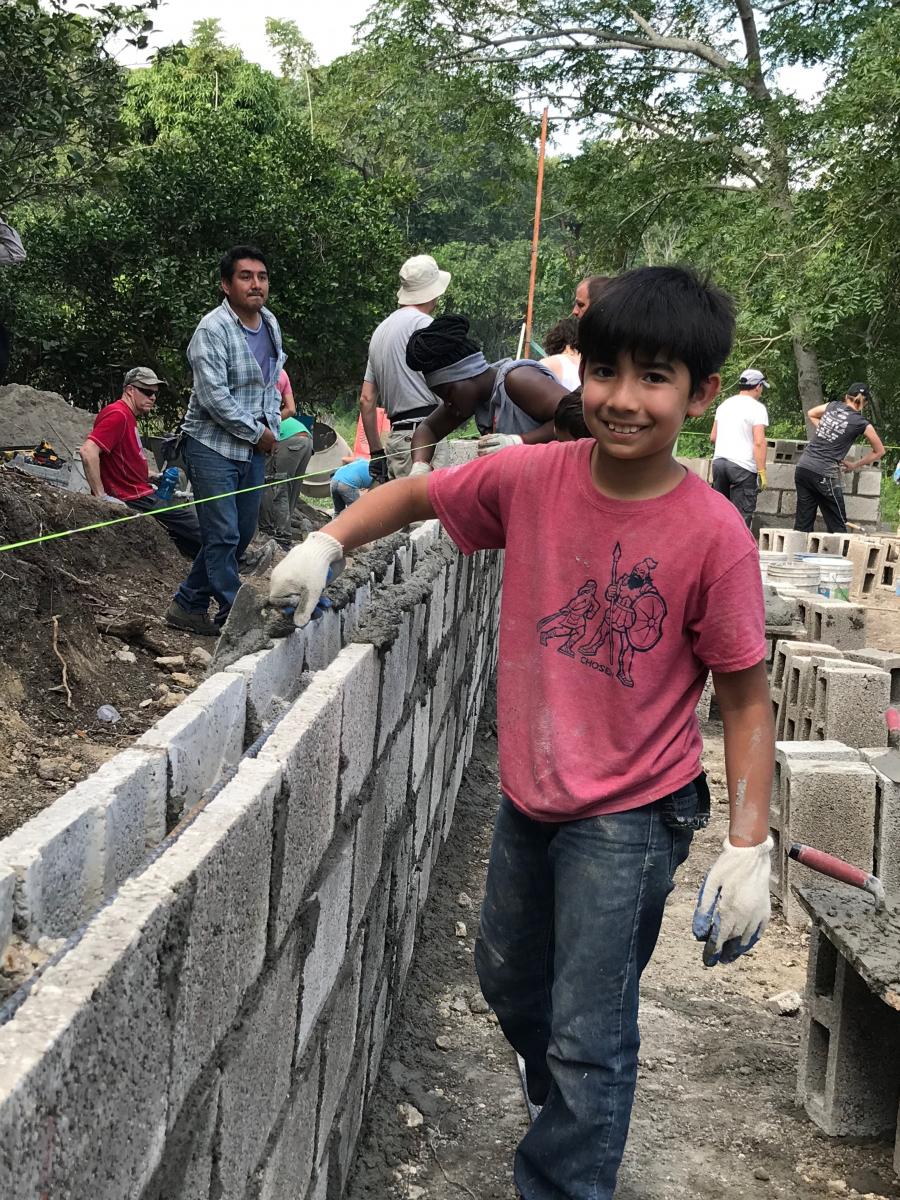 ading Christmas For Mission
Yerusi Fajardo, auditor for the New Jersey Conference, grew up in Mexico, where Christmas was the most important time of year, filled with gifts, food and family. However, as she grew up, got married and had children of her own, she knew she wanted her kids to experience Christmas differently. She and her husband, Eliasib, Youth Ministries director for the conference, have always strived to teach their three young children that Christmas is, most importantly, about Jesus' birth.
During the holidays, the family found local communities in need of supplies, so instead of giving gifts to each other, they took supplies and gifts to those families. "What we have always tried to teach our kids is that Christmas is about remembering Christ's birth, so He's the one that should get the gifts. And if when we do something for others, we are doing it for Him, then giving or doing for others is a way to give a gift to Jesus."
When the couple began looking for mission trip options, serving during Christmas was not exactly what they had in mind. But one day, Fajardo found the perfect trip—it was affordable, and the children would be able to attend and participate in building churches and holding a VBS over Christmas and New Year's Day. They saw it as the perfect opportunity to truly get away from a conventional Christmas and serve others during Christ's birthday.
"It was different because we were totally disconnected from a typical Christmas," says Fajardo. "It was just like any other day. We were up early and off to work at the construction site all day, completing five churches. We even forgot it was Christmas most of the day. There were no decorations or special meal."
The entire family looks forward to building more churches on Christmas in the future. Fajardo whole- heartedly recommends going on a mission trip at Christmastime, if the opportunity arises. They have realized that serving during Christmas is the perfect way to remove the focus from the "extras" of Christmas, such as gifts. Fajardo leaves this advice: "If going on a mission trip isn't possible for you, find ways to give to others ... to remind your kids that Christmas is not about us."
Making A Difference For Christmas 
Eileen Gemmell, a member of Chesapeake Conference's New Hope church in Fulton, Md., grew up in a home where Christmas was very decommercialized. "My mom underplayed Christmas. I grew up without a whole lot of gifts, and that is fine. And it kind of rubbed off on me," she says. A few years ago, she and her family decided they wanted to find ways to make a difference in the world—beginning a new family tradition.
Every Christmas, each member of the Gemmell family finds a charity they love and want to support. The money that would normally be spent on gifts instead goes to these charities. Family members research charities and then pitch them to Eileen and her husband, Dave, an associate director of the Ministerial Department for the North American Division. The couple then chooses which charity will receive the biggest donation, giving smaller donations to the other organizations presented.
Throughout the years, the family has given to various charities: Seventh-day Adventist schools, a Chesapeake Bay clean-up project and an organization that works to prevent sex trafficking, among others. In recent years, the family has made donations by choosing projects through the Adventist Development and Relief Agency's (ADRA) Gift Catalog.
Now, as grandparents, they encourage their grand- children to choose gifts from the catalog. "We want them to have that heart of giving," she says, noting their family value of not going into debt over Christmas. Last Christmas, the family started yet another new tradition. Everyone, including extended family, pre- pared a "how-to" presentation on skills and insights varying from weighing the benefits of renting versus buying a home to how to pose for pictures to how to cut hair. Each member not only shared a skill, but learned from each other too.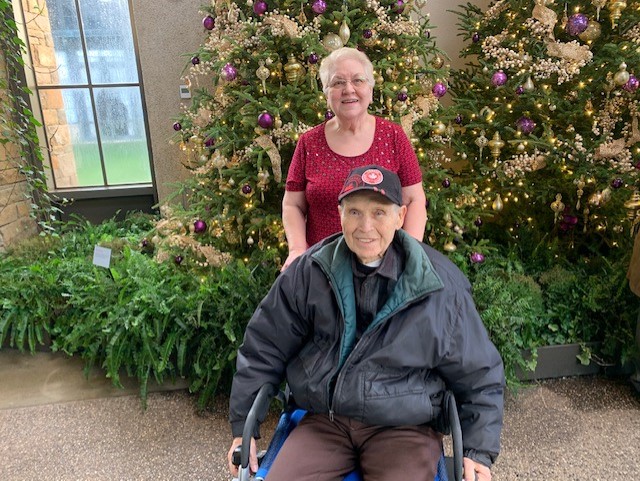 Stockings For Strangers
It takes Kay Baumgartner (pictured with husband, Earl), a member of Pennsylvania Conference's Lansdale church, an entire year to prepare handmade Christmas gifts for strangers. Four years ago, she sewed stockings to donate to a local hospital. However, once she called to inquire about donating, she learned that gifts had to be laundered first. Because her stockings had decorative elements, this was not practical. So she decided to share them with the neighbors near her church instead. She stuffed the stockings with little treats, John Bradshaw's book, Confidence in Chaos, and an invita- tion to her church's Christmas program. Then, with the help of her son and daughter-in-law, delivered them to the homes around the church.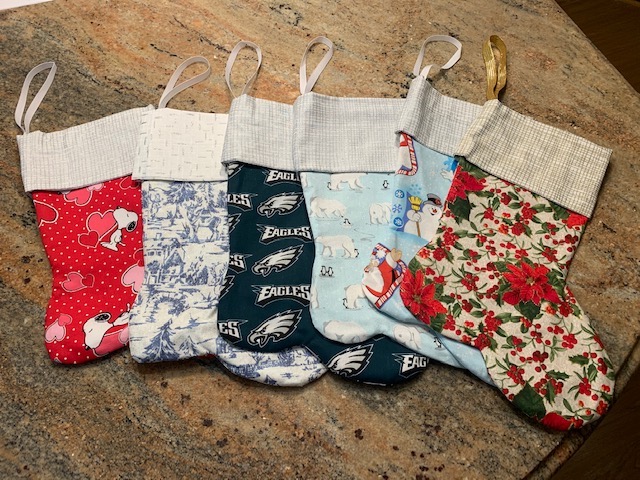 She remembers one specific time when she was unsure about leaving a stocking at a home with no Christmas decorations. "I knocked on the door, and when a gentleman answered the door, I asked him if they celebrated Christmas. He said, 'No, no, we don't. Why?' When I told him I had made stockings and I was giving them out, he quickly said that yes he did celebrate Christmas and would take one. Knowing he was getting a stocking made a difference, and then he was interested."
For three years, she faithfully distributed the stockings to the community. To ensure she did not repeat homes, she marked a street map each year to expand the territory of which she was reaching. Last year, due to family obligations, she was not able to distribute the stockings. But by summer, she had already completed 75, and is considering gifting them to first responders.
Baumgartner says she has two purposes for this project: "First, it gives a way for the community to know the church." She also hopes this gives each person receiving it the opportunity to know more about God. "Yes, they have to read the books I put in there, but it's in their hands at least. But God can move them to read it. It is in God's hands after I deliver the stock- ings. I still pray for them." 
Read these other articles from the November/December 2020 Issue:
Read these articles from the November/December 2020 Visitor: