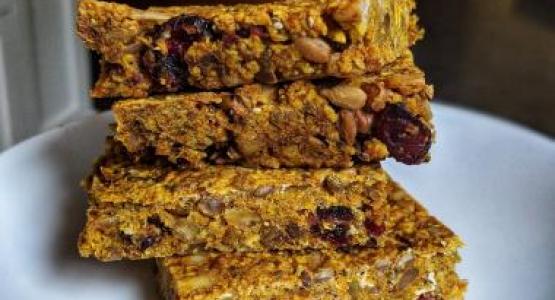 Recipe: Healthy Protein Power Bars from iThrive Camp
December 11, 2019 ∙ by vmbernard ∙ in Pennsylvania Conference, Health & Lifestyle, This Month's Issue
Recipe adapted from Kelly Brogan by Jennifer McCahan, RDN for Adventist WholeHealth Network's iThrive Wellness Camp
Ingredients:
1 cup cashews
1/2 c almonds
1/2 cup pecans
1/2 cup unsweetened coconut
1/2 cup cacao nibs
1 tsp pure vanilla extract
1/2 tsp sea salt
7 TBSP local honey
Optional:  handful of dairy free choc. chips or carob chips
Directions:
Preheat oven to 350 and line baking pan with parchment paper.
Put nuts in food processor or blender and roughly chop the nuts into 1/4 inch pieces, I like to pulse until some pieces and some powder. Combine all ingredients except honey in large bowl and stir. Add hone and mix with fork until ingredients evenly coated. Spread mixture into pan pressing down and reaching all corners. Bake for 20 minutes, then cool.
Read these articles from the January/February 2020 Visitor Magazine: