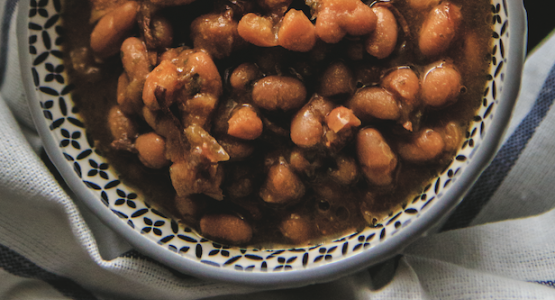 December 19, 2019 ∙ by rbacchus ∙ in Mountain View Conference, Pennsylvania Conference, Health & Lifestyle, This Month's Issue
Feature by V. Michelle Bernard 
Turkey bacon, eggs, cold cereal, cheese, lots of bread and pizza were common ingredients in Jennifer Engelkemier's daily menu. But since attending Mountain View Conference's (MVC) Wellness Camp last summer, she's traded in some of her old breakfast favorites, including turkey bacon, for beans.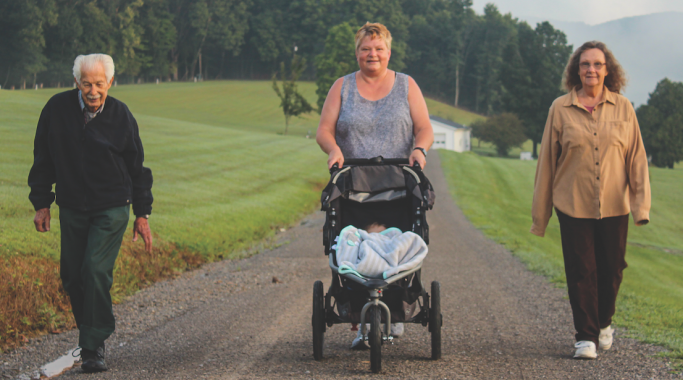 Before the camp, Engelkemier (pictured in middle, walking with wellness campers Herb Perrine and Susie Shaver) was overweight, had diabetes and high blood pressure, and also suffered from fatty liver disease. "I just want to get healthy overall," she said during the first week of camp, where she lost 10 pounds and started walking more regularly.
As of December, she's lost 40 pounds and is no longer on any medication.
She attributes this to striving for 10,000 steps a day and eating more plant-based foods at two main meals a day—habits encouraged by camp staffers.
"It has been a big lifestyle change for me," she says. "I always tell people I'm a work in progress. It is a way of life now. I feel great, and I hope that I can keep it up."
Two Square Meals a Day
The camp, located at the Valley Vista Adventist Center in Huttonsville, W.Va., runs for almost two weeks and seeks to be a place where people can get healthier, says Daniel Morikone, RN and conference Health Ministries director.
His mostly volunteer staff offer classes aimed to educate attendees on the benefits of spiritual health, natural cures and a plant-based diet. They implement the traditional Adventist elements of the NEWSTART® Lifestyle Program: nutrition, exercise, water, sunshine, temperance, air, rest and trust in God.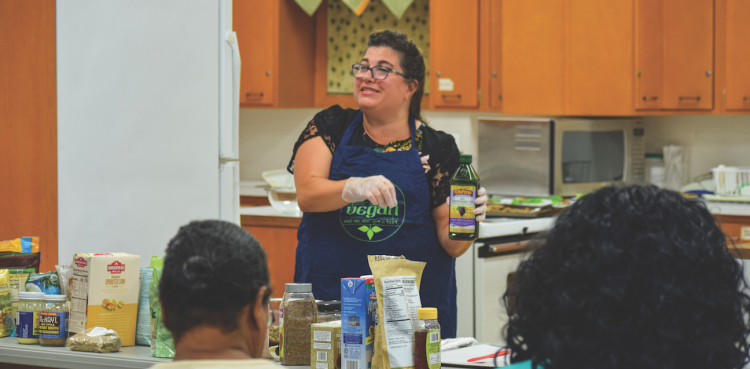 Registered dietician and nutritionist Jennifer McCahan (pictured), a member of the York (Pa.) church, demonstrates a plant-based recipe at the iThrive Wellness Camp.
Besides offering education, staffers provide an environment that allows campers to feel the difference a healthy lifestyle makes. The camp provides two plantbased, oil free meals a day (a light dinner is usually an assortment of fresh fruit), the opportunity to eat whole foods, exercise in fresh mountain air and be spiritually nurtured. (See a slideshow of two days of meals at columbiaunionvisitor.com/campeating.)
Over the 10 years Morikone has been involved with this program, he's seen campers lower their blood  sugar, cholesterol levels, amount of oxygen needed and weight.
This year he reports one camper had a 72-point drop in cholesterol. Another camper's blood urea nitrogen level dropped seven points, showing their kidneys were functioning better and "able to remove more toxins from the bloodstream," he says. The 14 campers lost a combined 88 pounds and experienced an average 55-point blood sugar drop.
Each summer, more than 300 miles from Valley Vista, Pennsylvania Conference's Adventist WholeHealth (AWHN) also hosts a wellness camp on the Blue Mountain Academy grounds in Hamburg.
Ben Parrish, director of the iThrive Wellness Camp, and, through AWHN, director of Health Ministries Development for the Pennsylvania Conference, says their staff and volunteers also aim to give their campers a "short vacation from their busy lives and unhealthy coping mechanisms, bringing them into connection with nature and supportive practitioners, [so] that they will taste a more vibrant lifestyle and experience healing."
Where the Rubber Meets the Road
The Mountain View Conference (MVC) camp and iThrive staff members realize it isn't always easy to keep up the healthy lifestyle back at home.
"A lot of times when people go to lifestyle centers, they're treated like kings and queens, [enjoying] fabulous foods. But who goes home and fixes Thanksgiving dinner every day of the week? That's just the bottom line. We don't," says Oleta Emerson, RN and head chef at MVC's wellness camp. "People need to know where the rubber meets the road. And here at this health camp, we try to teach them the fundamentals" and tips to continue living the lifestyle, including things like putting beans and rice in an instant pot and rice cooker at night to have a meal ready in the morning, she adds.
"The business and distractions in our lives can derail us from our healthy lifestyle changes," says Parrish. [But] "we can make a decision to be counterculture in order to live a healthy lifestyle. If some of our family members and friends can join alongside us in that stand for health, we will be more successful. … [Another obstacle is] time, being too busy. … The demands of work and family schedule that get in the way of self-care."
Emerson, a member of the Martinsburg, W.Va., church, says perseverance is also important to succeeding in new habits. "It takes time to form new habits. So don't get discouraged," she says. "Start with one or two new habits you want to accomplish. Maybe it's [eating more] dark green, leafy vegetables  to get your phytochemicals. … Or maybe if you've never eaten dark green, leafy vegetables, add one a week. Set realistic goals."
After "messing up," she says, "Don't have a pity party; get back up, and start walking again. Because those habits will come in as you put them in place. Have a support system, you know, ask a friend, 'Hey, can I call you when I get down so that I don't run to the Shell station on the corner and buy 10 candy bars? And can I call you instead?'"
She assures, "The people who make the decision to continue with healthy choices will see results. They get better, hands down. I've never seen one fail."
Change That Lasts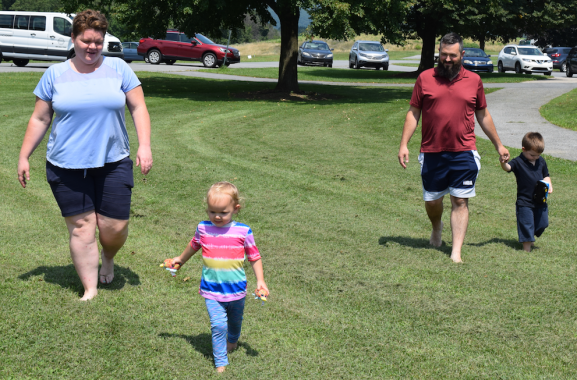 Charity Stone (pictured with family), whose husband, Tom, is a pastor at the Pennsylvania Conference Kenhorst Boulevard church in Reading and the Pottstown church, and her young family attended iThrive this summer, hoping to get "healthier at setting boundaries in order to protect the overall health of our family," she says. "As a pastoral family, we love to serve, but sometimes it is necessary to say no to tasks or people in our sphere of ministry so that we can stock up on fresh produce, take a walk when the kids need physical activity in nature or just plain connect as a couple and family."
She says the retreat offered a way for the family to "to prioritize our spiritual, emotional and physical health. It was really fun to connect with others at the retreat, and we learned so much," she adds.
In day-to-day life, she says that just getting the kids dressed and out the door to take a walk can feel like a workout. "Coordinating the whole family to exercise together is work, but it is worth it. ... It doesn't happen every day, but if we can fit that in once a week, twice a week, maybe even three times? Some [amount of] time outdoors getting fresh air and walking is better than none!"
She notes that they also came away with a balanced attitude toward wellness. "A gradual, sustained transition toward more physical activity is better than a rapid, unsustainable change that doesn't last," she says.
The Keystone of Health
Edna Dembosky, a member of Pennsylvania Conference's Laurel Lake church in Rossiter, is also still feeling the benefits of attending iThrive. Dembosky has been dealing with food allergies and working on becoming a vegan for 30-plus years. She attended to "get away," find encouragement to tweak her diet, learn about healthy living and work through grief following her daughter's passing a year ago.
She reports she is fully vegan now, after following a 21-day fast, encouraged by iThrive staff. During the fast, she eliminated dairy, gluten, sugar, eggs and animal products. "It nearly killed me. No animal products was difficult," she says. She then slowly started introducing those items back into her diet and started getting itchy. "I learned something very valuable. I can't do dairy [or eggs] at all."
Before camp, she says she didn't walk much. But now, she intermittently walks and runs three to four times a week.
At camp she lost three pounds and has lost a total of nine. "The rest is coming off," she says, noting her new eating schedule of intermittent fasting [not eating past 5 or 6 p.m. each day] and exercise schedule.
"I do feel better, more energetic," she says. "I have a more positive mindset too. … I'm also trying to get in more Bible study and prayer time," something encouraged at both camps.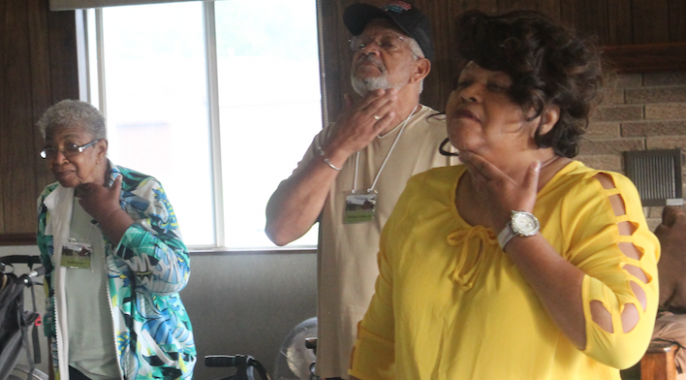 Sarah Green (pictured, left), a member of the Pikesville (Md.) church, her husband, William, and Corlys Ballou, a member of the Emmanuel church in South Boston, Va., participate in a series of exercises and stretches that precede each meal at the Mountain View Conference Wellness Camp, as Oleta Emerson explains, "When people do not have flexibility, as they get older they [can] end up tearing a muscle, ligament or tendon."
Though still working through emotions relating to her daughter's death, she attributes her success to a new mindset. When upset, instead of thinking, "Woe is me,  I need to grab a candy bar. … I will try to get up and go outside, or get up and praise the Lord. I just stop and praise or just stop and think about Jesus," she says.
N. David Emerson, M.D., a camp volunteer who has worked at several lifestyle centers, has seen similar results, noting research that found participants eight months into following the popular plant-based diet were 85 percent more successful in maintaining their new way of life when adding a devotional and prayer life to their routine. "To be effective, you have to have a spiritual component as well," he says. "We have a spiritual emphasis here. Not because we're trying to make you Adventist, but because … this is going to help you succeed. We want you to be successful."
Ricardo Bacchus contributed to the reporting of this article.
Read these articles from the January/February 2020 Visitor Magazine:
Columbia Union Visitor's Healthy 2020Private group · 5 membersJoin GroupThroughout 2020 the Columbia Union Visitor staff will share tips and tools to help on the journey to a healthier 2020. We'd also like members to join ...