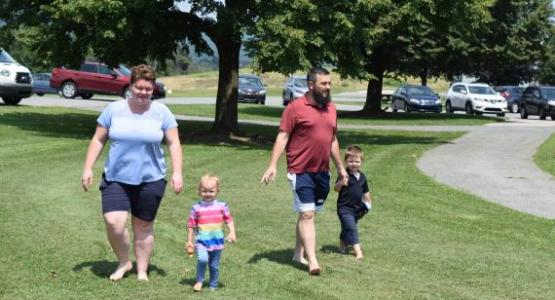 January 06, 2020 ∙ by vmbernard ∙ in Pennsylvania Conference, Health & Lifestyle, This Month's Issue
Story by V. Michelle Bernard
Charity Stone (pictured with family), whose husband, Tom, is a pastor at the Pennsylvania Conference Kenhorst Boulevard church in Reading and the Pottstown church, and her young family attended iThrive this summer, hoping to get "healthier at setting boundaries in order to protect the overall health of our family," she says. "As a pastoral family, we love to serve, but sometimes it is necessary to say no to tasks or people in our sphere of ministry so that we can stock up on fresh produce, take a walk when the kids need physical activity in nature or just plain connect as a couple and family."
She says the retreat offered a way for the family to "to prioritize our spiritual, emotional and physical health. It was really fun to connect with others at the retreat, and we learned so much," she adds.
In day-to-day life, she says that just getting the kids dressed and out the door to take a walk can feel like a workout. "Coordinating the whole family to exercise together is work, but it is worth it. ... It doesn't happen every day, but if we can fit that in once a week, twice a week, maybe even three times? Some [amount of] time outdoors getting fresh air and walking is better than none!"
She notes that they also came away with a balanced attitude toward wellness. "A gradual, sustained transition toward more physical activity is better than a rapid, unsustainable change that doesn't last," she says.
Use these tools to help get started on the path to a healthier 2020.
Columbia Union Visitor's Healthy 2020
Private group · 5 members
Throughout 2020 the Columbia Union Visitor staff will share tips and tools to help on the journey to a healthier 2020. We'd also like members to join ...