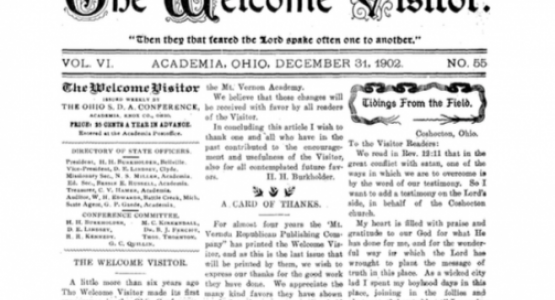 Visitor Editors Through the Years
December 18, 2019 ∙ by vmbernard ∙ in This Month's Issue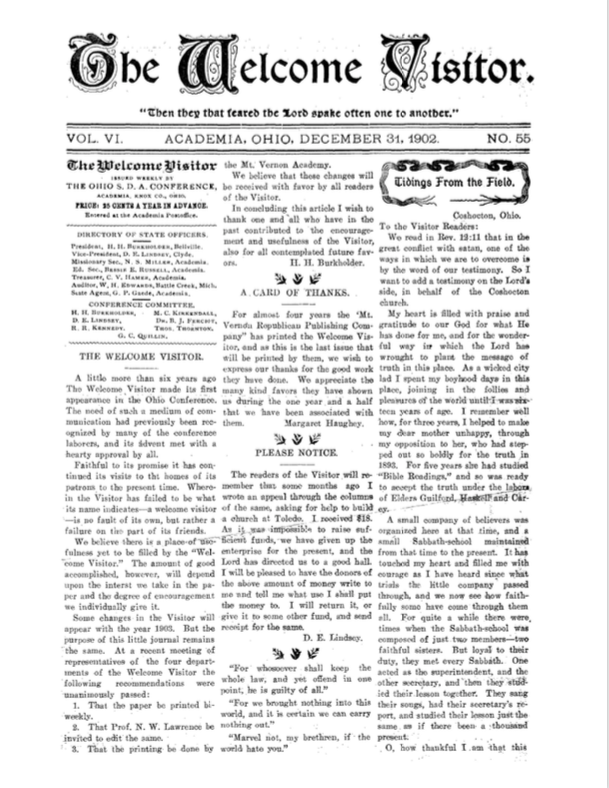 Story by Celeste Ryan Blyden
This year marks the 125th anniversary of our beloved Columbia Union Conference Visitor magazine. Starting in 1895 in the Ohio Conference as The Welcome Visitor, it has evolved under the helm of 30 known editors.
No editor was listed during the first few years of publication. Copies of the four-page, black and white journal seem to indicate a joint publishing effort by conference leaders. They charged 35 cents for an annual subscription, that was to be paid up front. 
In the December 31, 1902, issue, Volume 6, No. 55, H. H. Burkholder, the president of the Ohio Conference, announced that there would be some changes.
It would be printed bi-weekly instead of weekly. It would henceforth be printed at Mt. Vernon Academy. And Professor N. W. Lawrence would serve as editor. 
Lawrence served for almost two years before the first woman, Bessie Russel, took the helm.
The longest serving editor, Warren F. Adams, served for 30 years.
Following is a list of the editors who shepherded the Visitor through the years:
Visitor Editors List (1903-1919)
January 14, 1903 – September 28, 1904                    N.W. Lawrence
October 5, 1904 – December 30, 1908                      Bessie E. Russel
January 20, 1909 – June 16, 1909                              Mrs. S. M. Butler
June 30, 1909 – July 6, 1910                                       D. D. Rees
July 13, 1910 – October 23, 1912                               Maude Pengelly
October 30, 1912 – May 14, 1913                              Walter Moffett
May 21, 1912 – July 1, 1914                                       Grace V. Purdham
July 8, 1914 – June 8, 1916                                         Olive Krum-Hagmann
June 15, 1916 - June 12, 1919                                    Emma Silber, Editor
 June 19, 1919 -   July 29, 1920                                   Sara K. Rudolph
August 5, 1920 – July 21, 1921                                   Emma S. Newcomer
July 21, 1921 - April 9, 1925                                       Ruth E. Melendy
April 16, 1925 – June 18, 1925                                   Genevieve L. Melendy
June 25, 1925 – October 20, 1927                             Robert B. Wheeler
October 27, 1927 – August 2, 1928                            E.W. Tonjes
August 9, 1928 – September 27, 1928                       E.R. Corder
October 4, 1928 – September 8, 1932                       A.J. Olson
September 15, 1932 – September 22, 1938              A.B. Cole        
September 29, 1938 – December 26, 1968               Warren F. Adams
January 10, 1969 – May 24, 1973                               Morten Juberg
June 7, 1973 – June 3, 1976                                       Charles R. Beeler
June 3, 1976 – June 2, 1977                                       Elane Rogers
March 10, 1977 – June 12, 1980                                Franklin W. Hudgins
June 26, 1980 – August 15, 1984                               Ernest N. Wendth
September 1, 1984 – June 1, 1986                             Ron Graybill
June 15, 1986 – August 1, 1991                                 Kermit Netteburg
August 15, 1991 – June 1, 1998                                 Richard Duerksen
August 1, 1998 – December 15, 2001                        Monte Sahlin
January 15, 2002 – March 4, 2014                             Celeste Ryan Blyden
March 4, 2014 – June 9, 2016                                    Beth Michaels
September 12, 2016 – Present                                   Celeste Ryan Blyden
List compiled by Michele Joseph, Nicole Labiche and Shirley Rowley
Source: https://www.adventistarchives.org/
Sample Issues: http://documents.adventistarchives.org/Periodicals/CUV/CUV19011010-V05-21.pdf