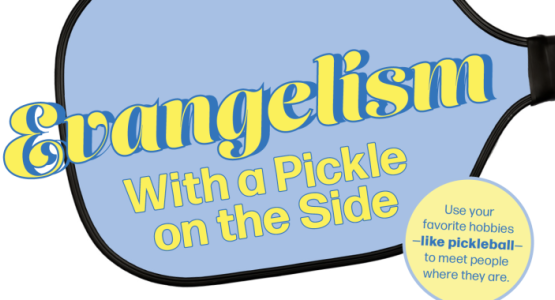 Evangelism—With a Pickle on the Side
July 01, 2023 ∙ by rbacchus ∙ in This Month's Issue
Feature by Elizabeth Anderson / Photos by Jay Alignay and Brad Barnwell
The words "evangelism" and "witnessing" might resurrect memories of knocking on strangers' doors, clanking ingathering cans and distributing tent revival or Revelation Seminar invitations. Those traditional methods of sharing the Seventh-day Adventist message still have their place, however, some members from the Columbia Union Conference are learning that being the "salt and light" can show up in different flavors—like pickleball. These members are allowing Christ's love to breathe through this hobby and passion to bring about organic, yet intentional friendships.
Pickleball Flavor
Pickleball, a paddle sport laced with elements from tennis and badminton, has grown exponentially during the past three years, according to a recent Sports and Fitness Industry Association report.
When Jay Alignay, aka "Coach Jay," a member of Chesapeake Conference's New Hope church in Fulton, Md., was introduced to the sport last year, he was hooked after playing just a couple of games.
"I played a 15-year-old and an 85-year-old, and lost to the both of them," he says.
"From that experience, I realized that pickleball was an amazing sport that was inclusive … no matter who you are, what age, what gender, what belief, what background," noting the sport's inclusivity also enables those with certain disabilities to also take part.
Alignay dove into the sport, eventually earning a USA Pickleball Certification and becoming a certified coach and referee. Excited to share this newfound passion, he wondered, How can I get my friends and my family involved … and also my co-workers?"
Since his career as a technology architect occasionally involves cross-country travel, he looked for places to play the sport and found opportunities via Facebook and Instagram.
"[People] welcomed me with open arms," Alignay says. "I could just basically parachute [in] and play pickleball" in any location.
The inclusivity sparked more questions about pickleball's potential for connecting with the community, church and even the world. Alignay searched for and made connections with other Adventists who had established or operated pickleball programs.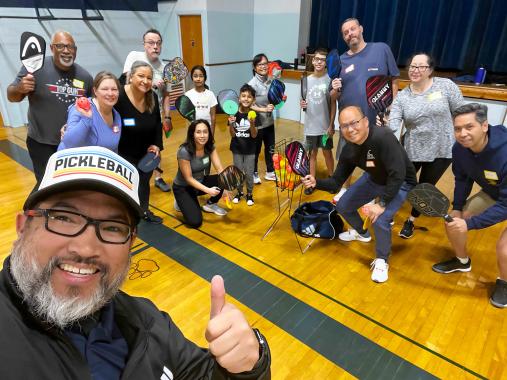 Back at home, in January 2023 Alignay garnered interest in a pickleball ministry with members at Potomac Conference's Beltsville (Md.) church. A group started playing weekly across the parking lot inside Beltsville Adventist School's gymnasium (pictured).
Since then, Alignay has lauched pickleball groups in six other churches and schools: Olney (Md.) church; Southern Asian church in Silver Spring, Md.; Far West End church in Rockville, Va.; Spencerville church in Silver Spring, Md.; Takoma Academy Preparatory School (TA Prep) in Takoma Park, Md.; and Frederick Adventist Academy (FAA) in Maryland.
With an average of more than 30 members who play at each location, Alignay says he plans to launch 25 more pickleball ministries by the end of the year.
"I'm already getting sponsorships from certain paddle manufacturers and makers who are actually donating and providing paddles for our church programs at no cost," Alignay says. "It is amazing how the Lord is working every day for us."
Getting Schooled
By focusing on exercise, pickleball ministry gives churches another pathway to be active stewards of the Adventist Church's health and education pillars, which ties into the participation of schools.
When Alignay approached principals Drechelle McCray and Jake Villanueva about starting pickleball programs at their schools to extend their community outreach, they responded that they already had the equipment.
"I found out that my current athletic director had already taught some of our students how to play pickleball," says McCray, principal of Potomac Conference's TA Prep. "We're hoping to be able to start [the program] this summer."
Villanueva, principal of Chesapeake Conference's FAA, says, "I think everything starts with building a relationship and not with ulterior motives. Our goal is just to build a relationship with someone and get to know them," he says of the pickleball ministry, run on Tuesday evenings at the school.
This form of ministry not only connects churches and schools with their communities; it also helps link church members who don't often get the opportunity to interact with each other outside of church.
That's what Rebecca Abraham is learning from her involvement with the pickleball program at Chesapeake Conference's Spencerville church. She also plays with friends at the Beltsville and Olney churches.
"I see these church members at various events … and now I might just holler out their nickname," she says. "I'm connecting with all kinds of people of all ages, of all backgrounds, and mostly a lot of kids, like the students that go to Spencerville [Adventist Academy]."
Frictionless Intentionality
Alignay says one of his main goals is to make the pickleball experience as "frictionless" as possible for participants. Even though the goal is not overt witnessing, that doesn't mean intentionality is thrown out the window. Quite the opposite.
"We don't do an altar call" Alignay says, but certain traditions remain part of the experience.  "We do end with prayer. We also play Contemporary Christian music from WGTS 91.9 via Bluetooth."
In addition, various churches supply welcome packet bags with bottles of water and pamphlets about their church, Health Ministries and other programs that the church offers.
The goal is to open that doorway to other opportunities through genuine relationships for those who are curious, Alignay says. "Hopefully this becomes a … kind of outreach, rather than just maybe a onetime campaign at someone's door. Like all of our ministries, I think it's all in the Lord's hands."
Alignay shares that a co-worker of his now attends his church from time to time as a result of playing pickleball with him. "One inspiring sermon hopefully will change one life, right? Same thing with pickleball. Hopefully, pickleball will enlighten or inspire one individual or motivate someone to continue their relationship with our church or our community and possibly become a believer."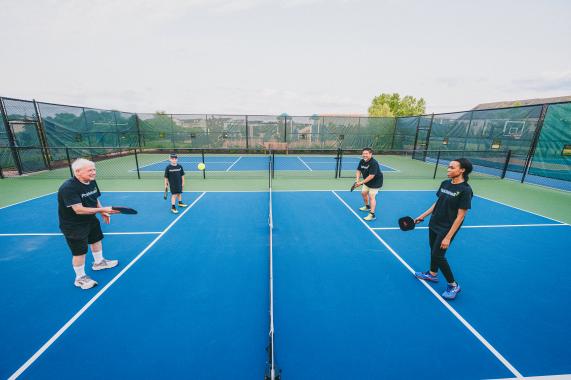 Essential Evangelism
Some Adventist members believe that genuine friendships can be more impactful than evangelistic meetings—especially for people or individuals who may not be interested in church or those who hold regard for the Divine, but whose beliefs may differ.
Junnie Ree Pagunsan, pastor of Potomac Conference's Far West End church in Rockville, Va., is known as the "nicest guy on the pickleball court," a designation he received from others who play on Richmond's public courts.
The church's ministry got started nearly two years ago during the height of the pandemic when people were looking for ways to connect—at a distance. 
Pagunsan shows up at pickleball courts around the city to be a familiar face so "the more people know me, then the more I can relate to them, and the more they share," he says. Eventually, he's found himself being invited to people's homes, sharing meals with families.
"Next thing I know, they were there in church," he says. Situations like that blossomed out of a natural trajectory of questions while getting to know people. He mentions his past work as a chaplain, and when the circle of life paused on death and grief, he was invited to preside over a memorial service for a fellow pickleball player who succumbed to cancer.
In another case, Pagunsan says a different player, who previously voiced a belief that all religions are corrupt, attended a churchEaster cantata and donated funds "supporting medical mission costs," he says. It's been part of the trajectory of their friendship.
Rick Johns, pastor of Potomac Conference's Olney (Md.) church whose church hosts pickleball sessions every Sunday at the adjoining school, agrees: "I think pickleball ministry and other friendship evangelism ministries are essential to what the  church does in the world today. We have to have a relationship in order to invite people to go deeper. And it's actually how Jesus did His ministry. … But I think this is the starting point."
Even though friendship-style evangelism is more personable than handing strangers invitations to a Revelation Seminar, there can be drawbacks too. In friendship evangelism, there's no structure in place so that new friends can learn more about Jesus when the Good News is shared, Johns says. That's where intentionally kicks in.
"The pros of pickleball or friendship evangelism is you get to meet people, build relationships, earn their trust," says Johns. "They [will have] much more interest in what you have going as a church and who you are. … And I think it's much easier for them to accept an invitation to come to any kind of seminar or anything that you're doing at the church or even to come and worship with you."
Johns continues, "I think we do have something that people want. And so we shouldn't have to pressure them. We should just invite them and show them how good it is," referencing the way Jesus worked.
No Dress Code
Part of getting together with friends and neighbors is being open to the surprises God can bring through one's interest, hobby and the Holy Spirit's guidance. New Hope church member Marty Chappell, a pickleball player and a fifth-grade teacher at a public school, notes, "When it comes to pickleball, it's just a nice thing to feel like I'm not inviting [my students and neighbors] to something churchy. … It doesn't feel like I have to say, 'If you come, make sure you put your tie on.' I think it's a way to show who we are without being too preachy."
Villanueva agrees, "Our motives are not to make sure that we're trying to baptize people. Yeah, we would love for that to happen, but our goal is just to build a relationship with someone and get to know them."
McCray adds, "There are so many beautiful things about the church, but [many of us] have gotten stuck on religion. Our mission still remains the same, right? However, our avenues and reaching people needs to change with the times."