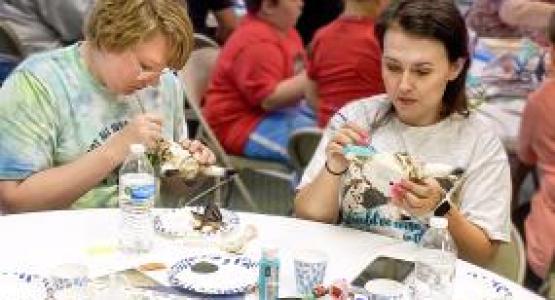 July 01, 2023 ∙ by rbacchus ∙ in Mountain View Conference, This Month's Issue
By Elizabeth Anderson 
Who knew art classes could warm hearts? Megan Garcia, who attends Mountain View Conference's Charleston Boulevard church in West Virginia, is learning that sharing her gift of creativity comes with a lot of prayer, personal investment and waiting.
During her art classes held at the church, Garcia leads several types of projects—including a geode class. It doesn't hurt that a four-course meal is part of the package, she says.
"There's tons of people who come for the first time who would never set foot in a church, but it's like a safe place," Garcia says, noting that she is intentional about creating a positive family-style environment that is informal, yet Christ-centered.
And leading with relationships can also include a trip to the baptismal pool.
Garcia tells about a man whose unexpected path to baptism first included her art class, then attending an evangelistic series. He learned that the Seventh-day Adventist Church basically aligned with his beliefs, so it was a fit. Two of his other friends, attendees of the art class, also got baptized.
Read more about how God is blessing her passion for art to reach others here.