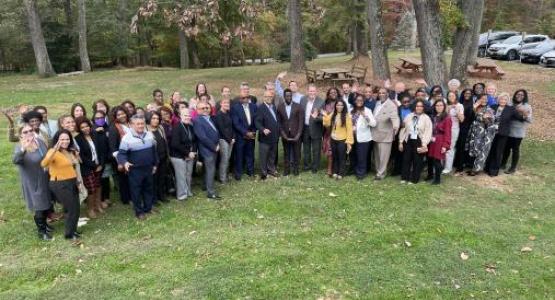 January/February 2023 Feature: Answering the Call
January 04, 2023 ∙ by vmbernard ∙ in Columbia Union News, This Month's Issue
Story by Lori Futcher / Photos by Brad Barnwell, V. Michelle Bernard and Kelly Butler Coe
"God has called you," said Dave Weigley, president of the Columbia Union Conference, as he stood in front of a gathering of 50 female pastors, chaplains and theology students at the first-ever Columbia Union Women Clergy Retreat. "You have answered the call. Thank you for your service."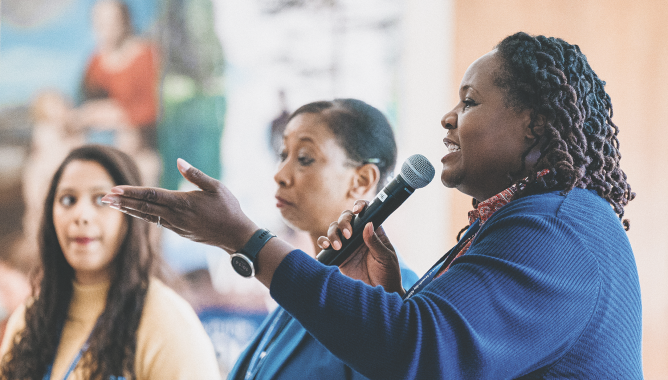 The three-day, two-night retreat began with Celeste Ryan Blyden (right), Columbia Union's executive secretary, inviting participants to leave their worries, stresses and duties behind and encouraging her sisters in ministry to follow the direction Jesus gave His disciples to "come rest awhile."
As women spoke in confidentiality with each other around the tables that first evening, there were tears and hugs. "I'm not in a good place," one participant said, with her eyes welling. Busy schedules, loneliness, isolation and doubt were among the burdens shared.
"Sometimes when you feel alone, you can go down a path where you start to question things," says Marilyn Scott, associate pastor at Chesapeake Conference's New Hope church in Fulton, Md., and a member of the retreat planning team, "so this is a way to rally all of us together as women, to say to one another, 'We're going to make it through, because God has called us to do it.'"
The event was also a celebration of the call women in attendance had answered. Since the time the Columbia Union decided to begin ordaining women 10 years ago, the number of female pastors in the union has increased from 20 to 50. "We have grown by 150 percent," said Blyden in her opening comments, "and we praise God for each of you and for how God is using you for such a time as this."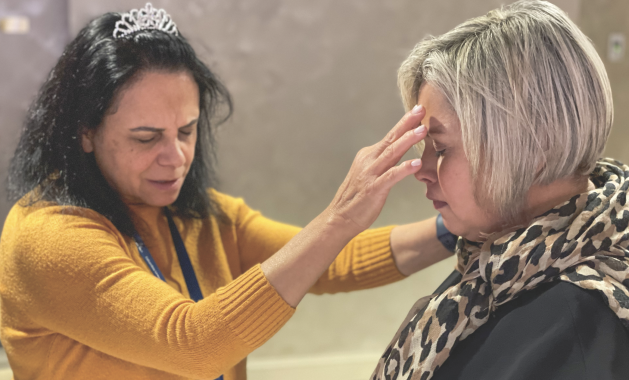 Called by God
Every woman at the retreat, including Berenice Nunes, Kettering Health chaplain, who annointed Glaucia Teixeira, a certified chaplain and counselor (pictured), had a story of how God had called her into the ministry, and for many, that story involved a delay in heeding the call, as these women questioned their role in the church.
Tierra Best, a theology major at Washington Adventist University in Takoma Park, Md., started college with a major in music therapy, but halfway through her first semester, she wasn't fitting into the program the way she had envisioned. Meanwhile, her passion for the Bible was becoming evident in the religion class she was taking.
One day, her religion professor confronted her with something she had not told him. "Tierra, you're struggling right now," he stated. "You want to switch over."
"How did you know?" she asked.
"I can sense your passion in class," he responded. "Why aren't you a theology major?"
Best admitted, "I'm just scared."
The conversation helped her realize music therapy had been her plan, but not God's plan. Despite insecurities that stemmed from not looking like those she saw in ministry, Best decided to comply with God's calling and switched her major to theology.
Though still a student, Best has already faced the prejudices common to women pastors. One of her peers told her she needs to repent for her choice of major. But Best is keeping her eyes focused on God, saying, "If I look at God and the mission and how others have been blessed, how am I going to let one person [stop me]?"
Unlike Best, who found her calling at a young age, Lori Farr, now a pastor at Ohio Conference's Miamisburg church, spent her young adult years outside of the church. At the age of 38, she understood the gospel for the first time. Becoming active in a local church plant, she even began preaching from time to time under the mentorship of her pastor.
When she felt God calling her to Andrews University (Mich.) to prepare for full-time ministry, she resisted. God, I just, I just can't, she argued.
One Sabbath, as Farr finished preaching, a woman she knew came up to her and said, "Last night, God put you on my heart. The Holy Spirit is working on you to do something … that you're afraid to do. And God is saying you need to go."
Tears streamed down Farr's face. She had told no one of her struggle. But she could not deny the Holy Spirit's leading, especially when her brother called that afternoon with a similar message. After an hours-long conversation with God, Farr was finally ready to agree to the calling.
Farr didn't have an easy transition into the ministry. In one of her church districts, she wasn't even allowed to enter the doors of one of her churches. But she is now happy to be pastoring at a church that welcomes her.
"I didn't have a lot of confidence coming into the ministry because I couldn't understand why God would choose this girl," Farr says. "God has grown me in His confidence. I know it's not Lori, but it's God in Lori."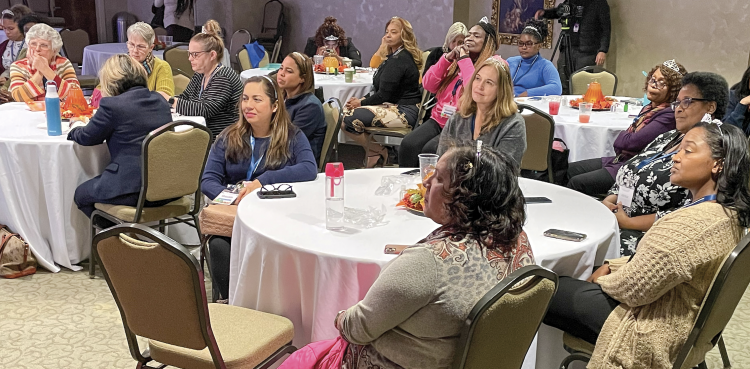 Marleena Debrough, now a pastor at Allegheny East Conference's Willow Grove (Pa.) church, has also learned to find her confidence in God. "I don't have to be received by you. I don't have to be approved by you, because I already know what God is calling me to do," she says.
That was not always the case. When she was first asked to become an elder in her church, it took her a while to accept that call. But a couple years after that, she became head elder.
"You're going to be a pastor someday," her pastor told her a couple years after she became head elder.
"I didn't believe that," says Debrough, who denied God's calling for five years. "The call just continued to happen until I finally consented and went to school."
Debrough graduated in 2015, the same year that delegates at a General Conference Session voted down the question about whether divisions can decide to ordain women pastors. People were questioning if women should serve as pastors or even elders, even though both had been approved decades ago. It was amid this confusion that Debrough was assigned to her first church, which was also her home church.
"A lot of people left the church when I shifted from the head elder to pastor," Debrough says. "It was very challenging."
Yet through her ministry, Debrough has seen hearts softened and those who were once against women pastors embrace God's calling in her life.
"They see the Holy Spirit working in us," Debrough observes, "because—and I want to make this point very clear—none of us become pastors because we just want to, because it's a very tough role, especially as female pastors, [there's] a lot of persecution that comes … so you have to know that God has called you."
What is it that keeps these women on a career path where there is so much opposition? Many attest that it is witnessing the Holy Spirit working through them.
"That's what really put me in the ministry, is looking at people's transformation … once they come into the faith," says Rosalind Beswick, lay pastor at Allegheny West Conference's Hillside church in Zanesville, Ohio.
Accepted by God and Others
Even though these women know God has called them, they become weary battling the questioning and the roadblocks.
Linda Farley-Meyer, now a visitation pastor at Ohio Conference's Kettering church, had been ministering in an unpaid role with her pastor husband for decades. As her husband's health declined, her responsibilities at the church increased until she was doing ministry full time. Farley-Meyer recognized God's calling on her heart and asked leaders if the work she was doing at her husband's church could be officially recognized in the role of associate pastor. Her request was declined.
"It was at that point I realized that I was expected but not accepted," says Farley-Meyer.
The response she had received led to questioning, God, why did you call me? Why did you open these doors and then close them?
Calling a friend at Kettering church, Farley-Meyer asked, "Is ministry something that a woman could do?"
This time the answer was, "Absolutely, yes."
At an ordination ceremony in 2013, during which Farley-Meyer and Farr, along with two other female clergy, were ordained, a visiting conference president who participated in the service said, "I am regretful that it has taken the church so many years to acknowledge [these women in ministry] … shame on us that we've taken this long."
Farley-Meyer shares, "You know, just hearing those words ... is an amazing gift."
The Next Generation
Farley-Meyer hopes that this kind of recognition will help girls growing up in the church respond to the call faster than she and her peers did. Pastor Chelsy Tyler, a young adult who works with youth and young adults at Chesapeake Conference's New Hope church in Fulton, Md., shares that dream.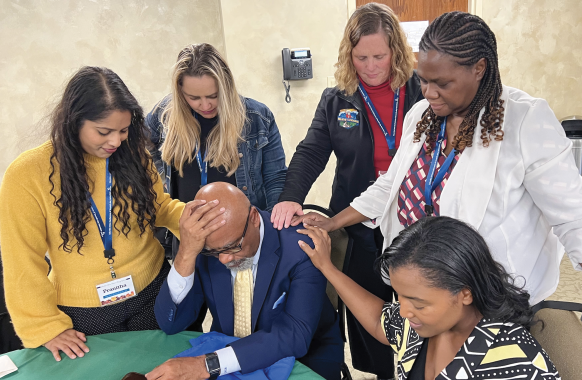 "There was actually a point where I kind of lost hope that the future could change," Tyler admitted to conference and union leaders at a luncheon held during the retreat where leaders, such as Charles A. Tapp, Potomac Conference president (pictured above with retreat attendees praying over him), affirmed and encouraged the women clergy, "but when I see leaders and administrators such as yourselves who model the type of leadership that can change the future, it helps flip the script. When I see administrators … who not only support women but also empower us … and generally care about us as human beings, giving us spaces like this to retreat with Jesus and nurture for our souls, that helps restore my hope that the future can change [for] the women and younger sisters in Christ whom Christ's call continues to be extended to."
It is likely that the number of female pastors serving is only going to continue increasing. Not only are more women entering the ministry, but some female pastors are breaking out of the roles traditionally assigned to women, such as family or children's pastors, and taking leadership roles as executive or lead pastors.
"While women in pastoral ministry have been diligently preparing and continue to rise to the occasion to serve with distinction, they cannot break the stained-glass ceilings by themselves," says Lola Moore Johnston, lead pastor at Potomac Conference's Restoration Praise Center church in Bowie, Md. "We need administrators willing to cut new paths and blaze trails by preparing and assigning women to serve in large church assignments and conference positions."
At the event, there was a sense that God is multiplying the number of women in ministry to help bring about the close of the work here on earth.
"What makes [it] possible to reach all around the world … is the work of men and women of God," said Eduardo Monteiro, director of the ministerial and evangelism departments for the New Jersey Conference, "and I believe that we will only be able … to finish the commission that God has given us if we're working together. If it depends only on men, it will not be possible. … It is in this effort that we work together."
Many of the pastors attending the retreat believe with this kind of teamwork—women continuing to be receptive to the Holy Spirit's calling and men continuing to support their peers in ministry—the church will see the body of Christ working in unity to share the beautiful story of God's unfailing love with the world around us.
Together We Can
It was the planning team's goal to fill the women in attendance with new energy to continue the mission God has given them, not only by uplifting worships and encouraging seminars, but by hands-on activities, such as "Paint and Heal" (pictured above), led by Regina Johnson, administrative pastor at Allegheny West Conference's Grace Community church in Cleveland, Ohio, and "Joy in the Journal," led by Debbie Howell, interim lay pastor at the Potomac Conference Beltsville (Md.) church's Tech Road campus. Based on comments from those in attendance, this goal was successfully accomplished.
Cheryl Wilson-Bridges, a chaplain for Adventist HealthCare's Fort Washington Medical Center in Maryland who helped plan the worships for the retreat, says, "It's wonderful to feel like a part of something larger than just you."
Pranitha Fielder, administrative pastor for Potomac Conference's Sligo church in Takoma Park, Md., and member of the retreat planning team, says, "The retreat forced me to slow down. Pastoring while a wife, a mom and an adjunct professor can be consuming. … This retreat gave me just that. It was like a recalibration."
Berenice Nunes, a chaplain for Kettering Health in Ohio, agrees. "This is what we needed. This is so beautiful because I feel renewed. I feel encouraged."
To watch a video of the Columbia Union Women Clergy Retreat, visit columbiaunionvisitor.com/retreat.​
__________________________________________________________________________

Read and Share Articles from the January/February 2023 Visitor: