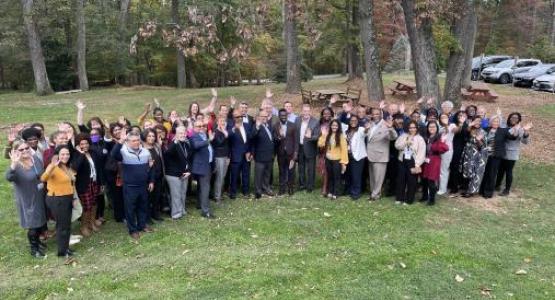 VIDEO: Columbia Union Women Clergy Gather to Refresh, Renew and Recharge at Historic Retreat
October 20, 2022 ∙ by vmbernard ∙ in Columbia Union News
Story by V. Michelle Bernard with reporting by Lori Futcher
Taking a pause from their busy schedules of juggling preaching, managing ministries and nurturing family and friends, some 50 clergy from across the Columbia Union Conference gathered at the Columbia Union Women Clergy Retreat this week.
Hosted by the Columbia Union leadership team, the inaugural event, themed 'Refreshed, Renewed, Recharged,' was held at a retreat center in Marriottsville, Md. The retreat provided an opportunity for women pastors, chaplains, students and local leaders from conferences, hospitals and Washington Adventist University (WAU) to share experiences, network, build skills and learn tools to better tap into their gifts and talents. And to relax.
"We are pastors, chaplains, students, interns, elders and some volunteers, all serving for the glory of God and to advance the mission of Jesus Christ. And I am so thankful for each one of you. And we welcome you to this experience. Sit back, relax," said Celeste Ryan Blyden, the union's executive secretary and planning team chair. "Leave [all those responsibilities and cares] down at the bottom of that hill. You can pick [them] up when you're leaving. But right now on this mountaintop together, let's just be present."
Marilyn Scott, a pastor at Chesapeake Conference's New Hope church in Fulton, Md., and a member of the retreat planning team, says there are events for pastors every once in a while, like the recent CALLED Convention, but the idea of coming together as women to encourage and nurture one another is special. "This is an opportunity to do just that, to be able to nurture and encourage women clergy, to feel supported … letting them know that they are not alone." 
Noting the opposition and isolation that women pastors can sometimes face, union leadership wanted the event to offer support and connection those realties. 
Marleena Debrough, a pastor at Allegheny East Conference's (AEC) Willow Grove (Pa.) church and a member of the planning committee, agrees. "It's so good to come together, because we, as women, understand the call. We understand the mission that God has given us, even if no one else understands, we understand."
Affirming the Ministry
At a Pastor Appreciation Month Celebration Luncheon during the event, Dave Weigley, union president, welcomed attendees and shared, "Women in ministry make a huge difference. They can minister in their own unique giftedness. ... God has called you. You have answered the call. Thank you for your service and all that you do."
In a special time of prayer, attendees also prayed for and encouraged the church leaders as they continue to lead. 
Event coordinators also surprised Weigley with a special recognition for supporting women in ministry.
"We want to commemorate this historic occasion," said Blyden. "Without you and the support of the Presidents' Council," this event wouldn't have happened. She noted that 10 years ago, there were only 20 women employed as clergy in the union. Today there are 50, due to the courage that leadership has shown.
The Future of Women in Ministry?
The retreat also provided fellowship resources for aspiring clergy. "There are struggles in ministry that aren't publicly talked about where you can't get anywhere else. But when you're at retreats and conferences like these, you see the vulnerability of so many pastors, especially women pastors," says Tiara Best, a theology student (pictured in back, second from the right) at WAU in Takoma Park, Md. "It's a blessing to not only be able to meet these pastors, but to get to know them on a personal level [as I continue to discover my calling]."