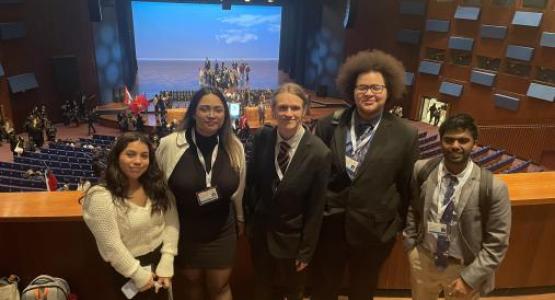 Highland View Academy Students Debate Global Issues in The Hague
May 16, 2023 ∙ by rbacchus ∙ in Chesapeake Conference, Education
Story by April Lutz
Students at Chesapeake Conference's Highland View Academy (HVA) in Hagerstown, Md., are regularly presented with opportunities to engage in current, global issues that impact the world, their community and their individual lives. Both the STEM and Humanities departments work together to foster an environment where students are encouraged to turn a critical eye to the world around them, to think about their perspective—especially in relation to their personal relationship with Christ—to support it, argue it and fight for it.
Earlier this year, five students from HVA had the opportunity to take this activist mindset to the Netherlands, representing the nation of Equatorial Guinea at The Hague International Model United Nations (THIMUN) conference, themed "The Future of Borders." Spearheaded by Jonathan Scriven, associate director of the Honors College at Washington Adventist University, this group joined nine other academy students from the Columbia Union Conference, representing the first group of Seventh-day Adventist students to ever participate in the world's largest in-person high school-level Model United Nations (MUN) simulation. They joined more than 2,000 students from around the world at the World Forum convention center to discuss, debate, lobby and draft resolutions regarding current issues the world faces today.
Seniors Alex Cruz, Julie Herter, Brandon Herd, Davian Neverson and Brendan Koilpillai sat on committees that dealt with human rights, disarmament and international security, and how borders can be equitably protected. Each of them discussed their committees' topics, resolutions and amendments with their peers, in an attempt to find solutions to real-world issues.
"Going on this trip gave me the opportunity to step into a different perspective," explains Neverson. "Participation in MUN allowed me to get a taste of how the world and its numerous powers reach mutual agreements and shape the society we live in today."
In having to represent another nation's interests and values, these HVA students had their own worldview challenged as they strengthened their ability to debate key issues. This forced them to both accept the validity of various perspectives and experiences while solidifying their own beliefs as evidence allows. Most importantly, this "once in a lifetime experience," as Cruz describes it, created an opportunity for them to truly assess their role and purpose as followers of Christ in the end times.
Spending 17 hours on a tarmac in Iceland, losing luggage, exploring The Hague, and visiting Anne Frank's House in Amsterdam indeed made this a "once in a lifetime experience," yet it was the thoughtful and challenging debate and eye-opening discussions with peers from around the globe that truly impacted the group. As a result, more students than ever have expressed interest in learning more about MUN, and HVA staff intends to continue to mentor its students in thoughtful engagement with critical, global issues.