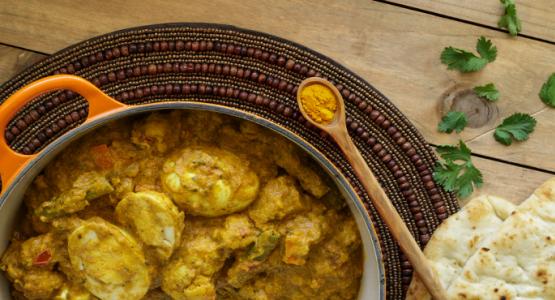 Fylvia Fowler Kline's Curry Recipe
December 05, 2018 ∙ by vmbernard ∙ in Chesapeake Conference, This Month's Issue
Recipe by Fylvia Fowler Kline
4 tablespoons oil
2 cups onions nely chopped
1 green chili (optional)
1 1⁄2 tablespoons garlic pressed or ground to a thick paste
1 1⁄2 tablespoons ginger nely grated or ground to a thick paste 1⁄2 teaspoon powdered Indian Kashmiri chili or cayenne pepper
(add more later to make it spicier)
1 teaspoon powdered cumin
1 teaspoon powdered coriander
1⁄2 teaspoon turmeric
2 cups tomatoes nely chopped
1 cup chopped cilantro (packed)
30 cashews, soaked (if allergic to nuts, leave out or substitute
with 1/3 cup toasted unsweetened coconut) 1 1⁄2 tablespoons tomato paste
1⁄2 teaspoon powdered cinnamon
1⁄4 teaspoon powdered cardamom
1/8 teaspoon powdered cloves
2 1⁄2–3 cups water
12-18 boiled eggs
1 large potato
1 cup green beans
Salt to taste
Instructions
Heat oil in non-stick or heavy bottomed dutch oven. Sauté onions and green chili. When onions are slightly brown, add garlic and ginger. Stir over medium heat for about a minute. Take the pot off the stove and add Kashmiri chili/cayenne pepper, cumin, coriander and turmeric. (Adding it over heat often scorches the spices.) Mix well. Put the pot back on the stove and add tomatoes, 1⁄2 cup cilantro (save the rest). Cover and cook on medium low until tomato is mushy.
Take 2/3 of the onion-tomato mixture and blend cashews with
1 cup of water until creamy. Add this to the pot with remaining onion-tomato mixture. Rinse your blender jar with 1 cup of water and add this to the pot. Add tomato paste, cinnamon, cardamom, cloves, 1⁄4 cup of cilantro and salt to taste. Add more red chili/ cayenne now if you want to make this spicier.
This is your curry base.
Use one of the following combinations to alter your curry.
Egg Curry: 12-18 boiled eggs, gently scored to allow curry to seep in + 1 large potato, cubed +1 cup peas (Potatoes take long to cook because of the acidity of the tomatoes—if you're in a hurry, add chunks of a microwaved potatoes!
FriChik Curry: 3 cans of FriChik, each piece cut in four + 1 large potato cubed. [Optional—Replace vegetable oil with coconut oil; replace cashews with 1/3 cup toasted coconut; add with the tomatoes 1 tsp powdered fennel seeds + 1/2 Tbsp tahini]
Vegetable Curry: 1 large potato cubed + 1 cup green beans, French cut + 1/2 cup carrots, cubed + 2 cups cauliflower florets. [Optional—replace cayenne pepper with black or white pepper; before taking off the stove, stir in the juice of ½]
Braised Tofu Curry: 3–4 cups braised tofu cubes + 1 green pepper sliced + ½ cup sweet corn or baby corn + ½ cup mushrooms [Optional—leave out the garlic + increase ginger to 3 Tbsp; before adding tofu and vegetables add 1–2 Tbsp honey + 1-2 tsp white vinegar + ½ Tbsp peanut butter; add ¼ cup of green onions to the cilantro garnish]
Other ways to change the flavor of your curry:
—replace red chili, coriander, cumin, and turmeric with any store bought curry powder or a specialty home blend from an Indian kitchen J
—replace the cinnamon, cardamom, and cloves with any store bought "garam masala"—each brand has a slightly different flavor
—for a less pungent curry, leave out the cinnamon, cardamom, and cloves.
— for a simple, fresh curry, leave out the cashew, cinnamon, cardamom and cloves; reduce the ginger and garlic to 1 tsp each; don't puree the tomato/onion mixture; and reduce water to 1 cup. This gives you a curry that's drier and more like a stir fry.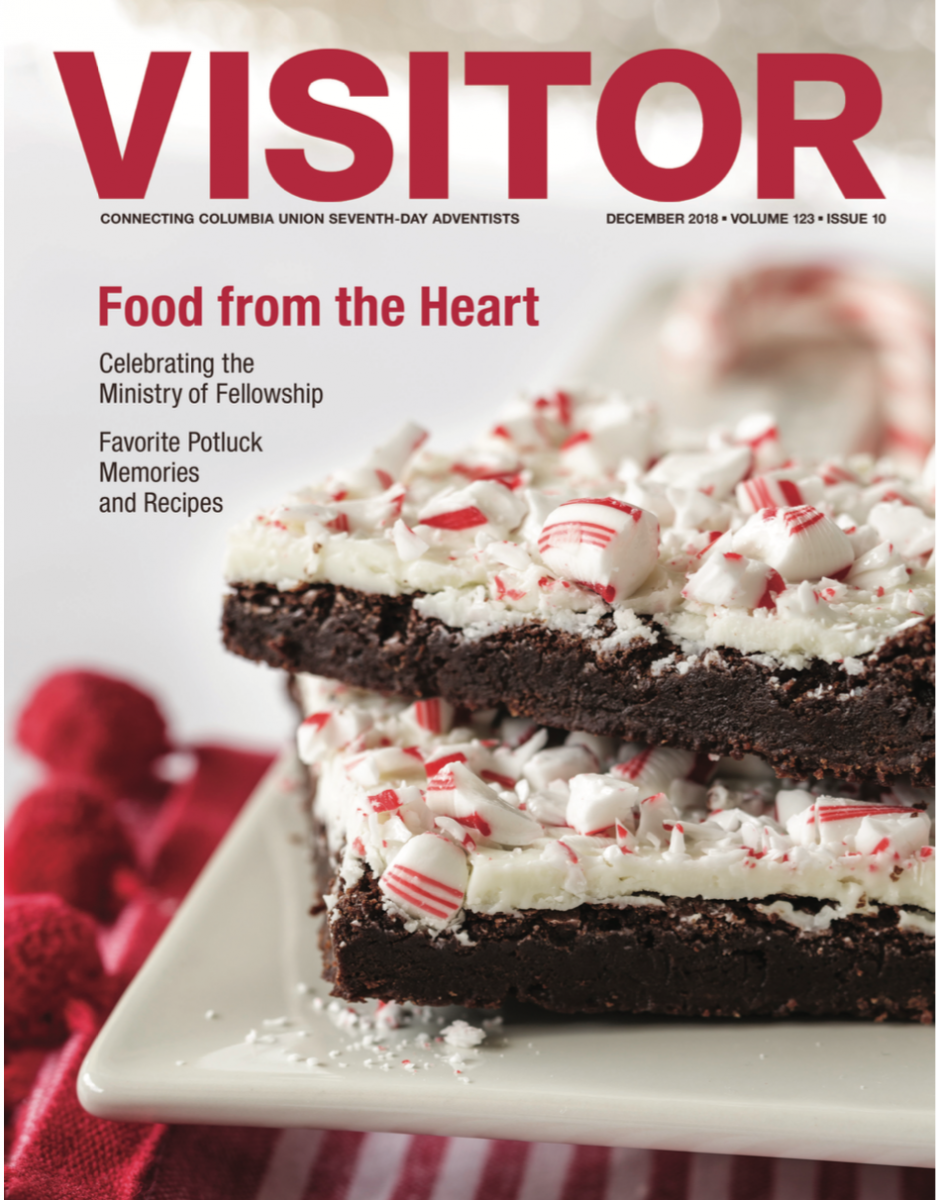 Read these stories from the December 2018 Visitor: