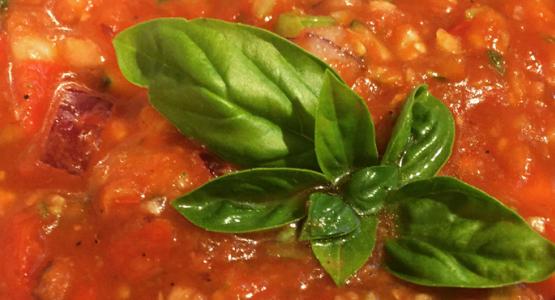 Try These Healthy Summer Recipes
June 01, 2017 ∙ by vmbernard ∙ in Health & Lifestyle, This Month's Issue
Can't make it to Heidi Shoemaker's Clean Eating Lifestyle seminars at the 2017 Pennsylvania Conference's Camp Meeting this summer? Try some of her recipes.
Gazpacho – Serves 8; Vegan & GF
No cook recipe!
By Heidi Shoemaker
Ingredients
3 stalks celery, diced small
1 English cucumber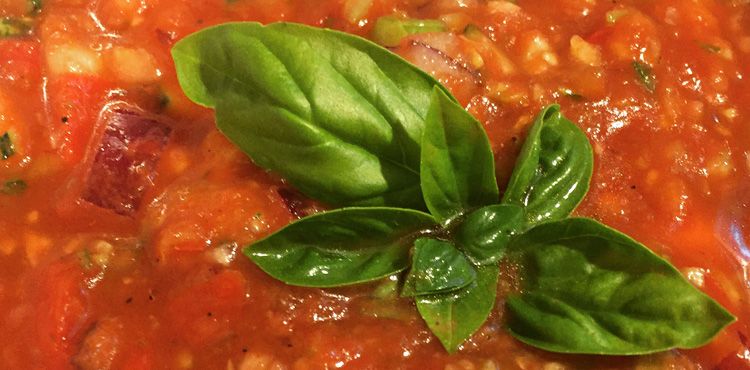 with skin on, seeded and diced small
1 zucchini, diced small
½ whole medium red onion, diced small
1 red bell pepper, diced small
4-6 campari or other small tomatoes, diced
4 cups tomato juice (more if you like it thinner)
3 cloves garlic, minced
¼ cup good quality extra virgin olive oil
¼ cup red wine vinegar
1 tablespoon sugar
10 dashes hot sauce (optional)
½ t celery seed (optional)
½ t granulated garlic (optional)
Salt and freshly ground black pepper
Fresh basil, 1-2 T, sliced fine
Fresh chives , 1-2 T, chopped
Directions
Combine all chopped vegetables (except garlic) in a large serving bowl and mix well.
In the bowl of a food processor or in a blender, combine half of the vegetable mixture, 2 cups of the tomato juice and the pressed or minced garlic, olive oil, red wine vinegar, sugar, and if using, hot sauce, celery seed and granulated garlic.
Pulse all of ingredients until well blended but still somewhat chunky. Add the rest of the tomato juice along with the remainder of the chopped vegetables and pulse a few times. Transfer to serving bowl and season with salt and freshly ground black pepper, add the fresh herbs, and adjust the hot sauce to taste.
Chill the soup for at least 1 hour before serving. Flavors continue to blend the longer the soup remains in the refrigerator – perfect for leftovers!
NOTE: If you prefer a thinner soup, add more tomato juice or process the vegetables longer.
Southwestern Bowl with Cilantro Lime Dressing – Serves 2+; Vegan & GF options
Ready in about 30 minutes!
Recipe by Heidi Shoemaker
Ingredients
4-5 c romaine lettuce, chopped
½ c cherry tomatoes, halved
½ c frozen corn, thawed
½ c canned black beans, drained and rinsed
2-3 T fresh cilantro leaves, chopped
1 avocado, halved, peeled and diced
¼ c black olives, sliced
¼ c tortilla strips (optional)
¼ c finely shredded cheese or queso fresco (optional)
2 T sour cream or Greek yogurt (optional)
Creamy Cilantro-Lime Dressing
1 c packed cilantro (leaves & stems), roughly chopped
½ c plain Greek yogurt
2-3 cloves garlic
Juice and zest of 1 lime
1-2 t honey
Pinch of salt
¼ c good quality olive oil
1 T apple cider vinegar
Directions
Make the cilantro lime dressing: combine cilantro, Greek yogurt, garlic, lime juice and zest, honey and salt in the bowl of a food processor. With the motor running, add vinegar and olive oil slowly until emulsified; set aside.
To assemble the bowl, place romaine lettuce in a large bowl; top with tomatoes, corn, black beans, olives, cilantro, and avocado. Pour the dressing on top of the salad and gently toss to combine. Top with cheese, tortilla strips, and sour cream if desired.
Vegan? Try using additional avocado in place of the yogurt in the sauce.