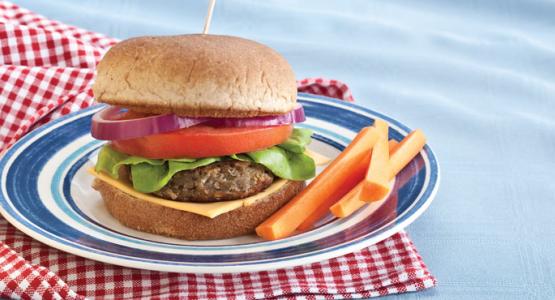 June 30, 2016 ∙ by vmbernard ∙ in Health & Lifestyle, This Month's Issue
Just in time for grilling season, here's a hearty and tasty burger recipe from Clara Iuliano, a member of the Pennsylvania Conference's Hamburg church, that packs protein and will add "meat to the bones."
Bella Burgers
16 oz can of chickpeas
2 tbs olive oil
1 c unseasoned breadcrumbs
3⁄4-1 c water
4 tbs Bragg Liquid Aminos All Purpose Seasoning
4 minced garlic cloves
2 tbs The Vegetarian Express Saucy Ranch Seasoning (thevegetarianexpress.com)
1 c vital wheat gluten
Safflower oil for browning
1. Grind the chickpeas in a food processor until homogenous.
2. In a mixing bowl, combine the chickpeas with the olive oil, breadcrumbs, water, garlic, and Bragg and ranch seasonings.
3. When well incorporated, add the wheat gluten and mix it in thoroughly with your hands.
4. Preheat a nonstick or well-seasoned, cast iron frying pan on medium high heat and add a small amount of oil.
5. Form a burger from 1⁄3 cup of the mixture and brown on both sides in the skillet, or brush the burgers with oil and bake on a cookie sheet in
a preheated oven at 375°. (Note: A baked burger will be much drier.)
6. Serve on a bun with your favorite, healthy garnishes. (Note: Any uncooked mixture freezes well. From the freezer, brown on both sides in a skillet.)
Makes 7 burgers. Per serving: 219 calories, 5.8 g fat, 540 mg sodium, 23.8 g carbohydrates, 2.9 g fiber, 18.5 g protein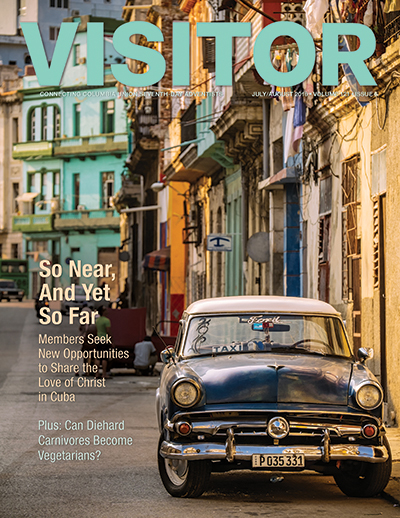 Read and share these articles from the July-August Visitor :
________________________________________________________________________
Check out these other healthy summer recipes from Heidi Shoemaker!
Shoemaker and other members also shared these recipes we think you should try!