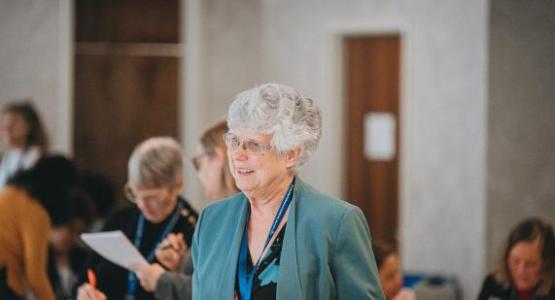 Accepted by God and Others: Linda Farley-Meyer's Story
February 09, 2023 ∙ by vmbernard ∙ in Ohio Conference, This Month's Issue
Story by Lori Futcher
Even though many women clergy know God has called them, they become weary battling the questioning and the roadblocks.
Linda Farley-Meyer, now a visitation pastor at Ohio Conference's Kettering church, had been ministering in an unpaid role with her pastor husband for decades. As her husband's health declined, her responsibilities at the church increased until she was doing ministry full time. Farley-Meyer recognized God's calling on her heart and asked leaders if the work she was doing at her husband's church could be officially recognized in the role of associate pastor. Her request was declined.
"It was at that point I realized that I was expected but not accepted," says Farley-Meyer.
The response she had received led to questioning, God, why did you call me? Why did you open these doors and then close them?
Calling a friend at Kettering church, Farley-Meyer asked, "Is ministry something that a woman could do?"
This time the answer was, "Absolutely, yes."
At an ordination ceremony in 2013, during which Farley-Meyer and Farr, along with two other female clergy, were ordained, a visiting conference president who participated in the service said, "I am regretful that it has taken the church so many years to acknowledge [these women in ministry] … shame on us that we've taken this long."
Farley-Meyer shares, "You know, just hearing those words ... is an amazing gift."
Read and Share Articles from the January/February 2023 Visitor: