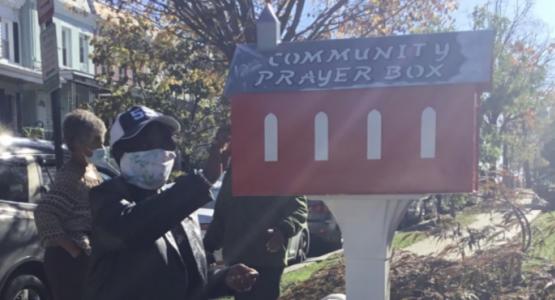 First Church Dedicates Community Prayer Box
February 08, 2021 ∙ by Web Administrator ∙ in Allegheny East Conference
Story by LaTasha Hewitt
The Prayer Ministries team of First Church in Washington, D.C., recently dedicated their community prayer box. The concept for the box came about when the team, inspired by Hebrews 4:16, sought to connect with their community in a meaningful way. After a team member saw a "Free Book" sharing box, in which community members "take a book or leave a book," they formulated an idea to start a community prayer box.
The group wanted a box that would be durable, weather-resistant and represent their care for the neighborhood. They ended up choosing a steel church barn mailbox, and a church member hand inscribed the calligraphy on the box.
The team's prayer is that the community prayer box will be an instrument used to connect church members with their community, because they want to be known more for their ministry than their location.
"In this chaotic and difficult time, it is essential that Christians hold the rope for each other in prayer," shares Delores Braithwaite, Prayer Ministries coordinator. "In this time of depression, discouragement, loneliness, illness, unemployment and grief, knowing that others are upholding us in prayer, by the power of God, we will be able to survive."