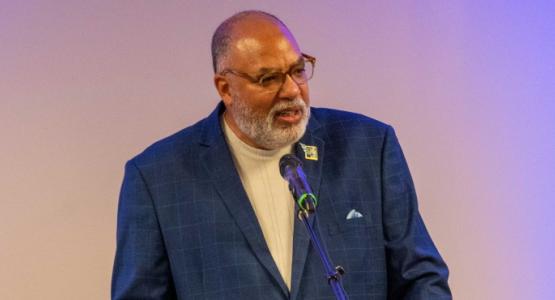 Conference Gives Cox Farewell Celebration
November 03, 2020 ∙ by Web Administrator ∙ in Allegheny West Conference
Story by Benia Jennings
Close family members, friends and colleagues recently gathered as the Allegheny West Conference (AWC) family hosted a farewell celebration honoring William T. Cox Sr. A small number of guests attended the in-person gathering, while others joined via Zoom. Well-wishers expressed their appreciation to Cox, his wife, LaTanya, and their family for 22 years of service to the conference.
"I served Pastor Cox as his first elder for about 10 years," said Shirley Benton, AWC Women's Ministries director. "He's been more than a pastor or president; he's been my friend.".
"God prepared Dr. Cox a long time ago to be the president of this conference ... in moving the mission forward. The Columbia Union Conference thanks Dr. Cox and his wonderful wife, LaTanya, for leading this conference and making a difference for God," stated Dave Weigley, Columbia Union president, in a video message. "[He's] a president with a pastor's heart, leading this field and focusing on soul winning, evangelism and kingdom growth."
Conference President Marvin C. Brown III, along with Executive Vice President Joel Johnson and Chief Financial Officer Jermaine K. Jackson, presented Cox with a token of appreciation for 22 years of dedicated service to AWC.
Cox thanked the attendees for their support and prayers for his family during his years of ministry in the AWC. "Eyes have not seen, neither ears heard what God will do in the Allegheny West Conference. ... I believe our best days are yet ahead."