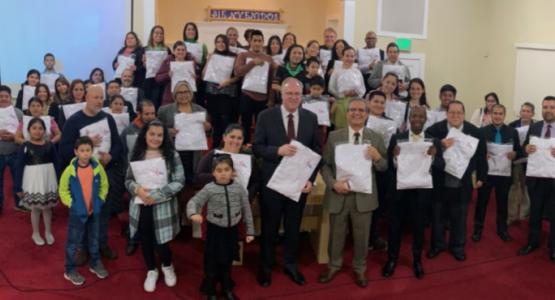 645 Members Inspired to Reach Souls for Christ
June 01, 2020 ∙ by Web Administrator ∙ in Chesapeake Conference
Story by Andre Hastick
Earlier this year, Orlando Rosales, the Chesapeake Conference's Multilingual Ministries director, and Rubén Ramos, the vice president of Multilingual Ministries for the Columbia Union Conference, traveled throughout the Chesapeake territory for Caravan 2020, themed "El Dia es Hoy" (Today Is the Day).
They visited 10 Spanish-speaking churches, and, at each stop, encouraged every church member to pray for five people with the purpose to personally lead at least one person to Christ within the year.
"We are inviting each member to go through the extraordinary experience of seeing their relatives and friends enter the baptismal waters," says Rosales. "I saw church members [who were] motivated by the initiative and challenged to go beyond the status quo of merely attending church, deciding instead to get personally involved in the mission."
After the tenth gathering, a total of 645 church members made the commitment to let God lead in reaching at least one person for Jesus this year. In preparation, each member (some pictured with President Rick Remmers and Rosales) received a baptismal robe to be used in the baptism of a friend or family member who responds to this evangelistic effort.
"We already have several church members giving Bible studies," says Anibal Santeliz, pastor of the Annapolis, Bowie and Waldorf Spanish churches in Maryland.