September 2019 Feature: Head of the Class
September 04, 2019 ∙ by vmbernard ∙ in Education, This Month's Issue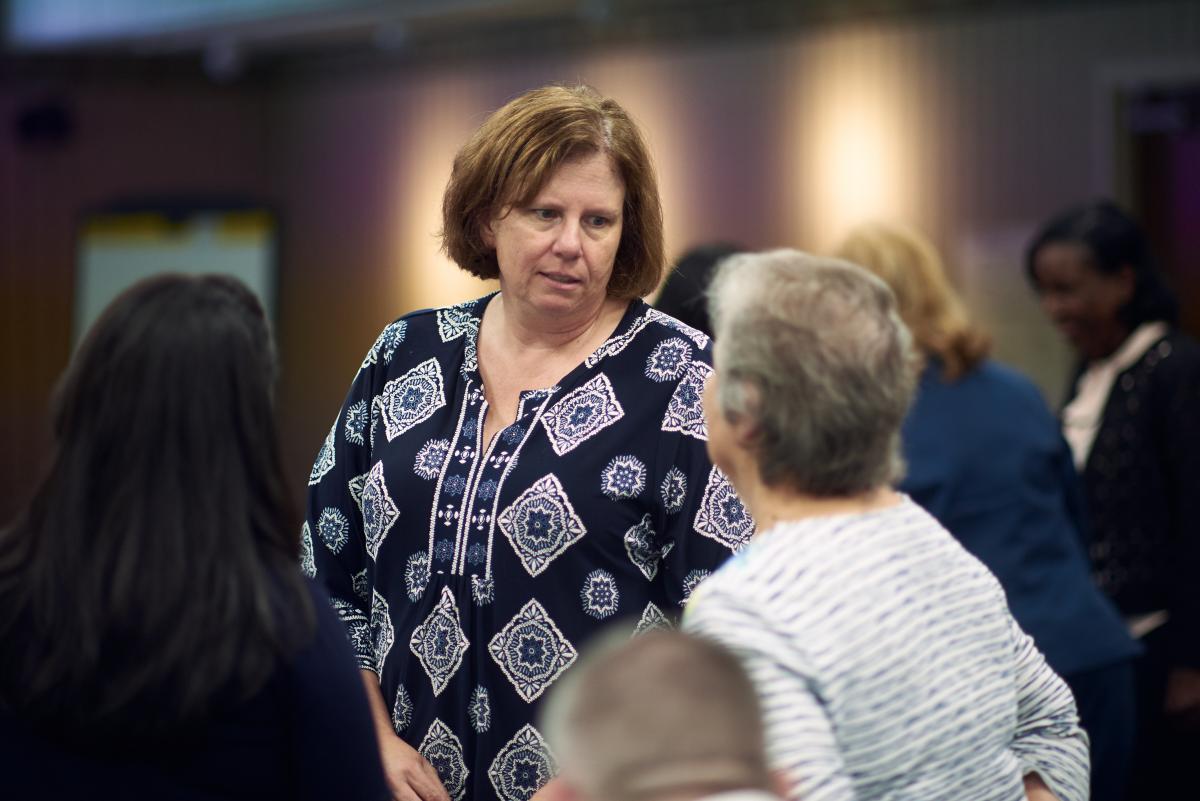 Story by Edwin Manuel Garcia / Photos by Eli Turner
Principal Jennifer Hackley (pictured left) is pulled in many directions each day to perform a demanding job while working with multiple stakeholders at Potomac Conference's C. F. Richards Christian School in Staunton, Va.
She then spends half the day in the classroom teaching math and Bible, all while striving to maintain positive working relationships with teachers, staff members, administrators, pastors, the school board, constituent churches, parents and students.
Being an education administrator in a Seventh-day Adventist school can be overwhelming; it's no wonder the majority of principals last less than three years—a brief tenure that can prevent schools from accomplishing long-term goals or making meaningful academic improvements.
To address this reality, the Columbia Union Conference Office of Education has spearheaded several initiatives to nurture current and future educational leaders. This includes subsidizing a certification program through Andrews University (Mich.) for principals and superintendents, with an emphasis in leadership.
Union leaders also helped start the Advancement of Christian Education (ACE) Academy Leadership Coaching, a year-old initiative guided by seasoned outside experts connected to the union. Hackley is among 20 educational leaders with varying degrees of experience who are offered the tools and training to be successful, and, hopefully, will be motivated to stay at their jobs longer.
The program is receiving rave reviews from participants, says Jacqueline Wheatley Messenger (pictured above), an educator for more than 30 years and the union's associate director for Secondary Education. It is run by the NYC Leadership Academy (NYCLA), an organization that has trained more than 550 emerging leaders and helped stabilize the constant churn of New York public school principals.
Tapping a training program known for fixing large and troubled educational systems may seem like a mismatch for small Adventist schools, but the organization has a successful record of extending principals' tenures.
"Our goal is to have sustainable leadership," says Messenger, who joined the union's educational team in 2016 after starting a similar leadership initiative for the Chesapeake Conference. "I want to see our schools not only survive, but grow," she says.
A three-way partnership between the union, its eight conferences and the Bainum Family Foundation, whose founders are Seventh-day Adventist, fund the project.
The initiative brings educators together in person, online and over the phone, where experts teach a variety of skills, including how to better relate to the changing racial and ethnic makeup of their schools, how to navigate difficult situations and how to tackle a principal's ever-demanding list of things to do.
Even Leaders Need Mentors
A highlight of the program is the mentoring: For two years, organizers match 10 experienced Adventist principals with 10 less-experienced ones in a formal coach-coachee relationship.
Research shows that leaders who received leadership coaching from the academy for at least three years remained in their schools more than twice as long as the national average principal tenure.
Research also shows that the most effective way to learn to be a principal is by being observed and getting immediate, applicable feedback from an expert coach, says Nancy Gutiérrez, president and chief executive of NYCLA.
With better-trained principals, teachers feel more supported and student learning improves, she adds.
"We view the student as the ultimate beneficiary of coaching and aim to shift leaders' mindsets and behaviors so they can better serve their schools," Gutiérrez says.
Participants say the initiative is already making a difference.
Hackley, the teacher-principal at the 53-student C. F. Richards school in Virginia, is grateful for the mentorship because, like most educators in an admin- istrative role, she received no formal training when promoted to leadership several years ago. She says her coach, Elisa Maragato, principal of New Jersey Conference's Lake Nelson Adventist Academy (LNAA) in Piscataway, has "been there, done that," having been a principal at a small school prior to LNAA.
Coachees work in different conferences than their coaches. This allows them to have a deeper, trustworthy relationship than if they reported to the same hierarchy.
"I call her a couple times a month or whenever there's something I don't know how to handle," Hackley says of Maragato. "I can be more open with her because she's not my boss and gives me objective guidance," she adds.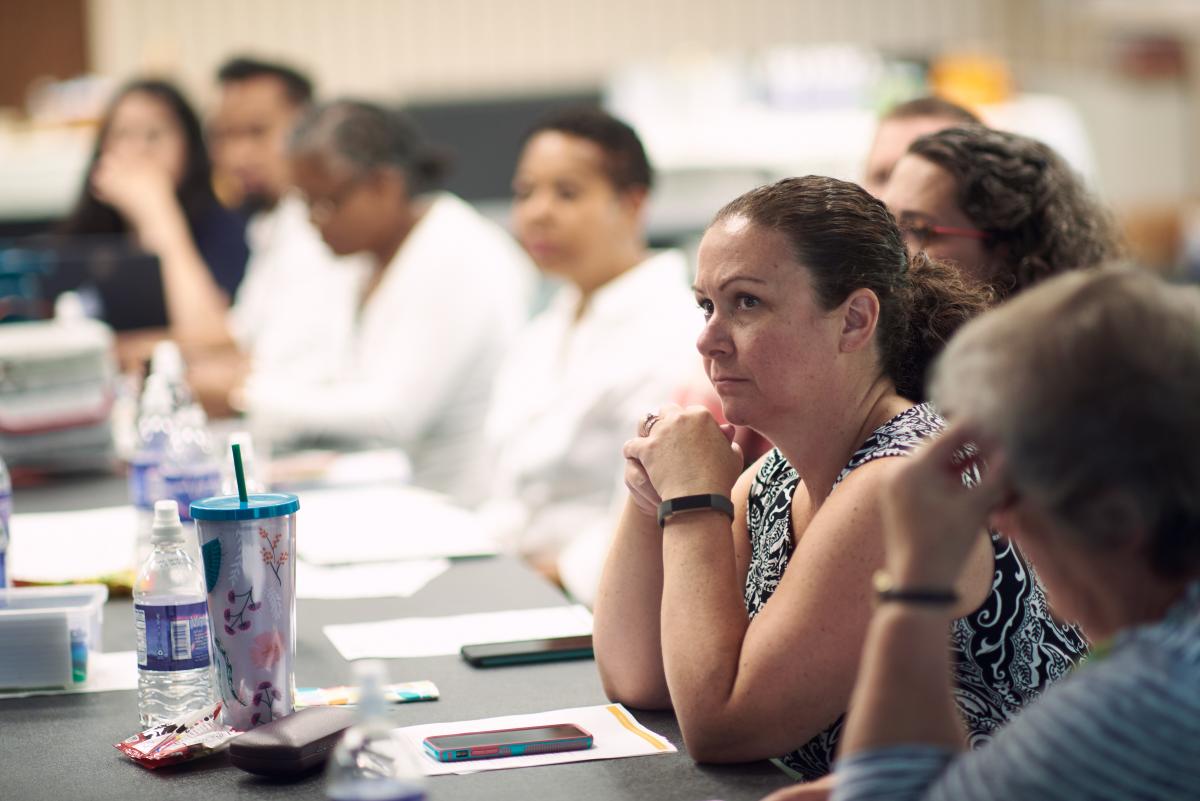 Jeanne Marie Fraino-Garcia (pictured left), vice principal at Potomac Conference's kindergarten-through eighth grade Beltsville Adventist School (Md.), is a coach with valuable mentoring experience. She started her administrative career 13 years ago in the New York City Department of Education, where "being a principal became less stressful" after being assigned a NYC Leadership Academy coach.
"To just have a person in your court that listens to you and has the experience to guide you and really empowers you to make decisions is so valuable," Fraino-Garcia says.
Today she gladly shares her wealth of career experience. A life-long Adventist, Fraino-Garcia also provides tips to her coachee, Valerie Green, principal of Ohio Conference's Worthington Adventist Academy, on managing what can be an awkward dynamic of navigating through a close-knit, church-school community.
It's entirely possible that a principal may have a difficult conversation with a teacher, parent or student on a Friday, only to worship in the same pew with them on Sabbath, say several teachers.
"To have your confidential coach that you can call really makes a big difference," Fraino-Garcia adds.
Alison Jobson also appreciates the mentoring. Jobson participated in the ACE program last year while serving as elementary vice principal at Ohio Conference's Spring Valley Academy in Centerville. "Our system has needed something like this. It has given me perspective, someone's experience [who is] ready and willing to share," she says.
Jobson now serves in the union's Office of Education as associate director for Early Childhood Education and Care (ECEC) Pre-K, and will be able to continue mentoring teachers around the union. "I think it is the way toward sustainability in our system. If we benefit, it will benefit so many people," she adds.
Coach H. Clifford Reynolds (pictured right), III, who also changed positions recently, is now the headmaster at Allegheny East Conference's Pine Forge Academy (Pa.), this year and appreciates the initiative because developing more educators into leaders is sorely needed in the Adventist education system, he says.
"It's an awesome program," says Reynolds, who previously was a teacher-principal at Ohio Conference's Mayfair Christian School in Uniontown. "Once we begin to push our teachers to become teacher-leaders, then I think we will begin to see a rise in leadership."
Examining Implicit Bias
Ruth Nino, principal of New Jersey Conference's Waldwick Seventh-day Adventist School, where she attended as a child, wishes the coaching initiative had been around when she first became a teaching principal. She would have loved to reach out and call someone for help when dealing with so many competing interests.
"You want to be effective in your role, but at the same time, you also have to be willing to balance and intermix, so it's challenging because you always want to strive to be at peace with all your stakeholders," Nino says.
Now she's in the best of both worlds: She's a coach, so she can impart her knowledge to someone with less experience, and like the other nine coaches, she's also a coachee who is linked to an expert at NYC Leadership Academy. "I'm given tools, I'm given advice, I'm given guidance," she says, adding that she passes the knowledge she learns to her own coachee, Miya Kim, vice principal at Chesapeake's Atholton Adventist Academy in Columbia, Md.
"Essentially, what you're trying to do is give the leader an opportunity to take a step back and think through a situation, analyze it, reflect on it and grow," says Nino.
She's thrilled to be part of the initiative.
"I think the Columbia Union's efforts to take on this approach is excellent because they are being intentional to serve our leaders so they can be more effective and grounded in current strategies."
For Jaymie Pottinger, a coachee who spent a year in the program, being effective means receiving training to focus on equity in education, the notion that every student can have an equal chance at success if they're given the right support.
As part of the initiative's equity training, Pottinger, who last year served as vice principal at Pine Forge Academy and is now the vice principal at Forest Lake Academy (Fla.), learned how to identify his unconscious bias. Also known as "implicit" bias, they are the deeply ingrained stereotypes or attitudes held about certain groups of people. For example, although Pine Forge is a historically African-American high school, educators shouldn't assume that every student comes from the same cultural background or experience, says Pottinger, a native of Jamaica.
When teachers and principals identify their unconscious biases, they can learn to modify their expecta- tions and adjust their leadership style to better meet the needs of their students.
The anti-bias training also helps leaders relate to the growing population of immigrants and non-white students in Adventist schools.
"It's really been eye-opening to me to recognize that, as individuals, we have biases. ... And recognize how [they affect] my relationships with other people," says Hackley, who describes herself as a "white, middle-class woman" working in a school with a sizeable population of Hispanic students.
"The bias training has increased the empathy that I have for our students and families," Hackley says. "By pausing and trying to see things from the perspective of a parent or a student, I am better able to navigate difficult situations." The training has also helped her create a classroom environment "where students feel heard and are willing to take risks," she adds.
The coaching initiative's achievement is due in large part to the generous support of the Bainum Family Foundation, which works with partners across the U.S. to strengthen learning and educational leadership.
"Success for any organization boils down to effec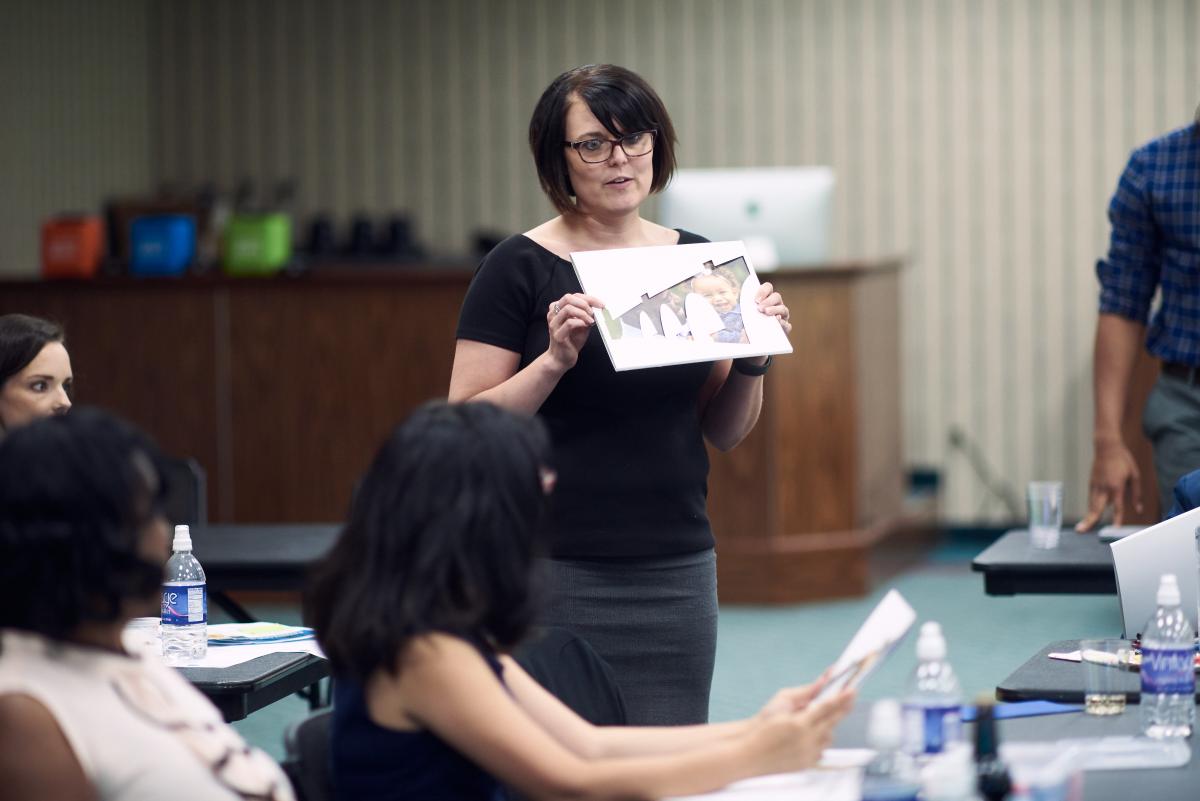 tive leadership and staff, and the same sentiment rings true in education," says Amy Soper (pictured right), who oversees the foundation's Adventist initiative. She is eager for church schools to develop a strong leadership pipeline and improve their record of retaining principals.
"Strong leaders make strong schools, and research continually identifies principals and teachers as the most significant school factors influencing student achievement," Soper says. "We selected this approach for its promising sustainability."
Bainum and the Columbia Union's Office of Education are collaborating to further develop the leadership-coaching model so it can eventually be sustained without the foundation's support. Two current participants and Messenger, referred to as "faculty members," will train future participants in the program, which Messenger hopes to provide for every principal over time.
In addition, Soper says that, as of late, there has been talk of introducing the initiative to other unions in an effort to improve education across the North American Division.
The following leaders from Columbia Union Conference schools are part of the inaugural cohort for the Advancement of Christian Education Academy Leadership Coaching initiative.
(Back Row) Jeanne Marie Garcia, Beltsville Adventist Academy
Elisa Maragoto, Lake Nelson Adventist Academy
Darren Wilkins, Spring Valley Academy
Jennifer Hackley, C. F. Richards Christian School
*Ruth Nino, Waldwick Seventh-day Adventist School
Judie Rosa, Spencerville Adventist Academy
*Jacqueline Messenger, Columbia Union Conference
H. Clifford Reynolds, III, Pine Forge Academy
*Keith Hallam, associate director of Education, Southern Union Conference
Jerson Malaguit, Beltsville Adventist School
(Front Row) Wendy Pega, retired educator
Ellenor Paul O'Neil, Spencerville Adventist Academy
Celeste Giles, Ramah Junior Academy Valerie Green, Worthington Adventist Academy Miya Kim, Atholton Adventist Academy
Beckie Carbaugh, Frederick Adventist Academy
Elyna Barnhill Howard, Lake Nelson Adventist Academy
* ACE faculty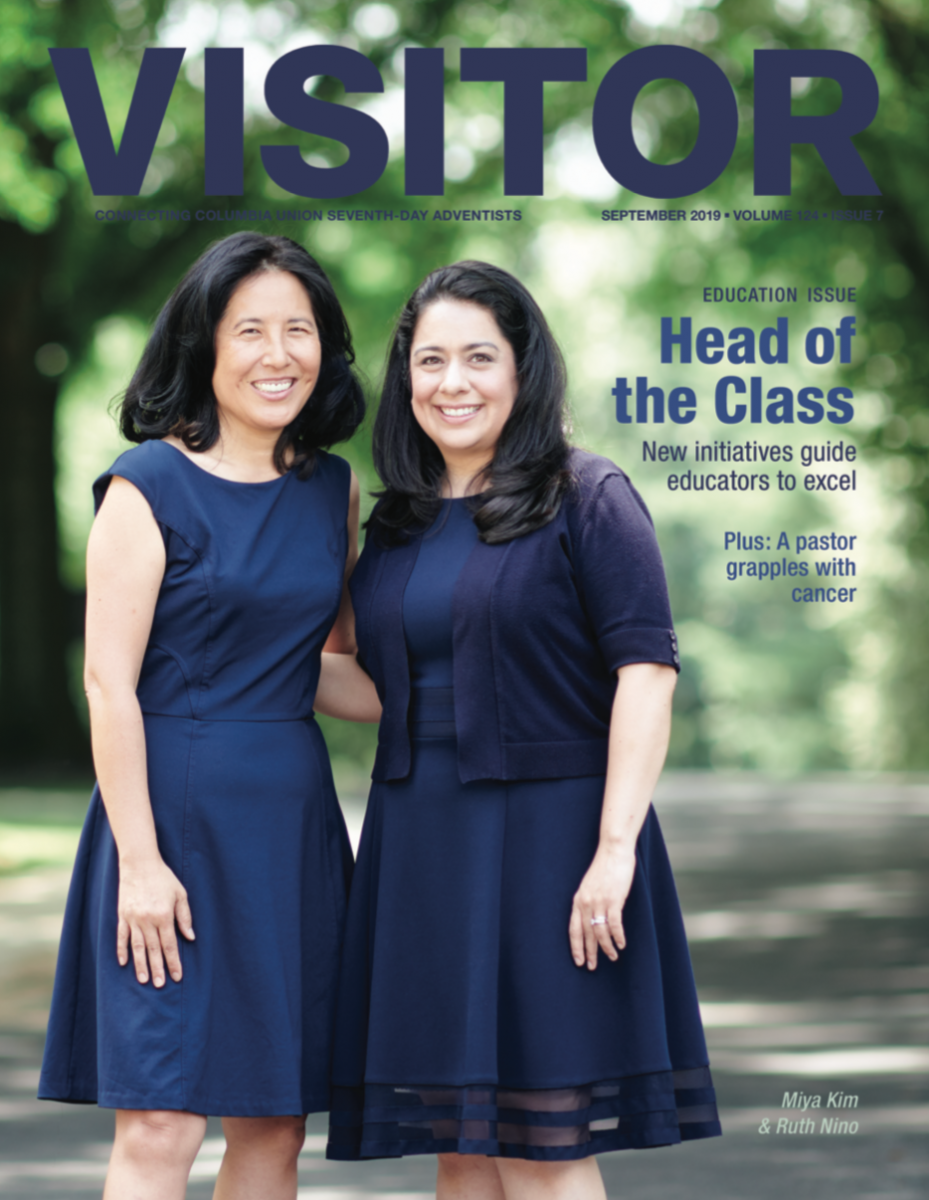 Read these other stories from the September 2019 Visitor: