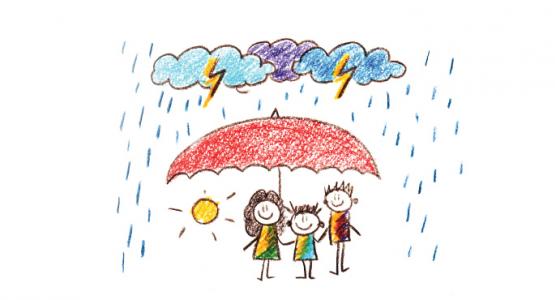 Underscore: Extreme Weather Conditions: What Can Your Church Do to Help Those Affected?
May 03, 2016 ∙ by vmbernard ∙ in This Month's Issue
Story by Kimberly Luste Maran and Beth Michaels
In the United States on a single night in January 2014, 578,424 people experienced homelessness—they were sleeping outside, or in an emergency shelter or transitional housing program.1 In 2014, 46.7 million people lived in poverty.2
The numbers are striking, but when the impact of extreme weather conditions on these particular populations are factored in, the number of people needing assistance can be staggering. Add to this people who are economically secure but have experienced an extreme weather event and are temporarily yet suddenly thrust out of their safe, stable environment.
Here are ways Seventh-day Adventist churches and members can, and are, helping:
Crafting a Cold Weather Refuge
January 19, 2016, the warnings were clear in Chester County, Pennsylvania. A blizzard was headed for the region. Area churches responded by preparing to become community comfort care centers. These houses of worship transformed into a place where community members affected by the storm found refuge when heating systems failed and power outages prevented them from
preparing meals.
The comfort centers offered neighbors a place to get warm, have a hot bowl of soup, and charge cell phones and/or other electronics. According to Minnie McNeil, disaster response director for the Allegheny East Conference and coordinator for the Columbia Union Conference, churches became a safe environment for adults to exchange stories while the children played.
McNeil encourages churches throughout the Columbia Union to be actively involved partners with local community emergency management to provide safe havens during extreme weather. McNeil says developing a comfort center "is one way to show that you care."
Partnering Together
Last year Stefan Burton-Schnüll, pastor at New Jersey Conference's Mt. Holly church, received an email from the nearby Beacon of Hope charity center alerting him they may have a shortage of beds during a code blue—potentially life-threatening—night. Burton-Schnüll thought his church's fellowship hall could be used for overflow. The church board agreed, and a few months later, the Beacon of Hope team set up a shelter for up to 14 men there.
"They provided the foldout cots, sleeping items and the personnel to run the shelter. We provided the room, heat and facilities," explains the pastor. "Food was provided by donations from shops and members of various churches, including our own."
During the 2016 blizzard, the Sabbath weather was so bad the church agreed to keep the men all day. "While we had our church service upstairs, we had about 10 homeless men downstairs. One of them even joined us, as did one of the team members," says Burton-Schnüll.
"I'm glad we entered into this partnership to serve the vulnerable in our community," he adds. "I consider this first year a great success; for the coming winter our church will once again be a code blue shelter."
Creating a Winter Haven
Since 2013 Potomac Conference's Sligo church in Takoma Park, Md., has partnered with Donna Robinson, an Adventist who runs House of Divine Guidance, a nonprofit organization serving the Washington, D.C., Metro area homeless. The Sligo shelter, called Winter Haven, serves homeless women and children referred from the Montgomery County Crisis Center during winter months. This Potomac Conference church donates the space; a nearby Whole Foods, the Sligo Pathfinder club and church members donate the food; and Robinson provides the staff, mostly volunteers.
In 2014 Winter Haven helped more than 60 individuals, from infants to senior citizens. On the coldest nights of early 2015,
30 men, women and children sheltered there.
Sarah Dwyer, a homeless young adult, is grateful for organizations like this. "[Being here] makes me not feel alone; it brings me comfort to know that there's somebody out there that cares  … even though they might not know me," she says.3
Sligo's Winter Haven closed for renovation this past winter, but the church continues to seek ways to help during extreme conditions.
Help Through Hashtags
During the 2016 blizzard, Chesapeake Conference's New Hope church in Fulton, Md., encouraged church members to serve the community, communicating through social media. Their Pathfinder club urged members to use a special hashtag, #snowzillaservice, to share some of the ways they chose to serve.
Jason Decena, one of New Hope's pastors, says, "The storm proved to be a profound opportunity for New Hope members to
live out the kingdom of God and be His hands and feet in their
communities."
Summer is Coming
Hot summer months also provide many opportunities to help during extreme conditions. Thunderstorms with lightning and flash flooding can be life threatening. Power outages are especially dangerous, limiting people's ability to prepare food and stay cool.
Church comfort care centers can offer their facilities during a heat wave by providing an air-conditioned environment with soothing music and cold beverages. McNeil posits they should also make available a well-maintained book center offering free books and Bibles.
"Last year local Adventist youth hit the streets of Baltimore armed with cold bottles of water during a heat wave," shares McNeil. "Residents received them with gratefulness and disbelief. The youth also asked each recipient if there was something they could pray with them about." Many, she says, accepted and appreciated the gesture.
Lastly, McNeil reminds churches to have congregational phone trees for seniors, the disabled and singles during extreme weather. Be certain that adults and disabled individuals do not succumb to extreme heat due to lack of air-
conditioning and fans. Often the local energy system will offer fans during extreme weather.
"Churches don't have to commit long-term," says McNeil. "They can commit to a year, or two years, at two-week intervals, for example, to help their communities."
To be a comfort care center, church groups must meet certain criteria, including the ability to maintain heating/cooling year round, have accessibility for people with disabilities, ample parking, potable water and more. Read more at columbiaunionvisitor.com/extremeweather.
1 National Alliance to End Homelessness, "Snapshot of Homelessness," endhomelessness.org/pages/snapshot_of_homelessness
2 Feeding America, "Hunger and Poverty," feedingamerica.org/hunger-in-america/impact-of-hunger/hunger-and-poverty
3 Mike Murillo, "Families Get Shelter From Cold in 'Divine' Place in Takoma Park," http://wtop.com/maryland/2015/02/families-get-shelter-cold-divine-place-takoma-park
Read the 2016 May Visitor feature articles here.