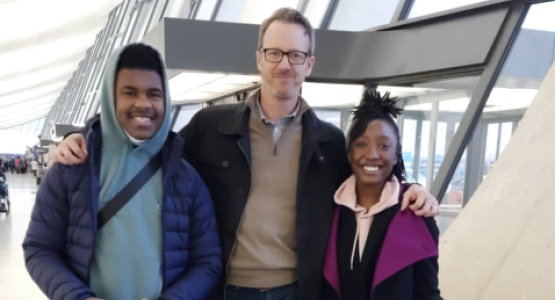 Two Pine Forge Academy Juniors Attend Model United Nations Conference
May 24, 2023 ∙ by rbacchus ∙ in Allegheny East Conference, Education
Story by Tracey Jackson
Earlier this year, two juniors from Allegheny East Conference's Pine Forge Academy (PFA) attended The Hague International Model United Nations (THIMUN) conference held in the Netherlands. Azrielle Privette, a second-generation PFA student, and Lawrence Wells, the religious vice president for the United Student Movement club, were both thrilled when they learned organizers had accepted their applications as the first students to represent PFA at the conference.
THIMUN is a four-day simulation of the United Nations for high school students and teachers. Due to the diligent work of Jonathan Scriven, associate director of the Honors College at Washington Adventist University and the Model United Nations organizer, this was the first in-person Seventh-day Adventist representation at THIMUN.
The team, along with other Columbia Union academy students, prepared for the event by virtually gathering in weekly meetings where they networked, built friendships and served on economic and social committees. Privette and Wells debated on three committees: The Livelihood of Refugees; Creating a More Sustainable Society by Reducing Food Waste; and Equality Within the World's Workforce.
The trip was life changing for Privette, who remarks the experience boosted her interest and determination to learn a second language. "This was a great academic experience where we were able to practice our public speaking skills and build connections with others that were outside of our comfort zones," she says. "It was inspirational discussing world topics with like-minded individuals."
Wells was also thrilled to spend time with new people in a new and different country. "I really enjoyed coming together to achieve one goal and discussing world issues with young people from all over the globe," he says. "It was really fun to make these new friends. I pray our school can continue to participate in such an important event."