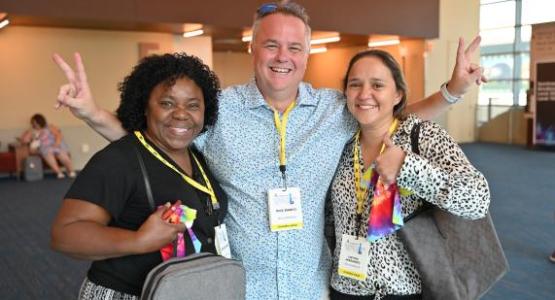 Readied, Reunited, and Recharged
September 05, 2023 ∙ by rbacchus ∙ in Columbia Union News, This Month's Issue
Story by V. Michelle Bernard
Prior to the start of the 2023–24 academic school year, some 500 teachers and staff from the Columbia Union Conference joined 5,000 other educators at the North American Division (NAD) Educators' Convention, themed "Something Better," in Phoenix.
Donovan Ross, Columbia Union vice president for Education, says these kinds of events are so important. "It's about demonstrating to our teachers the value that we've placed in them, recognizing the sacrifices they make for Christian education."
Ross continues, "Our teachers have been stressed, they've been overworked. And summer never seems to be long enough to reset and get ready. This event empowers and supports our teachers."
Readied
The convention boasted resources from 150 exhibitors and offered more than 300 breakout sessions on topics such as ChatGPT, Google Classroom, trauma-informed instruction, effective leadership, STEM, performance-based assessments, career trends for educators and more.
One of these breakout sessions was AE-Connect, a student information system and grade book designed by the NAD specifically for Adventist teachers, that allows for more seamless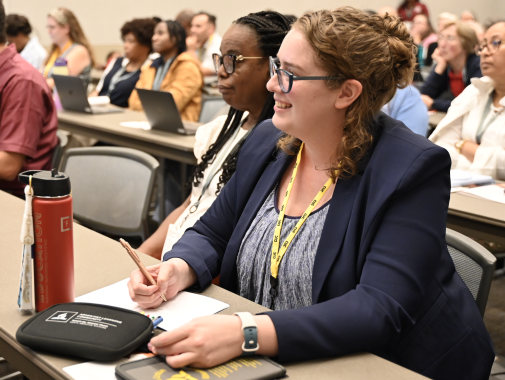 and error-free data entry. Tamara Bremer (right), a teacher and principal at Mountain View Conference's Summersville School (W.Va.), says that writing an opening report for the upcoming school year used to take a week's worth of hours. After working with the AE-Connect session instructor for a little over an hour, her report was already halfway done.
Reunited
Beyond teaching tools, the educators say they appreciated the inspirational keynote and worship speakers, as well as connecting with new and old friends.
"A lot of times we work in silos, we're by ourselves—particularly people who are in one-room schools," says Evelyn Fordham-Goodman, principal at Allegheny West Conference's (AWC) Columbus Adventist Academy (Ohio). "I think we're learning that we need each other, and the pandemic has taught us that. So, I think even [between conventions], we're learning how to connect."
Educators were reminded that there is a network of fellow teachers who can be reached when questions arise. John Alberty, Education superintendent for the Allegheny East Conference, echoes that sentiment, "We're all in this together."
Recharged
"The last couple of weeks, we've done all the 'mundane' work. [Coming to the convention] just charges us up, especially hearing great worship devotions," says Steve Doss, teaching principal at Potomac Conference's Desmond T. Doss Christian Academy in Lynchburg, Va.
Guerline Plaisir, who teaches mathematics and social studies at New Jersey Conference's Waldwick Adventist School, says the convention reignited her for the upcoming school year. "Every assembly I went to offered something great," she says, noting one of the presentations that emphasized the importance of having joy and laughter in the classroom. "[These elements] help build relationships with students. And relationships are how we draw the students closer to God."