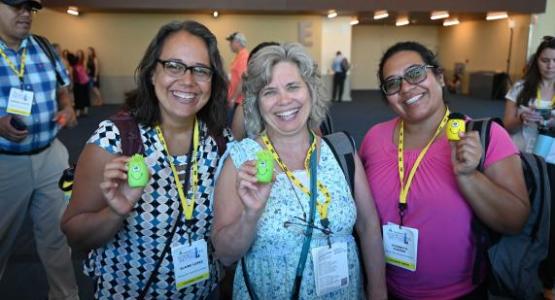 Columbia Union Teachers Get Recharged at NAD Educators' Convention
August 09, 2023 ∙ by vmbernard ∙ in Columbia Union News, Education
Story by V. Michelle Bernard
This week, some 550 educators and staff members from the Columbia Union Conference joined more than 5,000 other educators in Phoenix for the North American Division Educators' Convention.
Donovan Ross, Columbia Union vice president for Education, shares the importance of these types of events: "It's about demonstrating to our teachers the value that we've placed in them, recognizing the sacrifices they make for Christian education. It also serves as an opportunity for us to get reacquainted with colleagues or former students or former classmates that we've interacted with over the years."
Themed "Something Better," participants have been attending inspiring worships with international and NAD speakers, including Carlton P. Byrd, president of the Southwest Region Conference; performers, such as recording artist Laura Story, and more; and hundreds of workshops and seminars on issues and topics impacting the classroom, such as mental health, AI, ChatGPT and more.
"Our teachers have been stressed; they've been overworked. And summer doesn't always seem long enough to reset and get ready," adds Ross. "This event empowers and supports our teachers."
The exhibition hall—complete with some 150 exhibitors—also showcases new resources and provides ample opportunity to network.
"This convention, I believe, is what I needed before starting the upcoming year," says Ritchie Saint Jean, who teaches science at Allegheny East Conference's Pine Forge Academy (Pa.).