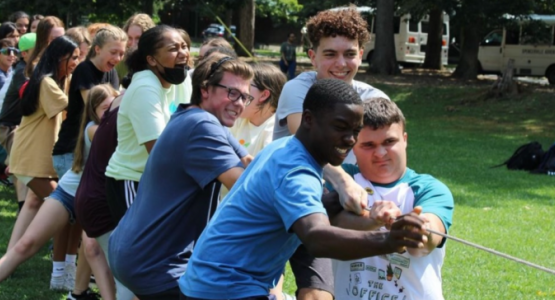 Spencerville Adventist Academy Students Grow Spiritually at Annual Retreat
December 05, 2022 ∙ by rbacchus ∙ in Chesapeake Conference, Education
Story by Tim Soper
Spencerville Adventist Academy's (SAA) motto, "Love to Learn, Live to Serve, All for Christ," echoes Colossians 3:17, which reminds us to "do everything in the name of the Lord Jesus, giving thanks to God the Father through Him" (ESV). With this admonition in mind, SAA began its high school year with a spiritual retreat, themed "Reflecting Christ," at Mt. Aetna Camp & Retreat Center in Hagerstown, Md. The goal of the retreat was twofold: to provide an opportunity for students to become better acquainted in a specifically spiritual context, and to foster a deeper personal relationship with God.
This year's retreat began with an afternoon of mixers and games planned by the Student Association (SA) and led by Lauren Brown, SA president. Senior class member Jon-Carlo Celestial says, "I appreciated meeting new students and strengthening the bond with my current class." His classmate Ashlyn Wilhelm shares that she was inspired by a group of senior girls who went to each cabin one evening and introduced themselves to the incoming freshmen.
Friday evening and Sabbath were devoted to spiritual growth. Javier Scharon, pastor of the Dover First and Forest Grove churches in Dover, Del., provided inspirational worship focused on being a "reflection" of Jesus.
"Pastor Scharon was relatable, inspiring, and gave us messages that really helped us draw closer to Jesus," says senior Caleb Berhanu.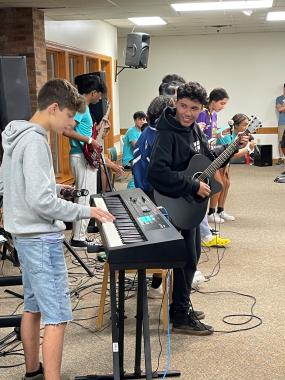 A good portion of the Sabbath hours was dedicated to praise, worship and spiritual discussions. But it was the times of stillness and quiet that students seemed to most appreciate. Math teacher John Musselman led the students on a night hike to quietly contemplate the wonders of creation. Wilhelm says that it was during this time that she "felt the closeness and nearness of God." On Sabbath afternoon, students were also provided an hour of quiet time to be alone with God.
Junior Timothy Levterov (pictured on left with sophomore Christian Hernandez on the guitar) says, "I thought the time for personal devotion and reflection was the most impactful moments of the spiritual retreat. I really appreciated that God and I had time to spend together, just the two of us."