Pine Forge Academy Recognizes Outstanding Student Performance
March 23, 2022 ∙ by rbacchus ∙ in Allegheny East Conference, Education
Story by Tracey Jackson
Every quarter, Allegheny East Conference's Pine Forge Academy (PFA) staff hold an Honors Convocation ceremony. This ceremony—where students are recognized for their academic efforts—encourages the pursuit of excellence in all areas of the high school career. Students receive pins and medallions for individual and collective academic achievements, with awards going to the class and dormitory with the highest grade point average (GPA).
This healthy competition between the Kimbrough (women) and Handy halls (men) is one of the highlights of the program. Students eagerly await hearing which dormitory will get to display the coveted "Principal's Award for Academic Excellence" trophy in their dorm office for the quarter.
For the 2021–22 fall semester, Kimbrough Hall ladies stole the trophy from Handy Hall males, who had ended the 2020–21 school year as the most outstanding dormitory. The senior class of 2022 led the school with the highest class GPA. Approximately 30 percent of the entire student population received highest honors (3.75–4.00 with no grade below "B") or high honors (3.45–3.74 with no grade below "B").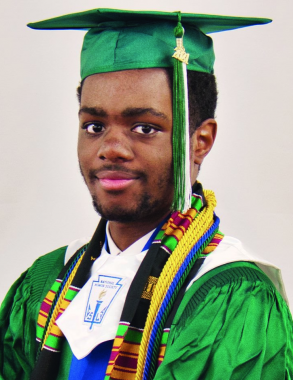 Staff also highlighted other notable students during the ceremony. Justyce Goode ('21), pictured right, received a perfect score of 800 on the math section of the SAT, and scoring in the 97th percentile. Iyanu Miller-Tahir ('21) scored in the 94th percentile on the SAT.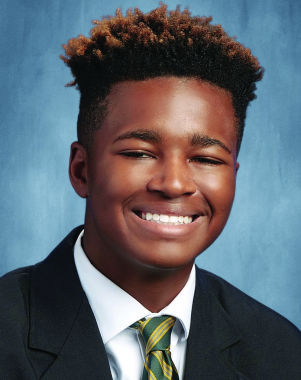 Ethan Harris ('23), pictured left, received a PSAT/NMSQT score that placed him in the 96th percentile. Four-year senior Salea Parker ('22), who has maintained the Principal's List status with a 4.0 GPA, says, "PFA has kept me grounded and disciplined and has challenged me to do my best academically and personally."
According to a recent study from the National Center for Education Statistics for public high schools, the 2017 national dropout rate for African American students is 6.5 percent with an adjusted cohort graduation rate of 80 percent. The graduation rate at PFA has remained 100 percent during this time.
With a median GPA of 3.27 for the first quarter of 2021–22, this makes PFA a wise choice for any family looking for a supportive, safe and caring environment for their child to learn, excel and receive recognition for their work. PFA is proud to offer students an environment where they can find the love of Christ while growing spiritually, socially and academically, say school leaders.