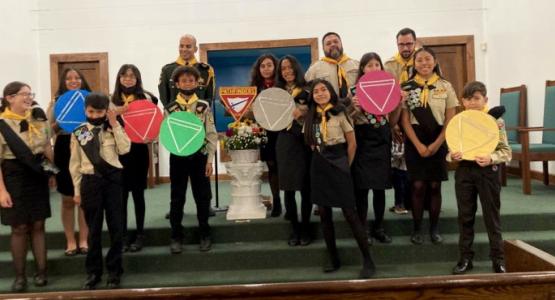 Editorial: Leaders of Tomorrow ... and Today
October 25, 2022 ∙ by Web Administrator ∙ in New Jersey Conference, Editorials, This Month's Issue
Editorial by Catherine Osorio
When the pandemic hit, I witnessed a decrease in youth attending church and a lack of leaders available to minister to those who remained. This afforded me the opportunity to step up and make a difference. God used Daniel and his friends to stand for their beliefs and be a powerful witness; Esther became queen and saved her people; David defeated the giant when everyone doubted him. So, why couldn't He use me—an anxious 17-year-old—to be a Pathfinder director?
The commonality the young adults in the Bible share was their faith in God, knowing that He was on and by their side. I remember praying to God in my bathroom for that kind of faith, wisdom and guidance. I determined, if He called me for a purpose, who was I to use my lack of experience as an excuse?
Now as a Pathfinder director, I have a newfound sense of belonging. My role has helped me connect with my peers and build a stronger relationship with God. Together, my group has defined what it means to be a Pathfinder: leaders for God, teammates with one another, community doers for others. From spreading God's love by writing letters to elderly individuals to creating fancy "march moves," we cherish each moment.
The job of a youth, Adventurer or Pathfinder director is not easy, so I am grateful for those who put effort and time into Youth Ministries and who have nurtured and mentored me over the years—preparing me to do the same for others.
As 1 Timothy 4:12 says, "Don't let anyone look down on you because you are young, but set an example for the believers in speech, conduct, love, faith, and in purity" (NIV).
Now, at the age of 18, I am living proof that God enjoys speaking to and utilizing His children for His glorious plans. Whether you are a director or not, as a Pathfinder, you set an example of God's love, and He will mightily use you. My ultimate goal is for young people to connect with Jesus Christ, because there is nothing better than having God in your heart.
God continues to bless me as He provided a way for my 15 relentless Pathfinders to attend the recent "Relentless" Columbia Union Conference Camporee. I pray these memories will stay in their hearts as they will in mine, encouraging them to be the leaders of tomorrow or maybe sooner than they think.
"Once a Pathfinder, Always a Pathfinder."
Read these and other stories in the November/December 2022 Visitor: