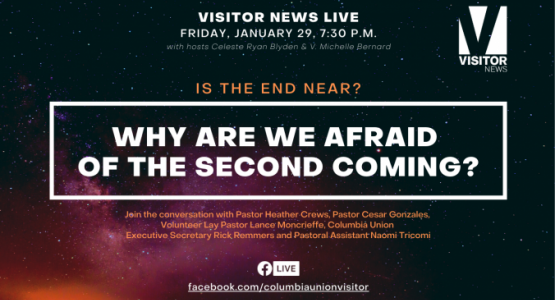 Visitor News Live: Why Are We Afraid of the Second Coming?
January 28, 2021 ∙ by vmbernard ∙ in This Month's Issue
We're going to dig deeper into this conversation Friday evening at 7:30 p.m. on VNL. Are there any questions YOU have for these pastors? Anything you've noticed along this topic? Join us here or on facebook.com/columbiaunionvisitor.
Read more in our article, Soon and Very Soon?
Join our conversation with Pastor Heather Crews, Pastor Cesar Gonzales, Volunteer Lay Pastor Lance Moncrieffe, Columbia Union Executive Secretary Rick Remmers and Pastoral Assistant Naomi Tricomi.

Posted by Columbia Union Visitor on Thursday, January 28, 2021