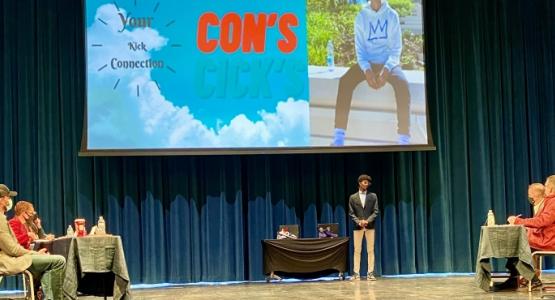 Spring Valley Academy Entrepreneurship Class Enters Shark Tank Contest
March 03, 2021 ∙ by Web Administrator ∙ in Ohio Conference, Education
Story by Vicki Swetnam
This year, Spring Valley Academy (SVA) introduced a new high school course exploring the world of entrepreneurship. Students learned how to hire, fire, sell, explore the market, read financial statements, create a business plan, give an elevator pitch and ask for funding. The capstone project was a Shark Tank contest in which each student presented their own business plan to a group of local business leaders requesting an "investment" in their company. The students delivered and staged their presentations using props such as cupcakes, prepared meals, lawn mowers, clothing and other items.
Senior Anigue Gruia shares, "Being a part of Shark Tank was one of the best 'real-life' learning experiences I've ever had. I am going into business myself, and competing in this competition has taught me worlds of information that I otherwise would not have access to. It was truly indescribable and so much fun!"
The "sharks" included Rick Bianco, superintendent of schools for the Ohio Conference; Ken Chaij, executive director of Oncology Services for the Kettering Adventist HealthCare Network; Aaron Koles, sales director of UKG Inc.; Krista Mainess, executive director of Helping Our Families, Inc.; and Kathy Burns, SVA instructor/registrar and designated school official.
Thanks to a local donor, the top three winners of the contest received cash prizes: 1st Place: Senior Anigue Gruia—$500, as well as a $1,000 scholarship from the Ohio Conference; 2nd Place: Senior Rachel Breakie—$250; and 3rd Place: Junior Connor O'Geare—$100.
"I truly enjoyed exploring the world of entrepreneurship with the class and am very proud of all of them!" says Burns. "I am thankful for our judges, donors and all those who helped make this class project a success!"
Read and share these articles from the March/April 2021Visitor: