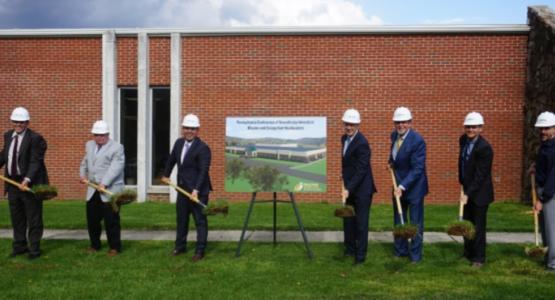 Leaders Break Ground for Conference Headquarters
July 26, 2021 ∙ by Web Administrator ∙ in Pennsylvania Conference
Story by Tamyra Horst 
Representatives from Conewago Construction, Tilden Township, Blue Mountain Academy (BMA) and the Columbia Union Conference recently joined Pennsylvania Conference members and staff for the groundbreaking ceremony of the new conference office—the Mission and Evangelism Headquarters.
The facility, which repurposes a building on the campus of BMA, will be equipped to allow the conference to powerfully advance God's mission in Pennsylvania. It will also be home to the CORE evangelism training school for young adults and provide space for training and meetings for pastors, teachers, committees and members.
"God has called His last-day people to reach everyone, everywhere with the everlasting gospel of Jesus Christ," shares Gary Gibbs, conference president. "As members of the Pennsylvania Conference, He has assigned us this corner of earth as our mission field. The harvest of souls Jesus will reap at His return will, in a large part, be influenced by our attention to the mission God has entrusted to our care. This new facility will enable us to provide training and create resources which will better equip us to finish the work and share the good news of Jesus Christ and His soon return."
The new office building, voted overwhelmingly by constituents at the October 2020 constituency session, is scheduled to open later this fall.