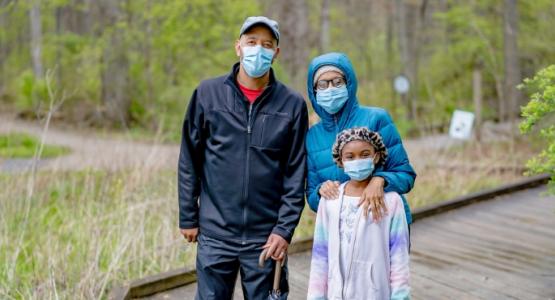 Ephesus Members Enjoy Sabbath Walks in the Park
July 26, 2021 ∙ by Web Administrator ∙ in Coronavirus Pandemic, Allegheny West Conference
Story by Angela Wimberly
Earlier this year, the Health Ministries Department of the Ephesus church in Columbus, Ohio, began "Sabbath Walks in the Park." Members meet every other week in the city's parks to get some exercise, explore nature and bond with each other in a safe environment.
"Columbus has multiple great parks," says Health Ministries director Paul Monk (pictured with members Evelyn Fordham-Goodman and Kaelyn Goodman). "I thought this would be a good activity in light of COVID-19 with the need to be safe and compliant with local guidelines, but also for fellowship."
Given that Columbus has 20 metro parks that span more than 28,000 acres and 230 miles of trails, Ephesus members have plenty of area to cover as they continue their walks into the summer and fall.
Each morning and evening, Ephesus members have also been reading and discussing the book 40 Days: Prayers and Devotions to Revive Your Experience with God by Dennis Smith. On Sabbaths, the group participates via Zoom in the evening prayer meeting, led by Keith Goodman, pastor of Ephesus.
Ephesus members agree that worshipping God in the natural environment has turned out to be a truly powerful experience.