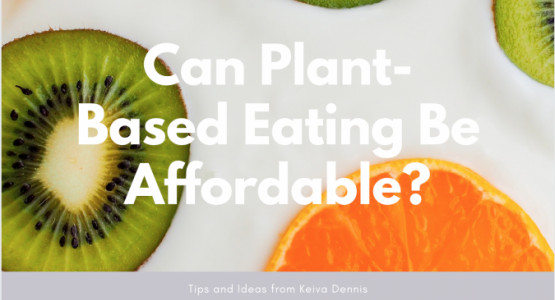 Can Eating More Plant-Based Foods Save You Money?
April 14, 2021 ∙ by vmbernard ∙ in Potomac Conference, Health & Lifestyle, This Month's Issue
Story by V. Michelle Bernard
Moving to a plant-based diet has provided Keiva Dennis, a member of Potomac Conference's Seabrook church in Lanham, Md., many health benefits: she lost 20 pounds, her acne cleared up and her knee pain disappeared. She also says it's cheaper than her previous vegan diet.
Dennis first began following a whole-foods, plant-based diet more closely after spending time with her sister's family, who ate that way. "Eating whole foods was so amazingly satisfying that I decided to continue this lifestyle," she says. (Read more about her journey here.)
At one point a vegan, she now eats more plant-based meals. "Being vegetarian or vegan doesn't mean that we are healthy! We can be junk food vegetarians and vegans!" says Dennis. "I was so surprised when my hemoglobin A1C results five years ago indicated that I was borderline prediabetic! How could that be? Sugar continues to be my weakness. Vegan ice cream and vegan cakes don't help!"
Before switching to a plant-based way of eating, she says a typical breakfast was processed cereal with soy milk or a blueberry muffin. Now she eats homemade granola with homemade almond milk. For bread, she eats sprouted grain bread, such as Ezekiel bread—which is more nutrient dense and has more fiber than most bread on store shelves. She also eats at least two types of fruit at breakfast.
For dinner, she used to eat some type of veggie meat. A common dinner now might be creamy coconut chickpeas over brown rice with broccoli. She ends the meal with a couple of raw cashew nuts.
How Does She Save Money?
Dennis says that in 2018 her average monthly spending on food—including groceries and restaurants—was $260. In 2019, she averaged $190 a month. She recommends using the EveryDollar budgeting app to track spending.
A savvy buyer, she shops at stores like Lidl, Giant, The Caribbean Market, MOM's Organic Market and Whole Foods. "I'm not as concerned about eating organic even though I do shop at mostly organic grocery stores! I find that the produce just looks better in organic stores and the veggies last longer," she says.
She says that eating unprocessed whole foods versus processed plant-based foods is what saves her the most money. "Eating foods as close to how they are derived from the earth means that we are not paying a manufacturer to alter the food," says Dennis. "You've cut out the middleman, and therefore [are] not paying for that service. Try it! Get most of your food from the produce section of the grocery store and eat fruit, nuts, grains and vegetables as unprocessed as possible!"
Plan Ahead
But, with less-processed produce comes more preparation time. "Meal planning is essential so that it doesn't take that much more time," says Dennis, who makes items in bulk and stores them in small containers. She does a lot of cooking on Sunday and just warms it up during the week, minus salads, which she prepares throughout the week.
Dennis says she doesn't get bored planning out all her meals. "God gave us so much variety with food that there is so much more for me to discover. Cooking is like a science, and it exercises my creativity," she adds.
Get Creative
Dennis encourages people wanting to eat more plant-based foods to ask God for help to "eat in a way that glorifies Him. The change will come from Him."
She also says to subscribe to social media channels such as wellnessmdmom.com and the Physicians Committee for Responsible Medicine for inspiration and ideas. And she encourages people to purchase one or two good vegan cookbooks such as 7 Secrets Cookbook  or The Optimal Diet.
Additionally, she encourages people to try new dishes, meals, and fruits and vegetables not typically eaten, and to minimize salt, oil and sugar (SOS).
Read and share these articles from the March/April 2021Visitor: