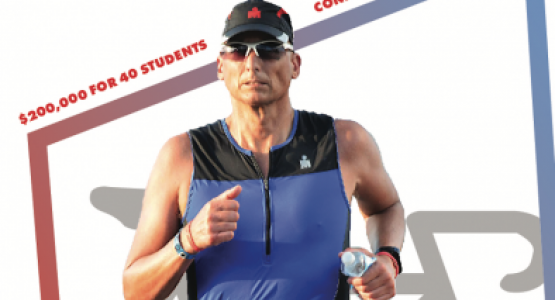 Blue Mountain Academy Alumnus Races for Eternity
May 27, 2021 ∙ by rbacchus ∙ in Pennsylvania Conference, Education
Story by Esther Hernandez
Forty years ago this September, Jim Slater, then a freshman at Pennsylvania Conference's Blue Mountain Academy (BMA) in Hamburg, broke his neck, became paralyzed, stopped breathing and almost died.
"It is an outright miracle from God that I am alive today," Slater shares. "And because of my gratitude to God for what He did for me, I am dedicating my race this September as a way to raise funds to help other students attend BMA, to help them connect with God for all of eternity."
Slater's race is the Ironman Chattanooga—more than 144.6 miles of swimming, biking and running around Chattanooga, Tenn. Slater's goal is to raise $200,000, providing up to $5,000 of financial aid for 40 students to attend BMA. "This would be one additional student at BMA for every additional year of life that God has given to me," says Slater. "And while the impact on our personal finances by donating to this campaign is only temporary, the positive spiritual impact on these students' lives can be forever."
Slater graduated from BMA in 1985, going on to graduate from Andrews University (Mich.) with a double major in Business Administration and Communications. He and his wife, Sarah, live in Grand Haven, Mich., and have five adult children who live all around the country.
Slater keeps God at the center of everything he does—from his epic adventures to his professional life to his hobbies. He wants to help provide young people with the BMA experience that will equip them to live a life with God at the center too.
Visit bma.us/race-for-eternity to learn more.