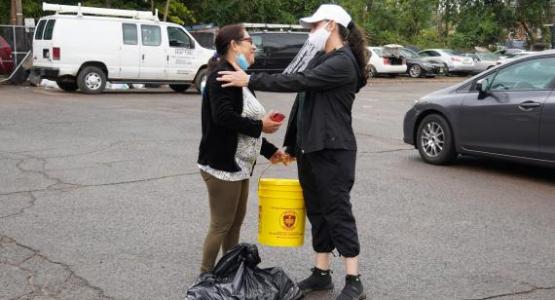 Adventist Community Services Helps Hurricane Ida Victims
September 09, 2021 ∙ by vmbernard ∙ in Allegheny East Conference, New Jersey Conference
The New Jersey Conference of SDA, responds to those affected by Hurricane Ida, Somerville, NJ.mov from ADVENTISTSNJ on Vimeo.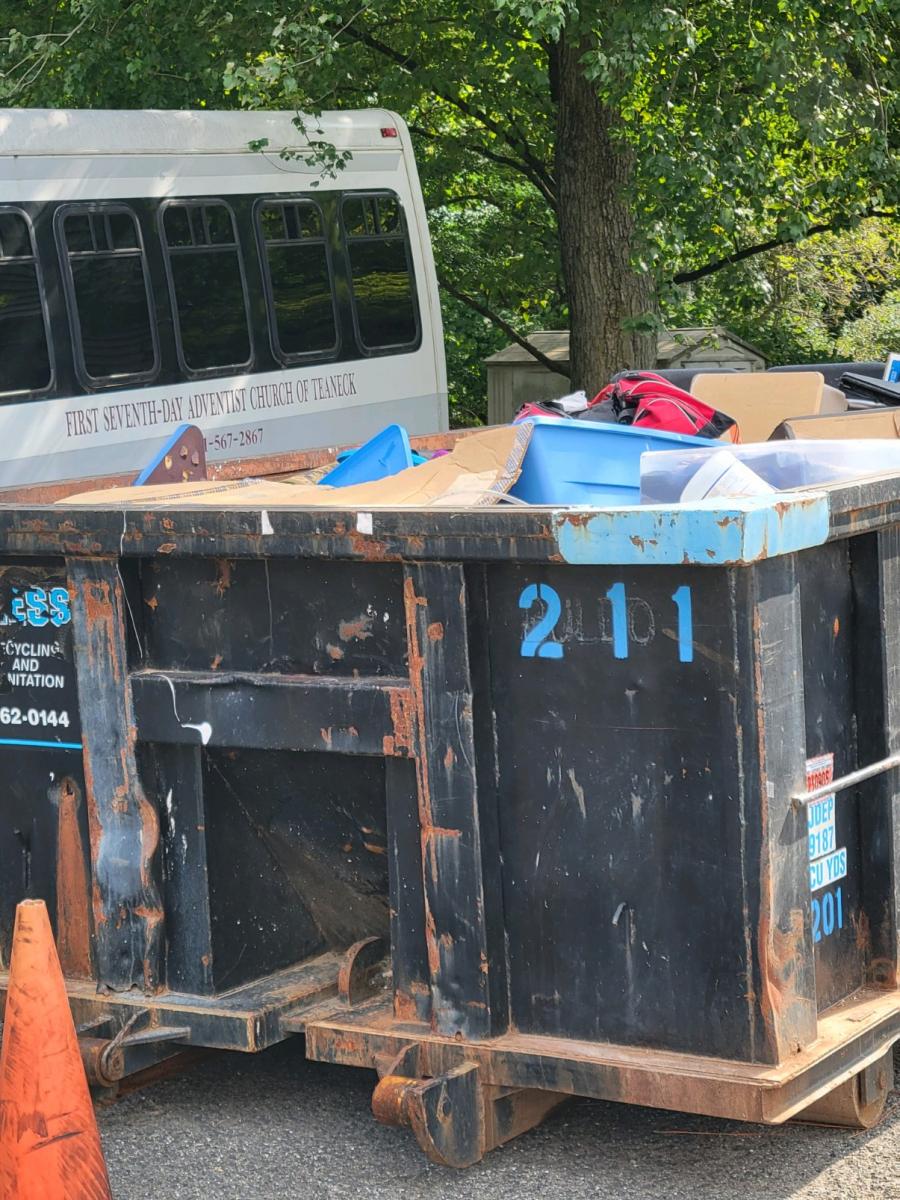 Story by V. Michelle Bernard with reporting by the New Jersey Conference/ Photos by Robert Smith and Jorge Pillco
A dumpster full of books, computers and other school supplies damaged by flooding caused by Hurricane Ida sits outside Allegheny East Conference's (AEC) Wilbert F. Mays Adventist School and First Church of Teaneck in New Jersey, located on the same campus. Church and school leaders are waiting for mold and mitigation companies to assess and prevent further damage. The insurance company is scheduled to visit on Thursday and will then assess damage and reimbursement totals.
On top of dealing with the cleanup efforts, Robert Smith, pastor of the First Church of Teaneck and director of AEC's Adventist Community Services (ACS), is overseeing the ACS efforts. Smith says that volunteers, including Pathfinders, are working to help impacted communities. They have deployed "Big Red"—an 18-wheeler filled with PPE, flood buckets, blankets, personal care items and food—to Teaneck and Coatesville, and soon to Mullica Hill, Glassboro and Newtonville—areas that were hit by tornadoes. The conference's 42 pantries are also continuing to distribute food.
Smith reports there was a two-month dip in food distribution this summer, but now more people are returning to the pantries, noting that many are displaced because of the storms.
Throughout the pandemic, their local ACS centers has been blessed with support from AEC, the Columbia Union Conference and the North American Division (NAD), says Smith. And, to help support the Ida recovery efforts, Smith says the organizations have promised an additional $100,000 in funding.
During the pandemic, they have also received $250,000 worth of PPE from FEMA and have been working with other local government agencies thanks to their established close working relationships.
"Ellen White says if we fail to do things in times of peace and prosperity, we'll have to do them on the difficulty, so it's good to know things and work together with the community way before the disaster," adds Smith, noting that in the last days before Jesus returns, more frequent and expensive natural disasters will occur.
New Jersey Conference (NJC) members have also been busy in recovery efforts.
"You can see the devastation was complete," says Jorge Aguero, NJC president, while volunteering in Somerville, an area hit hard by the storm. "Many people lost everything, [including members]. Praise the Lord we're serving this community."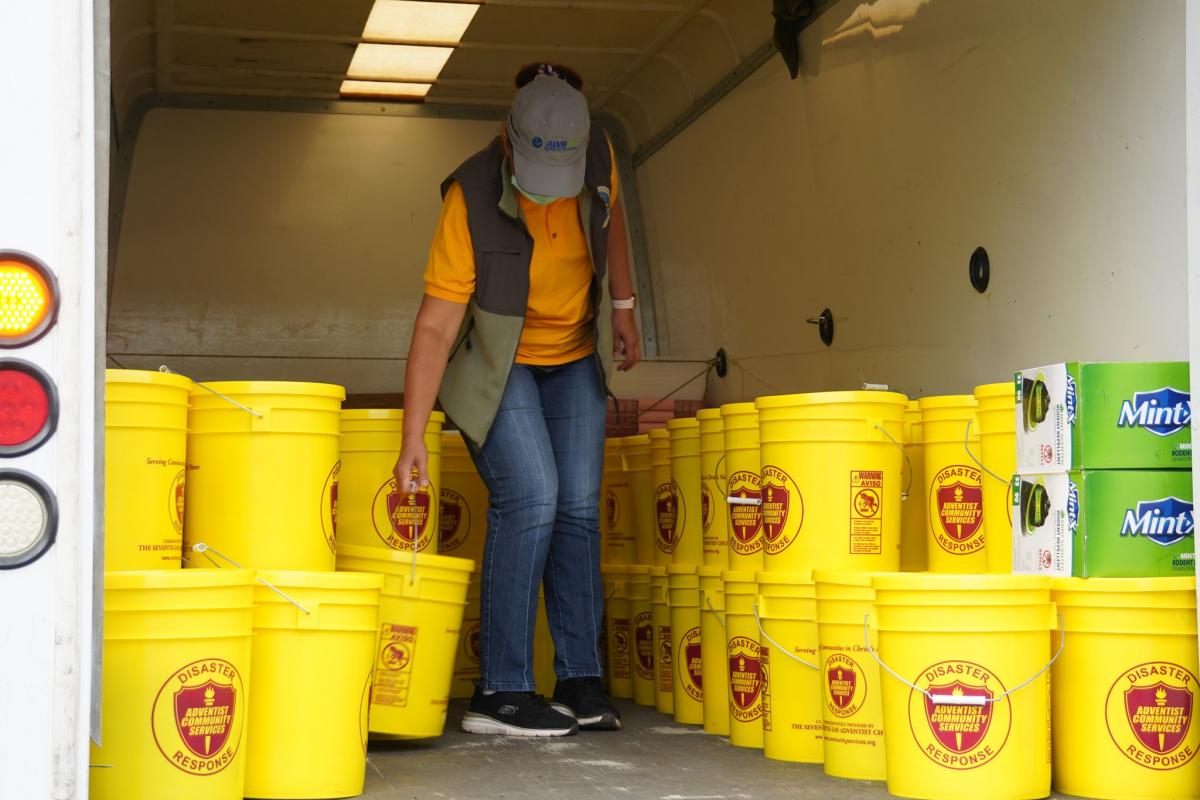 With the help of more than 35 volunteers, the conference's ACS and the Somerville Spanish church, recently distributed 230 hot meals and 70 buckets of cleaning supplies to Somerville residents whose homes were flooded or destroyed by the storm.
Mike Gill, ACS/Disaster Response director for the conference, says, "We saw countless homes that had been submerged in flood water. The people we met were overwhelmed with the scale of work that was before them, but one could tell that our visit and the support of their community has helped them find courage and determination. We pray for their strength and their ultimate victory."
Gill reports that the conference's ACS and Youth Department also assembled and delivered more than 200 flood buckets to those in need.
Want to help relief efforts? Robert Smith says the best way to pray and to donate to Adventist Community Services.
Related Articles