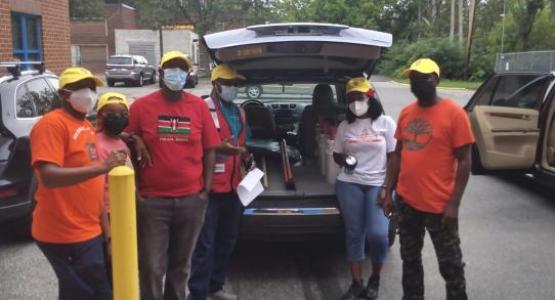 Chesapeake Churches Provide Aid to Flooding Victims in Wilmington
September 09, 2021 ∙ by vmbernard ∙ in Chesapeake Conference
Story by Evan Knott
Members from three Chesapeake Conference churches in the Wilmington, Delaware area responded to the flooding crisis in the city caused by the remnants of Hurricane Ida by distributing essential supplies over the Labor Day holiday weekend. The relief efforts came after Chesapeake Conference's Adventist Community Services (ACS) received a call for help from two of its partner organizations: the American Red Cross and Delaware Voluntary Organizations Active in Disaster (DEVOAD).
 
Volunteers from the West Wilmington, Life in Christ, and Hope Community churches responded on Sunday and Monday to the Riverside community in Wilmington where the damaging effects of the storm were substantial. Many of the homes and cars sustained severe water damage as a result of massive flooding that required some residents to be rescued by boat.
 
"This is a neighborhood that is only 21 minutes or less from our church and a number of our member's homes," says Elvis Mogoi, senior pastor of the West Wilmington church. "We were spared, but they were affected. One family had just relocated to their house a few days prior, only for their house to be submerged in water. Another family had just lost a brother, only to be followed by flooding in their home."
 
Church members handed out rakes and shovels to residents to help them clear debris and mud from their homes and property. They also dispensed essential items such as cleaning kits, flashlights, bug spray, trash bags, and gloves. Other church volunteers helped organize donated clothing to be distributed to residents who lost most of their clothes in the storm.
"People were grateful somebody came to provide support," says Mogoi. "They were willing to take the items we offered. We were impressed by the fact that they were keen not to take what they did not need. One man waited at the end of the line and was waiting for those who were affected more than him to go first."
 
Volunteers talked with many of the residents affected by the storm as they walked through the streets handing out supplies. They listened to the residents share their stories and they offered words of consolation and hope.
 
Pastor Mogoi believes it is essential for churches to be active during moments of crisis in their local communities. "Having churches present in the community after a disaster gives us the opportunity to minister to Jesus, as He tells us in Mathew 25 that what we do for the 'least of these' we do also for Him," says Mogoi. "Seeing how the community responds in a crisis can strengthen our resolve to trust in God."
 
Ignacio Goya, Chesapeake Conference's ACS director, agrees that churches have a unique opportunity to demonstrate God's love through disaster relief. "We have the opportunity to show people the love of Jesus," he says. "We have the opportunity to shine His light in moments of darkness into the lives of people affected by a crisis."