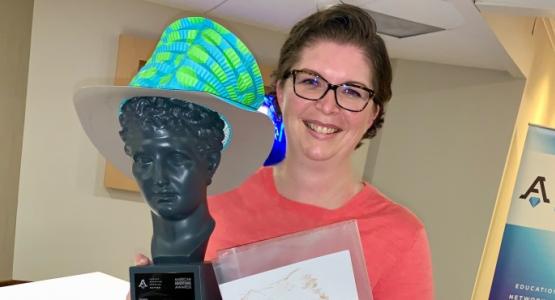 Alumna Designs for Academy, Receives Award
June 23, 2020 ∙ by Web Administrator ∙ in Ohio Conference, Education
Story by Vicki Swetnam
Kelly (Peach) Long ('98) didn't know she would be designing things for her alma mater when she began her job at Kettering Adventist HealthCare (KAHC) in 2017 as a graphic designer.
Most of her work as the graphic design manager in the KAHC Marketing and Communications Department on the Ohio campus involves designing and overseeing the design of materials for her employer. However, due to the ongoing generosity of KAHC toward Spring Valley Academy (SVA), she soon found herself designing for SVA periodically.
One of the recent examples of her work was the invitation package she created for the annual SVA gala, themed "Passport to Adventure." Long created an invitation that resembled an airline boarding pass in which the reply card looked similar to a passport.
"Kelly's creativity makes everything she designs exceptional," says Angela Peach, director of development for SVA. "She's designed the gala materials for the last three years, and she's well-captured our theme each time, but this year was something special."
The Dayton chapter of The American Advertising Awards agreed, awarding her the prestigious Hermes Award for her design package at an awards banquet earlier this year. Long's win moves her on to one of 14 district competitions; the winner of those moves on to a national competition.
"I never thought about the possibility of an award when designing, but it's nice to be recognized, especially for work I do for SVA," says Long, who in addition to being an alumna of SVA, has a daughter, Norah, in first grade. "It's fun to be able to contribute to an event like the gala by just doing my job!"
The "Passport to Adventure" gala raised more than $200,000 for SVA's Worthy Student Fund and the upcoming classroom expansion project. "There are many ways to show support for SVA," says Principal Darren Wilkins. "We're thrilled for Kelly and the Kettering Adventist Health Network as they win this award for the designs they created to support the gala!"