Parkersburg Pathfinders Reach Peers With Health Expo
July 25, 2017 ∙ by owetmore ∙ in Mountain View Conference, Health & Lifestyle, This Month's Issue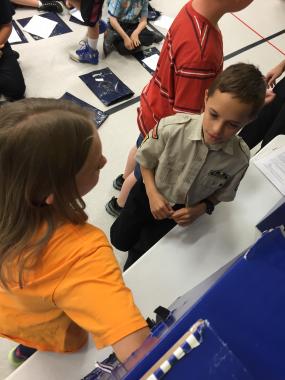 Story by Valerie Morikone
The Parkersburg (W.Va.) Pathfinder Club recently conducted a children's health expo for 250 students, grades K-5 at the Franklin Elementary Center in Parkersburg. Using colorful banners, the Pathfinders manned eight stations across the school's gymnasium, offering games, quizzes and activities.
"Having the Pathfinders take lead roles in sharing these health concepts was an encouragement to the elementary students," says Beth Ackman, Parkersburg Pathfinder Club director.
Pathfinder Nathan Zill, age 11, who attends Parkersburg Academy in W.Va., volunteered at a booth where children placed their hands in bright blue boxes to feel items associated with sunshine and being outdoors. "I enjoyed getting the kids to laugh, helping them learn things about sunshine and working with my dad," shares Nathan.
"I felt that the health expo was a wonderful opportunity for our students. They learned valuable information about the importance of good health," shares Franklin Elementary Center Principal Lee Ann Cumpston. "The expo was a win-win for the students who presented and the students who participated."