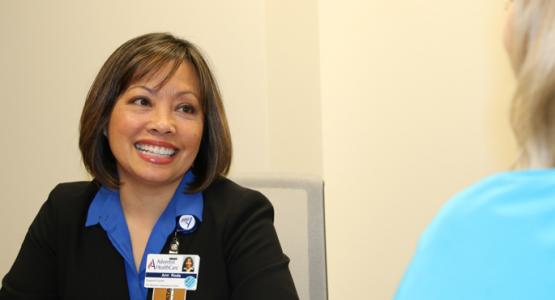 New Vice President of Mission Integration and Spiritual Care Brings Bedside Experience to Role
April 25, 2016 ∙ by vmbernard ∙ in Adventist HealthCare, Health & Lifestyle
Story by Adventist HeathCare Staff
As her patient's vital signs dropped, Ann Roda held his hand and prayed. She had been working as a nurse on a shock trauma unit when a college student was rushed in with fatal stab wounds. It soon became apparent that his family would not arrive in time to say goodbye. She remained at his bedside and offered comfort and prayer in his final moments.
"I became his family in that very moment," Roda says. "There was a calmness and peace that came over him as I held his hand. The experience solidified for me what healthcare truly means."
In her new role as vice president of Mission Integration and Spiritual Care at Adventist HealthCare, Roda hopes to use her meaningful nursing and pastoral experiences to help employees discover what healthcare and our mission means to each of them.
"Our mission is beautiful – but what does it actually mean to each individual?" Roda says. "Whether you are working in direct patient care or at the corporate office, we are all working together to demonstrate God's care. Living our mission is a journey we must all take together."
Prior to joining Adventist HealthCare, Ann worked for 10 years as a pastor at the Chesapeake Conference's New Hope church in Fulton, Md. She also has helped guide church communities in Georgia and Illinois. Before entering pastoral ministry work, Ann worked for 15 years as a nurse.
At Adventist HealthCare, Roda will lead efforts to integrate the organization's mission into both the organization's culture and our daily work. She will also encourage even more focus on outreach to clergy in the community, health ministry, ethics and community benefit, as well as assisting the organization's leaders in addressing the spiritual and ethical dimensions of their work. Additionally, shewill work with the chaplain service to ensure that the pastoral care teams function properly, and that pastoral education programs maintain a high level of excellence.
Roda says she will also seek to help employees realize their unique value to the organization and to each other. "The demonstration of God's care is not just at the bedside, but also to each other. We fulfill our mission by holding each other up, and thus upholding the reputation of Adventist HealthCare."
Roda is well-prepared for this new role as she holds a Bachelor of Science degree in Nursing from Washington Adventist University in Takoma Park, Md, as well as a Master's degree in Divinity from the Seventh-day Adventist Theological Seminary (Mich).