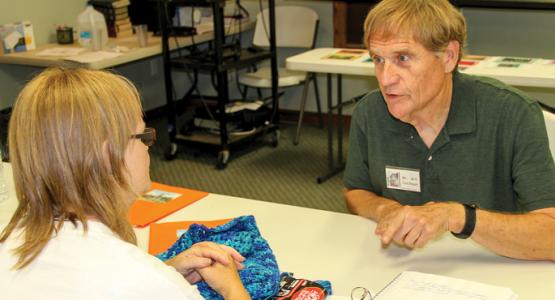 Make Gratitude a Way of Life
November 08, 2016 ∙ by vmbernard ∙ in Mountain View Conference, Perspectives, This Month's Issue
Editorial by Art Calhoun
Multiple studies have shown that practicing gratitude results in being more resilient, more relaxed and less materialistic. It is difficult to be depressed and full of gratitude at the same time. This should not be surprising for people of the Word. "And whatever you do, whether in word or deed, do it all in the name of the Lord Jesus, giving thanks to God." (Col. 3:17). And "Give thanks in all circumstances; for this is God's will for you in Christ Jesus." (I Thes. 5:18).
My 9th grade English and homeroom teacher was precious to me. I arrived early to school just to talk to her. She was encouraging, thoughtful and helped me to see some value in myself. About 20 years later I was thinking of her and how thankful I was to have had her as a teacher. I wrote her a letter of gratitude detailing what she had done for me. She replied with the cryptic note, "Your letter arrived at just the right time." I never discovered what she meant, but realized that gratitude can have a profound effect on the one who receives it.
Opportunities for gratitude can happen in the midst of adversity. Ten years ago, as I was cutting down a dead tree, a limb fell, breaking the two bones in my right forearm. The resulting surgery and splint left me unable to write with my right hand. Michael, a medical student who worked in my office, literally became my right hand, writing my notes. He went with me to 6 a.m. appointments at the nursing home and juvenile jail. Working to support my family is important to me, and he graciously enabled me to do that. By the time his internship was over, I was able to write again, unassisted. I wrote Michael a letter, sharing my joy that God had sent him to me and thanking him for his service.
Here is my prescription for practicing gratitude: keep a journal, and several times a week write specifically why you are thankful for someone in your life. Also, pick someone that has made a real difference in your life but whom you have not properly thanked. Write them a letter of gratitude. Send it to them or, better yet, deliver it in person. Gratitude as a way of life is one of the keys to having a productive, fulfilling and spiritually invigorating life.