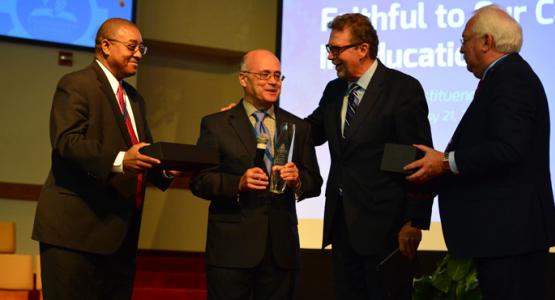 Longtime Union Education Administrator Honored
May 21, 2016 ∙ by vmbernard ∙ in Columbia Union News, Education, This Month's Issue
Story by Rhonda M. Covington / Photo by Hearly Mayr
During the Columbia Union Conference Constituency meeting Saturday evening, union leaders honored Hamlet Canosa, EdD, Columbia Union Conference's vice president of Education, with an obelisk for 24 years of service in the union.
"After 43 years of service in the church, tonight we want to thank you," said Dave Weigley. "No doubt when you stand on the sea of glass you'll see the many lives you impacted.. I'm here today because of Adventist education and you've been a part of making that happen."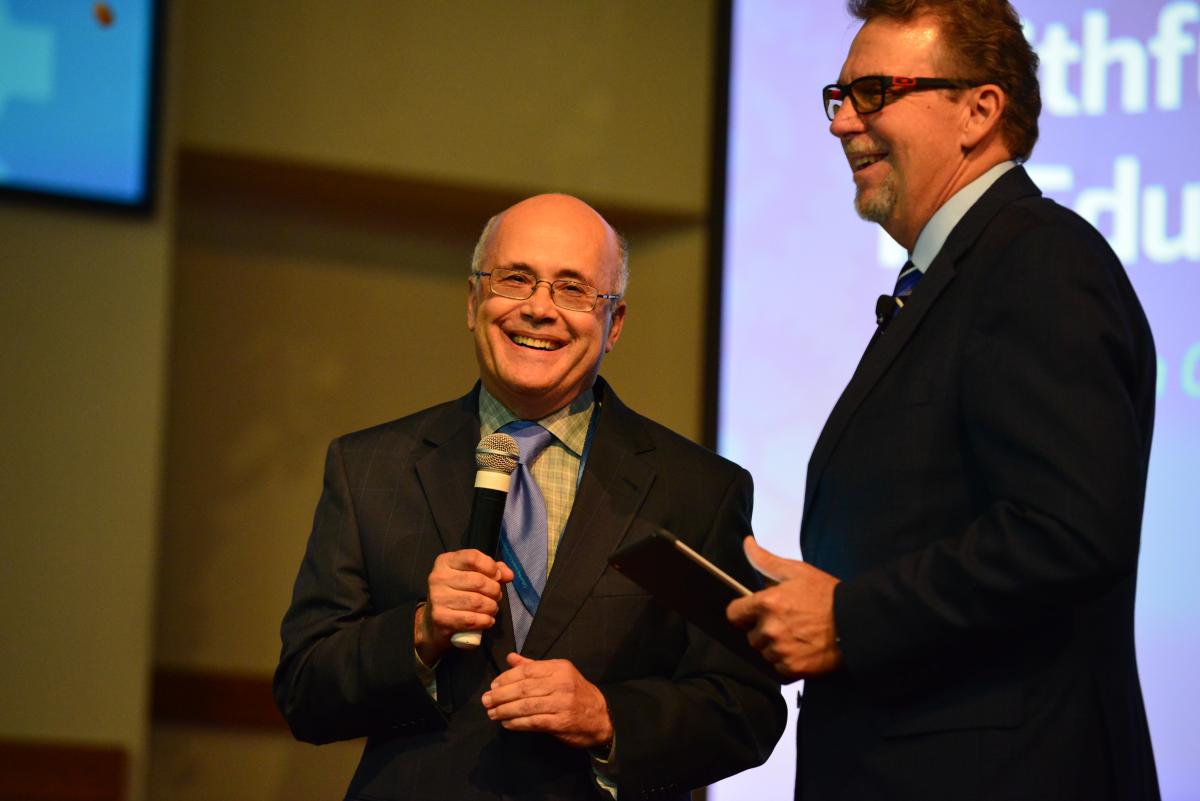 Canosa is retiring after 43 years serving the Seventh-day Church. His career started in 1970 in the Chesapeake Conference. He went on to teach at every level of the Adventist educational system, from secondary school to college. Canosa also led administratively at the academy, conference and union levels. He is believed to be the longest serving educational VP in North American Division (NAD) history.
One of those posts was in the Pennsylvania Conference, where he served as vice principal and principal of Blue Mountain Academy for four years. "Pennsylvania will never truly know the impact Hamlet Canosa had on Christian education in our conference because that's not his style," says Dave Morgan, BMA principal and former Pennsylvania Conference education superintendent. "I will be forever grateful that in my time of service in Pennsylvania, Ham Canosa was always in my corner. [He] can rest assured that in his service as BMA principal to lifting up the current principal of BMA, his impact on the lives of our young people has been enormous."
Canosa's accomplishments include completing a doctoral degree in Leadership and Educational Administration 10 years ago at La Sierra University (Calif.). During his 20 years in the Columbia Union, he also initiated programs like the Academy Visioning Ad Hoc Group, which he established to restructure delivery of secondary education to the mid-Atlantic area. He says input from many talented, educational leaders buoyed this work. Some key elements of that initiative involved creating models on how to consolidate secondary boarding schools to reduce overall conference expenses, and exploring technological applications to enhance academic rigor, both of which are being applied and embraced across the NAD.
Canosa is grateful to have advanced instructional and leadership skills through chairing and serving on committees that fostered professional development, and working with philanthropic and other foundations. He concludes, "I have appreciated expressions of kindness given by those people and organizations I have tried to faithfully serve."
Dave Weigley, union president, calls Canosa a legendary leader: "Dr. Canosa has been a stalwart for education in our field, providing a steady hand during two decades of change and challenge." Weigley adds, "He helped the church navigate the needs of new generations, new times and a new era of technology, and we will surely reap the blessings of his dedication to Adventist education in eternity."
Moving On
In retirement, Canosa looks forward to he and wife, Kathy, spending many more rich moments with their four children and six grandchildren in Tennessee. He also intends to write more—journal articles, devotional and kids books, and perhaps "the story of our personal journal through my wife's illness," he says. "I also look forward to continued service to the Lord and His church—volunteer work, serving on boards and committees, and perhaps some part-time teaching."