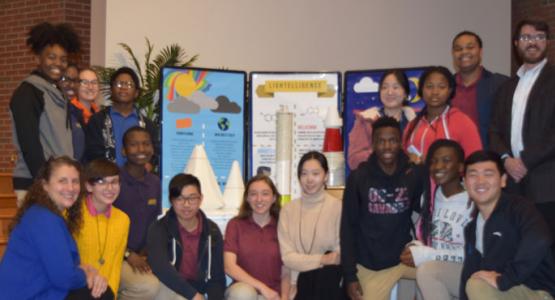 Blue Mountain Academy STEM Team Awarded Lemelson-MIT InvenTeam™ Grant for Invention
October 26, 2016 ∙ by vmbernard ∙ in Pennsylvania Conference, Education
Story by Tamyra Horst
The STEM team from Blue Mountain Academy (BMA) in Hamburg, Pa., has been awarded the Lemelson-MIT InventTeam grant and is receiving $10,000 in grant funding for their LighTelligence invention, a system to optimize the circadian rhythms of young people using light. Anthony Perry, invention education associate from Lemelson-MIT, made the announcement at a special assembly at the school October 25.
BMA is one of fifteen teams of high school students nationwide who were named the 2016-2017 InvenTeams for projects designed to solve real-world problems through inventions. Judd Pittman, STEAM Advisor to the Pennsylvania Department of Education, brought congratulations from the state department of education, sharing that BMA is only the fourth school in Pennsylvania to win this grant.
The 2015-2016 STEM team's LighTelligence won first place in the Berks County STEM competition. The invention helps to lower the blue and green light waves given off by LED lights which inhibit melatonin production. The lamp is controlled by a raspberry pi 3 and relay switch.
This year's STEM team has grown from five to 20 students who will work at improving the device. The InvenTeam will create a more aesthetically pleasing appearance, adjust the voice recognition system and add a mechanical element to the lamp that will allow raspberry pi to automatically adjust the light waves being emitted.
Rosemarie Bechtel, Science Department Chairperson and STEM Advisor says, "We are excited to move from a STEM club to a Lemelson-MIT InvenTeam. Seeing the enthusiasm build in our club last year as we won the regional STEM competition prompted looking for more competitions that would help foster STEM skills growth in an innovative format. Our InvenTeam chose to help solve a real-world problem and specifically focuses on teenagers who are more vulnerable to circadian rhythm disruptions."
The InvenTeam initiative, now in its 14th year, inspires youth to invent utilizing hands-on active learning strategies.