World Church Meetings Begin in Atlanta
June 24, 2010 ∙ by owetmore ∙ in Columbia Union News, Allegheny East Conference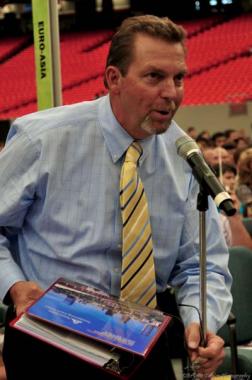 By Celeste Ryan Blyden | Photos by Bryant Taylor and Trevor Jackson
"Mr. Chairman, as of this opening session, we have 1,987 registered delegates out of a possible 2,411," announced Matthew Bediako, executive secretary of the worldwide Seventh-day Adventist Church. "That means we have fulfilled our constitutional requirements to seat one-third of the delegates and are empowered to act." 
With that, vice president Lowell Cooper declared the 59th General Conference Session open for business. "We are gathered here to celebrate what it means to be a global family of faith engaged in the mission of Christ," he told delegates, special guests, family and a host of staff, media and technical personnel who have converged in Atlanta's Georgia Dome and Georgia World Congress Center for the next nine days. 
While here they'll conduct the business of the church—electing leaders; debating issues; voting statements on violence against women; affirming Adventist belief in Scripture, prophecy and creation, etc.; and making changes to the Church Manual. 
It didn't take long for the delegates to begin using their canary yellow voting cards. They quickly voted the Session agenda, several perfunctory motions and a number of new union-level missions or conferences in Peru, Moldova, Belarus, Guatemala, Sweden and other regions of the world.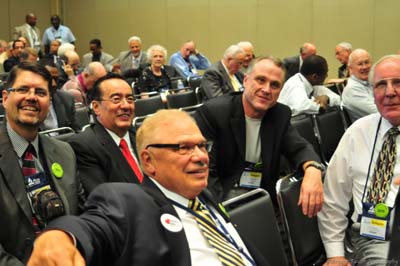 Nominating Committee
Less than two hours into the opening business session, the delegates caucused by division to choose some 240 representatives to the Nominating Committee. This committee will meet throughout the session to vet and bring to the floor names of nominees to lead the church for the next five years. There are nearly 100 positions to fill, including that of president, secretary and treasurer for the world church as well as for each of the church's 13 world divisions. 
In Room C307, some 200 delegates representing the North American Division (NAD), met to nominate their 28 representatives to the Nominating Committee. As noted earlier, this body will meet throughout the session to choose and vet leaders for the next five years. Names will be brought to the floor so the 2,000 delegates in session can vote on them. Columbia Union delegates chose union president Dave Weigley, Allegheny East Conference president Charles Cheatham; and Deborah Hill (see video), a lay member from Allegheny West Conference, one of nine women from NAD who will sit on the committee. NAD president Don Schneider, who chaired the caucus, asked retired NAD president Charles Bradford to offer special prayer for those who will participate in the committee. 
WATCH VIDEO OF DELEGATE DEBORAH HILL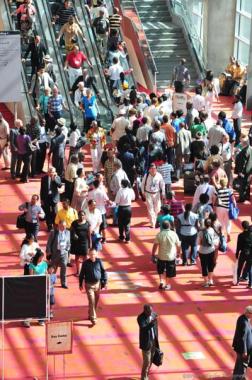 Impact on Atlanta 
In a press conference the day before the opening session, officials from Atlanta's Visitor's Bureau noted that Adventists will pump some $80 million into the city's economy during this session. "We are thrilled to have you in our city," they gushed. The 70,000 Adventists from 203 countries of the world who are en route to Atlanta this week are also expected to occupy 49,000 hotel room nights and consume 89,000 meals. 
WATCH VIDEO OF DELEGATE LOIS PETERS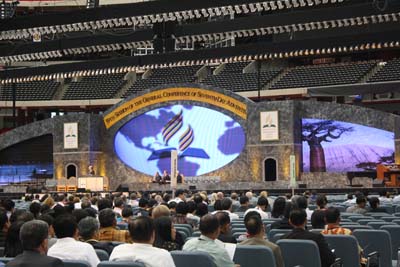 Spiritual Emphasis 
A number of meetings preceded the session, including a conference for Adventist chaplains, a pastor's training event and a SEEDS church planting seminar. Delegates participated in a daylong spiritual retreat led by retiring vice president and longtime evangelist Mark Finley. Finley, who served as one of three speakers for a special reaping series that involved two conferences and all their Atlanta-based churches, rejoiced that it produced more than 900 baptisms.