Kettering CEO Announces Plans to Retire
May 06, 2010 ∙ by owetmore ∙ in Kettering Health, Health & Lifestyle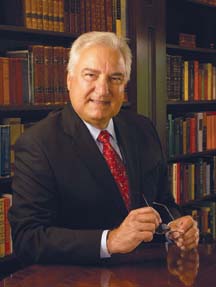 By Celeste Ryan Blyden
After 35 years in healthcare administration, Francisco J. "Frank" Perez (pictured), CEO of Ohio-based Kettering Adventist HealthCare (KAHC), today announced plans to retire. 
Perez came to Kettering, Ohio, in April 1994 as president and CEO of KAHC and its flagship hospital, Kettering Medical Center. Under his leadership, KAHC—one of two Seventh-day Adventist healthcare systems in the Columbia Union Conference territory—grew into an award-winning network that comprises some 60 facilities, including six acute care hospitals, a behavioral medicine hospital, and Kettering College of Medical Arts. This year the network, which has 9,300 employees, 1,500 physicians, and 1,000 volunteers, was named one of the Top 10 Health Systems in the United States by Thomsen Reuters, which analyzes the quality and efficiency of 252 health systems nationwide. They applauded Kettering "for raising the level of quality across our communities and for serving as an example for others to consider and for researchers to study."
Reflecting on his 16-year tenure at Kettering, Perez says, "I have been very blessed in meeting and working with amazing, talented people accomplishing dreams that we dared to dream, but that all came true. I feel that we have significantly improved the environment for our healthcare teams and physicians and especially for the patients we all dedicate our lives to caring for. Our record of shared accomplishments stands for all to see."
KAHC Board chair Dave Weigley, who has worked with Perez since 2006, expressed appreciation for his innovative leadership: "Frank isn't afraid to try anything if he thinks our patients will be better served by the outcome," he said recently. "He never sits back and says, 'That was good enough, we can rest now.' He continuously pushes himself and the entire organization to excel, no matter what we achieve, because we can always improve." 
Weigley says Perez plans to retire in May 2011, which leaves the board ample time to select a successor and facilitate a smooth transition.