Haiti Update #3 – 12 Media Stories Featuring Adventists
January 19, 2010 ∙ by owetmore ∙ in Columbia Union News
Compiled by Celeste Ryan Blyden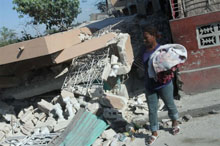 Numerous television, newspapers, and magazines covering the Haiti tragedy have noted or featured Seventh-day Adventists in their reports. Here are 12 leads and links:  
ABC Affiliate - Washington, D.C.
Pastor Counsels Haitian Congregation on Tragedy
ADELPHI, Md. - At the Seventh Day Adventist church in Adelphi, Md., pastor Pierre Antoine's congregation is all Haitian. Everyone has a connection to the tragedy.  As he prepared for Saturday's 9:30 a.m. church service, Antoine met with congregation members, including Casseus Erby, who finally got a call through to Haiti Friday. Erby learned his immediate family is fine. But it hasn't been all good news. Antoine said another member learned Friday that nine members of her family are dead.
But many members, like Raymond Vernet, still don't know anything about their loved ones' fates.
"My sister is over there," Vernet said. "I haven't heard from anyone." 
The pastor also has not heard from his kin. As leader of a 200-member congregation, he says, "You don't have a choice not to be strong yourself. It is not an option, you have to be strong."
He says as his members watch the devastation on television and seek answers, it's his job to provide them.
"To help the person to understand that God makes no mistakes, that God allows that for a purpose," Antoine said. He adds he has counseled many congregants facing the most traumatic moments of their lives. Antoine also plans to bring in professional grief counselors.
"If you have somebody near you, tell them that you love them, that they are valuable to you, because in a zip, they can be gone," said Toniane Kersaint Vernet.
Antoine said Saturday's service will not be the regular happy time of praise and worship -- that would be inappropriate, he said. Antoine adds his sermon will come from the 54th chapter of Isaiah, as he tries to bring a message of hope.
USA TODAY
Injured Overwhelm Haiti Hospital
 
…The earthquake rattled the foundation of the Adventist Hospital in the city's Diquini neighborhood, forcing patients and staff into the courtyard and lawn where they remained throughout the weekend. "We lost 52 patients yesterday," Medical Director Dr. Lesly Archer said Saturday. "I'm facing a very bad situation. We don't have sufficient equipment and people are in danger." A skeleton crew of doctors, accustomed to a 70-bed hospital with modern operating suites, rushed among 400 patients who made their beds on concrete walkways, gravel roads and bare patches of lawn outside the hospital. Receptionists and nurses triaged patients and filled out forms at a table beneath a tarp. A technician read X-rays on a folding table under a tree…
Press-Enterprise News – Riverside, Calif.
Adventist Church Holding Rundraiser for Victims of Haiti Earthquake Tonight
 
Riverside's Mount Rubidoux Seventh-day Adventist Church is holding a 7 p.m. fundraiser today to raise money to help victims of the Haiti earthquake.The church will conduct a prayer vigil and pastors and elders will be on hand to counsel those who are worried about loved ones in Haiti, said Claire Tucker, 50, a church member who immigrated from Haiti in 1982 and is helping organize the fundraiser. A prayer vigil and fundraiser was also held last night. Tucker said about 30 people attended Thursday's vigil and fundraiser and contributed about $100…. About 30 to 50 Haitians attend Mount Rubidoux, she said.
Atlanta – NBC Affiliate
Sadness, Fear, Joy at Haitian Church 
 
Norcross, GA -- The devastation in Haiti was the focus of a special prayer service on Saturday at Ephese Seventh-day Adventist Church in Norcross. The service was full of emotions, ranging from sadness to fear to joy. There was joy for Stephanie Remy, who had no idea whether her husband and two young children survived the earthquake until she got a call from him Friday morning. "And he said, `Baby.' And I was like, `Oh, my God. Jesus.'" Remy told 11Alive News. "It was such a great feeling, because I didn't eat for days. I went to school and couldn't concentrate." 
For Jean-Paul Dieubeny, the unknown is unbearable. He still hasn't heard from his brothers, his sisters or his daughter. "I don't know what I should do," he said. "I've tried to do everything. I tried everywhere. I can't find anything from them. That's really sad for me." Evans Dumond fears his wife and two daughters may not be safe. They survived the quake, but his wife is worried. "She told me they're on the streets sleeping and running out of food and water," he said. "They don't know what the days ahead will bring." 
So they turned out Saturday to pray, to be together, to find comfort in their faith. "The country is devastated," said Pastor Jacques Medastin. "Our hearts are devastated, but Haiti will rise up, again. And so will we."
USA TODAY
… Carrefour, once a crossroads for rice-planting villages near the sea, is now the site of a huge tent city at Adventist University Haiti with thousands of people. Wally Amundson, director of Adventist Development and Relief Agency's inter-American division, began the biscuit distribution process days ago when he told the WFP that his agency could help get food into the right hands. At 7 a.m. Monday, he and staffers made the 40-minute drive to the U.N. compound near the Port-au-Prince airport to get the biscuits. Helicopters swarmed overhead. Massive cargo planes jostled for space on the crowded taxiway. Pallets of water and food sat stacked off the tarmac where soldiers loaded it onto trucks and helicopters. The relief workers spent two hours locating the biscuits — a U.N. worker couldn't find the trucks — and the right WFP people to authorize the transfer. …
Fox News – Tampa Bay, Fla.
Officials warn of Haiti help scams
… Jeffrey Compas loaded a small cart with donations at Bethany Seventh Day Adventist Haitian Church in Tampa Sunday. Most it coming from his neighbors, friends and family— wanting to help the earthquake victims in Haiti. "We've already donated money but we feel that we must donate as much as possible. Clothes, shoes, food supplies, water supplies, hygienic supplies," Compas said. "Because the people in Haiti will need it in the week and months to come." …
Time Magazine
Into an Angry Land: The Land Route Into Ravaged Haiti 
Leaving the Dominican Republic and entering Haiti is as abrupt as ocean meeting desert. The country's green forests were long ago slashed and burned, giving way to dry, brown hills scarred from mining and from mudslides caused by deforestation. The valley floor is barren, over-farmed long before the devastating earthquake. Our caravan was composed of four Adventist Development and Relief Agency semi-trucks, a bus chartered by GlobalMedic — a Canadian NGO — and a rented SUV. We were packed with water purification devices to help alleviate the shortage of clean drinking water in Port-au-Prince.
Oklahoman Newspaper -- Oklahoma City
Quake aid is snarled as despair in Haiti grows 
ADVENTIST CHURCH 
Frank Kean with the Edmond Seventh-day Adventist Church said the international organization Adventist Development and Relief Agency is shipping much needed relief supplies to Haiti. 
Kean said people can make donations to the Adventist relief agency by calling (800) 424-2372 or by going to www.adra.org.
Marin Independent Journal -- Novato, Calif.
Novato Haitian congregation prays for earthquake victims, sending delegation
Members of the Novato Haitian Seventh-Day Adventist congregation gathered at the Novato United Methodist Church Saturday night to sing and pray for the safety of their relatives and friends back home, and the future of their country.
Although united by their faith, three days after a cataclysmic magnitude-7 earthquake devastated Port-au-Prince, the attendees were separating into three groups: those who spoke of the relief of hearing that their loved ones survived the quake, those who nervously kept checking their cell phones because they still haven't heard from their relatives, and those who said with eyes cast down that the news had not been good.
Courier-Journal – Louisville, Ky
Prayer service for Haiti unites different faiths
The message for the people of Haiti at an interfaith prayer service at the St. Martin de Porres Parish Saturday was one of hope, faith and solidarity. Leaders from St. Martin, the Baptist Haitian Tabernacle and the Haitian Seventh Day Adventist Church of Kentucky presided over the event and called on people of all faiths, color, creed and class to stand together in support of the earthquake-ravaged country. …
ABC Affiliate – Denver
Local Haitians Mobilize To Send Aid Home
Agape Seventh Day Adventist Church has several congregation members whose families were impacted by the quake. Wilfrid Gabriel's family lives in Jacmel, outside of Port-au-Prince, an area that was devastated by the earthquake. Gabriel learned on Wednesday that his younger sister perished in the earthquake. … The rest of Gabriel's family has been sleeping in the streets of Jacmel, terrified to go indoors for fear that massive aftershocks will topple more buildings. Gabriel has been following news coverage of the earthquake for days, but said it has left him feeling powerless. …
Jamaica Observer
Jamaican Churches to Raise Money
… In addition to donating US$10,000 to the relief efforts and launching a collection drive in its more than 700 churches yesterday, the West Indies Union Conference of Seventh-day Adventists said they are also prepared to help with housing. "We are also aware that there might be some fleeing from the county, as it happened in the past when there is a crisis, and so the church is on alert to assist in this area with housing, especially in Portland," said the union's president Derek Bignall in a release to the media. The church's community services department and the Adventist Development and Relief Agency in Jamaica have also been collecting non-perishable food items, clothing and bedding, while Northern Caribbean University in Mandeville will be making counselling services available to those traumatised by the event through their Behavioral Science Department. …